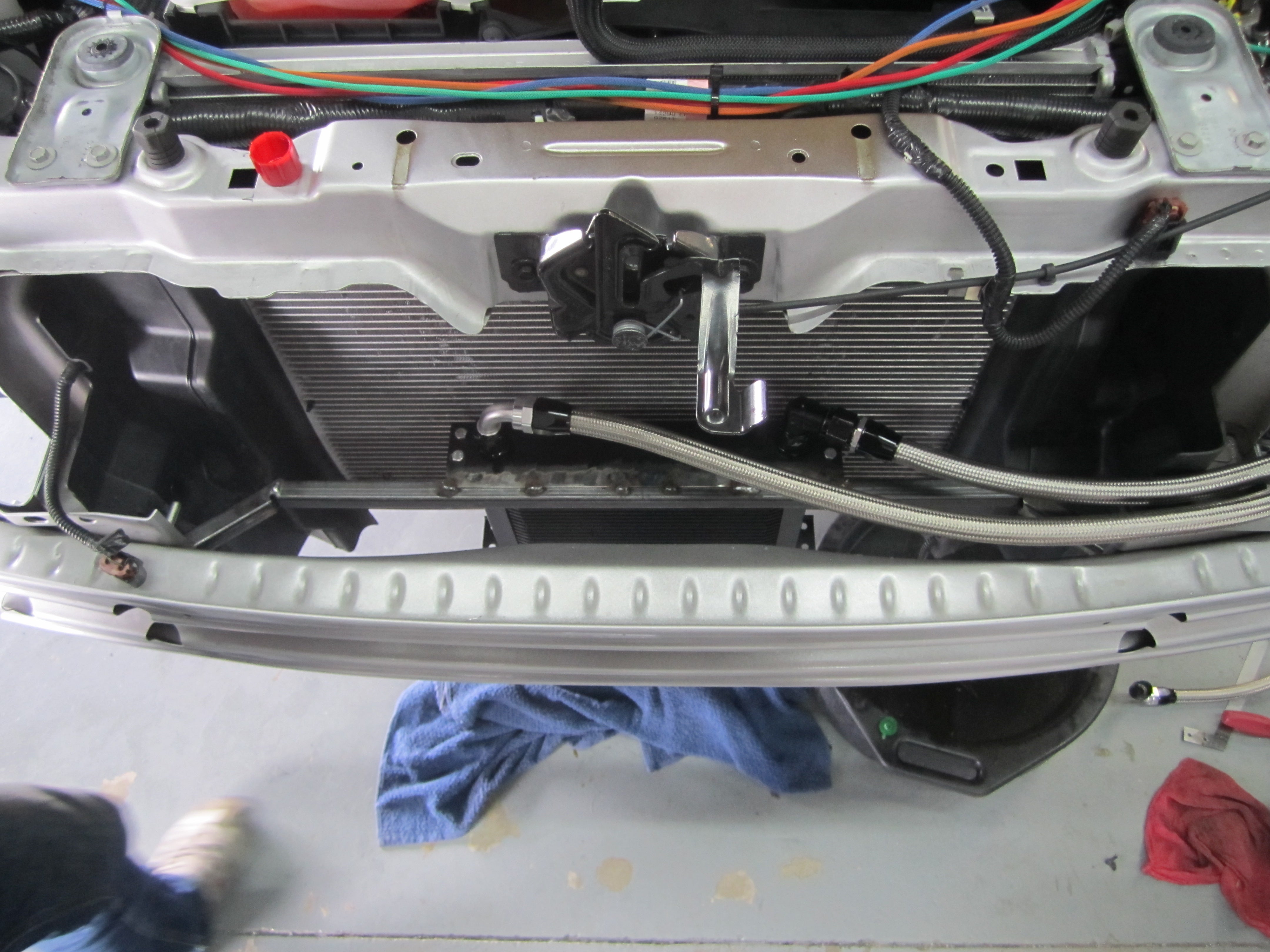 2011-2014 Ford Mustang GT Direct-Fit Oil Cooler Kit, Part 3: Prototype 2 Design and Testing
Posted:
February 24, 2014
Interested in purchasing our Mustang oil cooler? Check out our product page for more information!
With one round of successful development and data collection complete, our engineers set out to improve upon the first design. After gathering airflow data for different bumper locations, they decided to move the cooler to the lower bumper opening as opposed to the grille area. Instead of modifying the existing brackets, our team developed a new bracket that would suspend the cooler and attach directly to the bumper support. This new bracket not only brought the cooler to a better location, but it also provided a more rigid, robust mounting system for the large 25-row cooler. This also eliminated the need for four brackets; instead just one cross bar would be needed. Check out a few shots of the prototype!
Once fabricated, the team was very pleased with this new design. The cooler placement was close to the front bumper but would not require any cutting or trimming. The bracket also utilizes existing mounting points on the front bumper support so no drilling would be needed. This is a true bolt-on unit.
Check out a few shots with the bumper installed! We performed the testing with our powder-coated black unit. This kit is also available with a silver cooler for those who prefer a more visible setup.
Once we were satisfied with the prototype, we reinstalled our PLX devices and again took to the highway for data collection. Although this test was completed a day later, temperatures were nearly identical.
All our direct-fit kits include premade stainless steel braided oil lines that include -AN fittings. These lines are extremely durable and are not easily ruptured. The stainless sheathing can be rather abrasive, and if not handled and routed properly, other engine components could be damaged from rubbing.
Back to the data collection! The new location enabled reduced temperatures to 185°F! The improved airflow had a significant impact on average temperatures. This new location resulted in a 35°F drop over the OEM setup in normal conditions. This reduction in temperature will be compounded during track or aggressive driving.
With successful test results, the project was essentially finished, and our team began constructing models and drawings of the components for mass production. Check out this neat rendering of the oil cooler bracket!
Now that the project has reached completion, let's check back with our goal list and review the success of this project.
Goals
1.       Must be a direct fit unit requiring no permanent vehicle modification
Result: This kit utilizes existing mounting locations and requires no cutting, drilling, or trimming.
2.       Must have proven data of temperature reduction
Result: Our proven kit reduces temperatures by 35°F
3.       Must include all components for installation
Result: This is a bolt-on oil cooler kit and includes all necessary components for easy installation.
4.       Must be reasonably priced
Result: This kit will be priced far below any products currently on the market.
So, I'm sure you're wondering what this kit will include and how much it will cost. The kit will include the following components:
Direct-fit oil cooler bracket
25-row stacked plate oil cooler in black or silver
M22 thermostatic sandwich plate and stainless steel adapter
Premade stainless steel oil lines
Oil cooler installation hardware
This kit will be priced to fit the budgets for both street and track vehicles. At this time, we intend to offer this kit for less than $600, through any of our vendors. It is hard to put a price on engine longevity, and this is a fantastic value for a bolt-on, proven oil cooler kit.
Thanks for following along with the R&D process for the 2011-2014 Ford Mustang oil cooler kit. We are anticipating a release date very soon! Feel free to follow up with any questions or comments, I would be happy to answer them.
Thanks
Interested in purchasing our Mustang oil cooler? Check out our product page for more information!