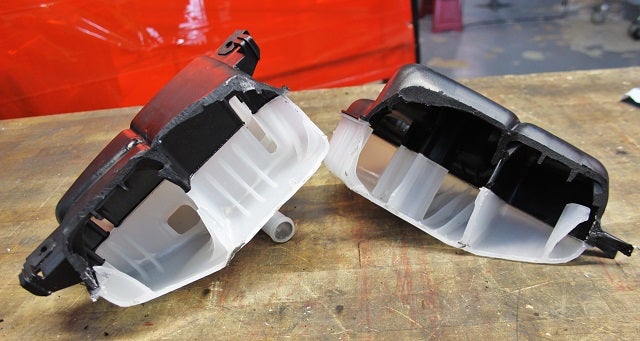 A More Durable Degas. Ford Powerstroke 6.0L Aluminum Degas Bottle R&D, Part 1: Factory Bottle Evaluation
We're back for some new 6.0L product development! It has been a few months since the release of our recent intake elbow and thermostat housing, and our team is itching to start a new project on our 6.0L Powerstroke shop truck. This time, we're aiming to create an aluminum degas bottle that would provide additional cooling system reliability. Within the past year, we've increased our focus on development of aluminum expansion tanks, and we've brought to market some unique tanks that provide improved durability and style.
One of our recent projects was a tank for the 2015+ Ford Mustang, which features some unique internal baffling to emulate the functionality of the stock tank.
Pretty cool! The key with these projects is to include all the factory features, provide a bolt-in fit, and tack on some neat styling. Let's jump into our 6.0L Powerstroke degas bottle project!
Factory Degas Bottle External Features
Before we start on our own degas bottle design, we need to evaluate the factory piece and determine the features that need to be built into our design.
This is the tank from our shop truck. As you can see, this component has endured years of use, but it still held pressure and did not leak when removed. The factory tank is a two-piece plastic unit. Over time, this plastic will degrade as temperatures fluctuate. In addition, if the system becomes pressurized or if oil reaches the coolant, the chance of failure rises.
The seam between the upper and lower parts of the tank is an area where some have seen splitting and leaks.
At the bottom of the tank we see a couple nipples that provide attachment points for hoses in the system. This portion of a plastic tank is typically a weak point as well. The larger connection point features an internal metal sleeve for added rigidity.
Factory Degas Bottle Internal Features
We also need to inspect the interior of the degas bottle. If baffling exists, we plan to replicate this in our design. In addition, we need to see where each port feeds into the interior of the tank. We ordered a factory tank so we could get started!
One clean cut later and the tank was split.
Check out a couple neat internal shots showing what we will be working with.
Looks like we have quite a lot of work to do! We will need to replicate these baffles and ensure that our ports are properly oriented.
Coming up - 3D Models
We will be capturing dimensions from this factory unit so we can begin developing our prototype 3D model. Check back next time for some renderings of our initial design!
Feel free to chime in with any ideas you have for features or inclusions we should consider for our degas bottle.
Keep an eye on our engineering blog for more updates on new 6.0 Powerstroke parts development!
Thanks
-John