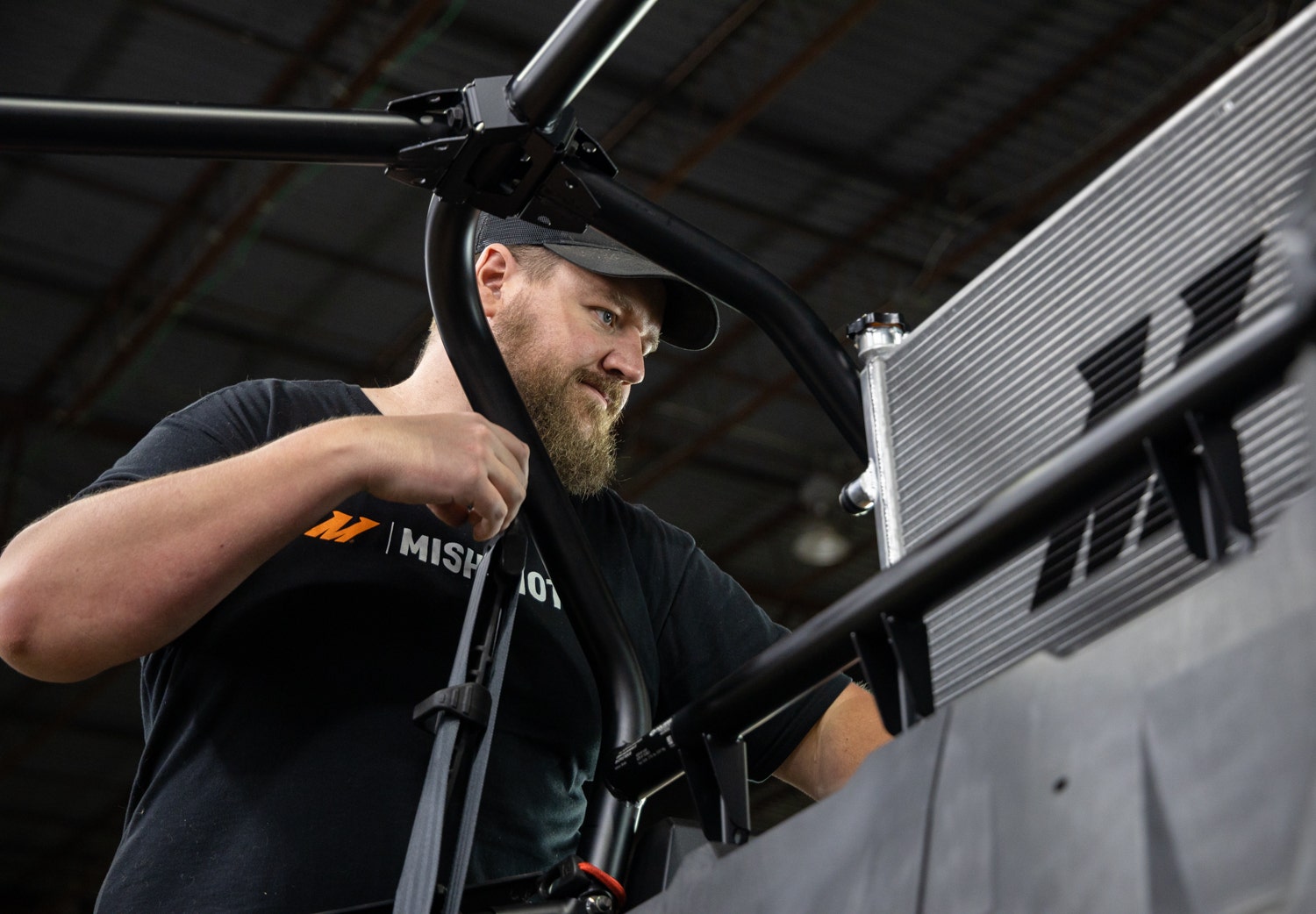 RZR Sharp – 2016+ Polaris RZR XP Turbo Radiator Relocation kit R&D, Part 3 – Production Sample
Our RZR XP Turbo Radiator Relocation kit is now available! Click here to grab yours today!
Any expedition requires preparation, especially one that involves blazing your own path. The success of this journey lies in the tools and equipment we're packing, so proper vetting and maintenance are essential to ensure these implements are a trustworthy addition to the trip. Otherwise, they'll leave you stranded like the dulled machete from our first installment. The Polaris RZR is a trailblazer and the right tool for any adventure, but some components aren't always up to the task. Luckily, we've been working to strengthen these weak links to get it ready for its next venture.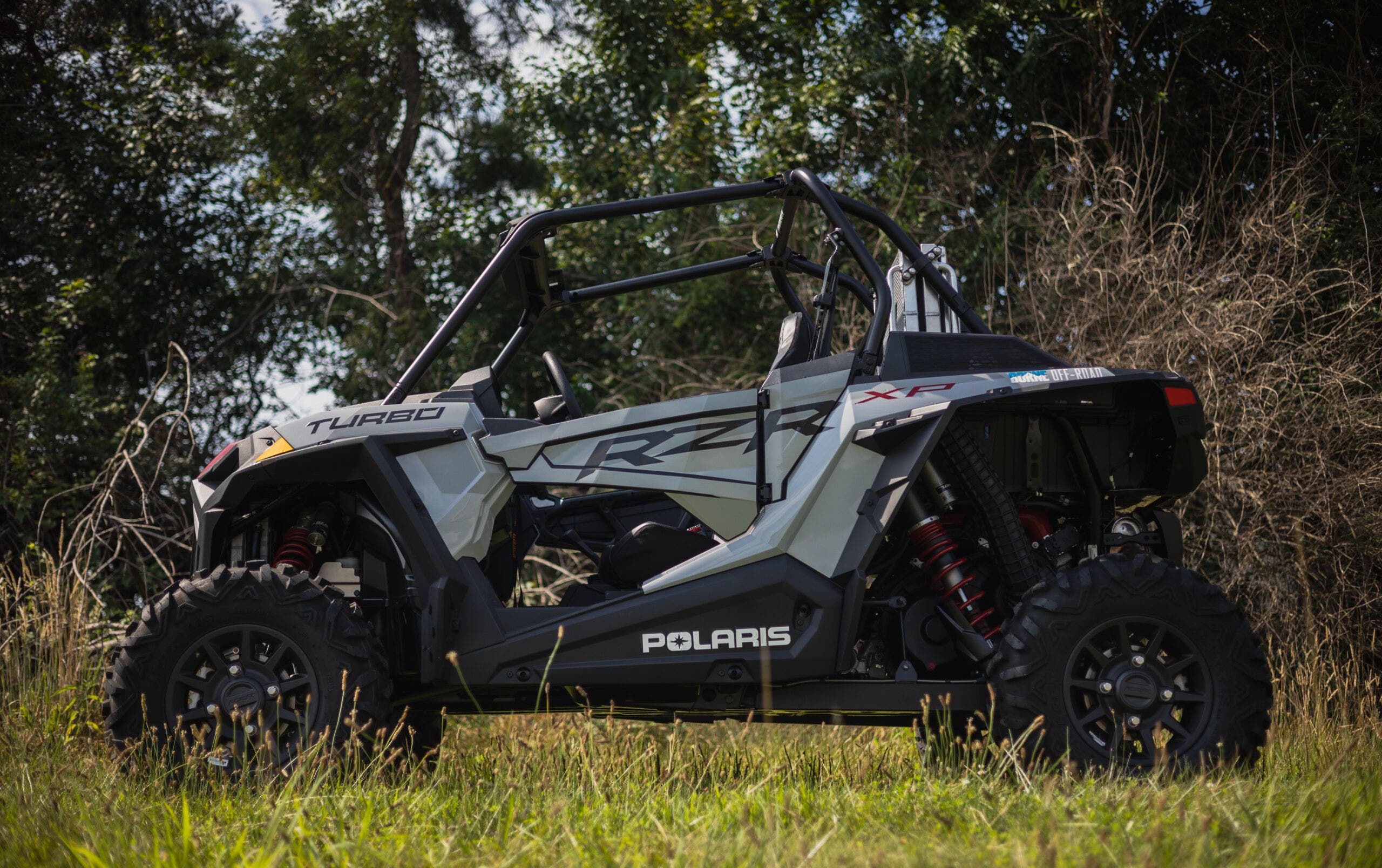 It's been a few weeks since our prototyping phase, but now the physical outline of our kit has finally filled out into our complete production-level kit. Our engineer, Dan, is eager to rehome the RZR's cooling system, and we want to show off his hard work.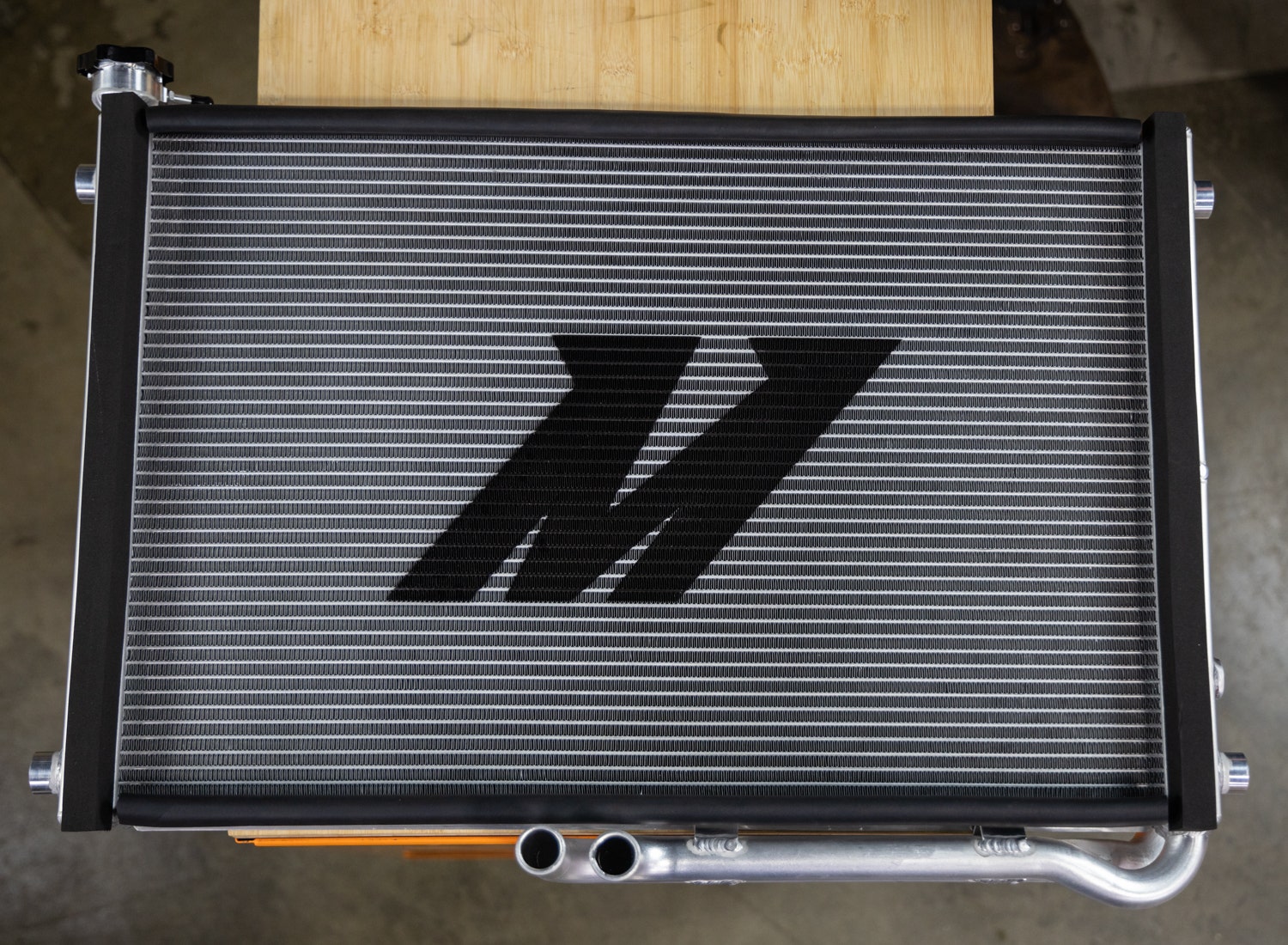 Keeping fresh air flowing through the cores and coolant contained within the system are the main goals of this kit. Finding a new location for the cooling stack is one thing, but ensuring that these radiators are secure in their new home is a whole different story. Luckily our bracketry is up to the task. As we outlined during the planning phase, the wide footprint of the bottom brackets gives these radiators a solid base to stand on. This foundation is coupled with our upper brackets that are a perfect fit for the RZR's roll cage and keep these radiators in the upright position.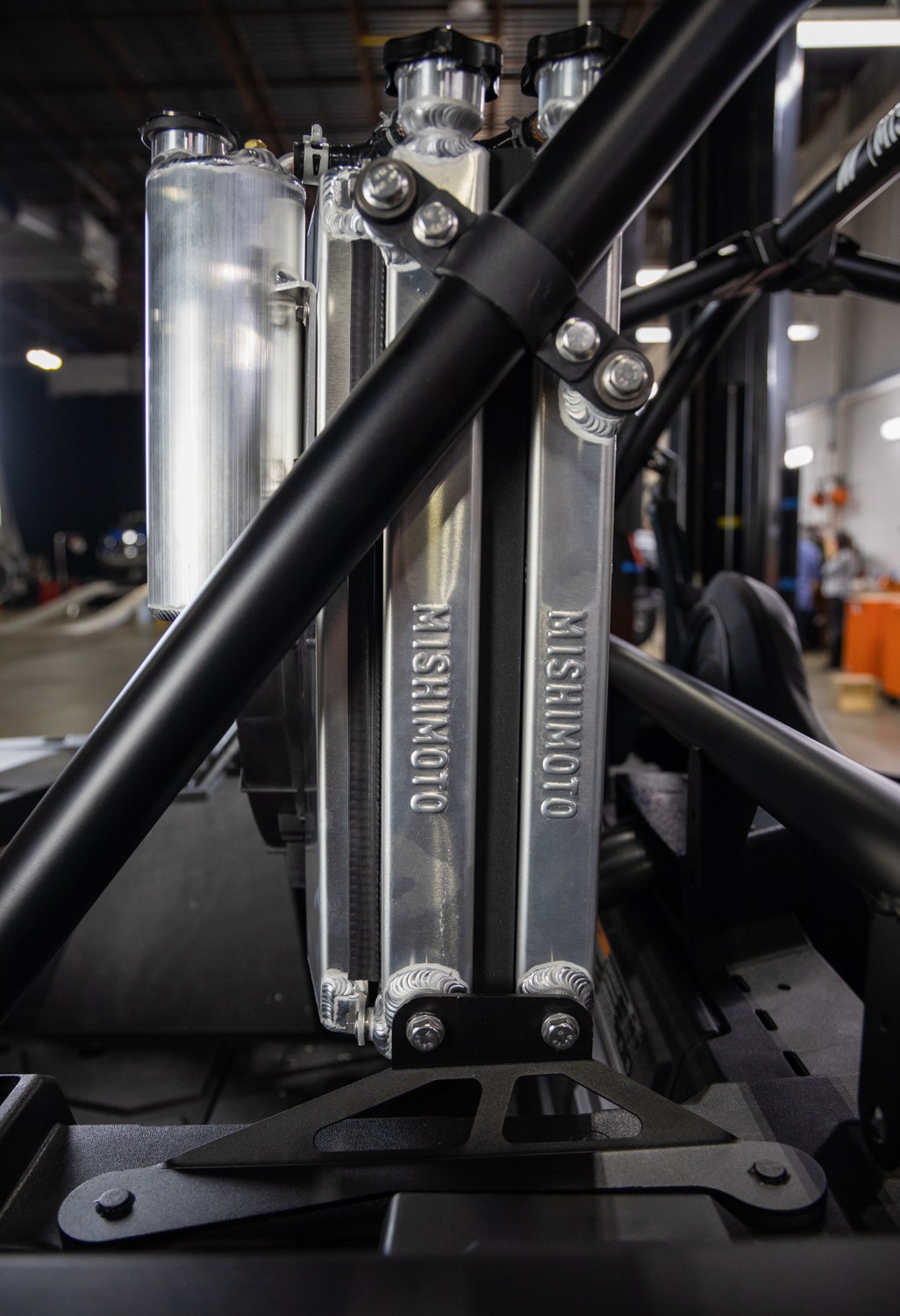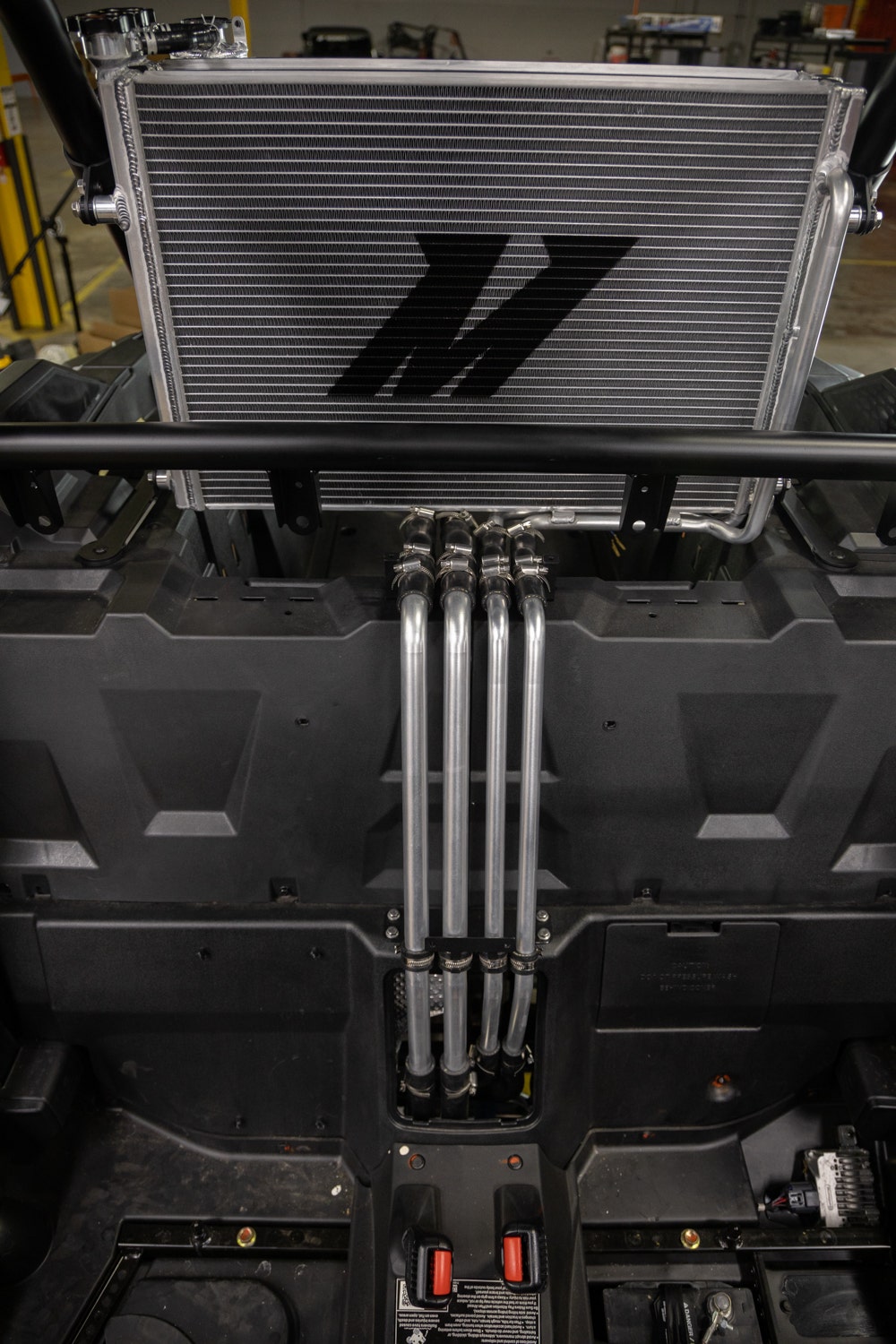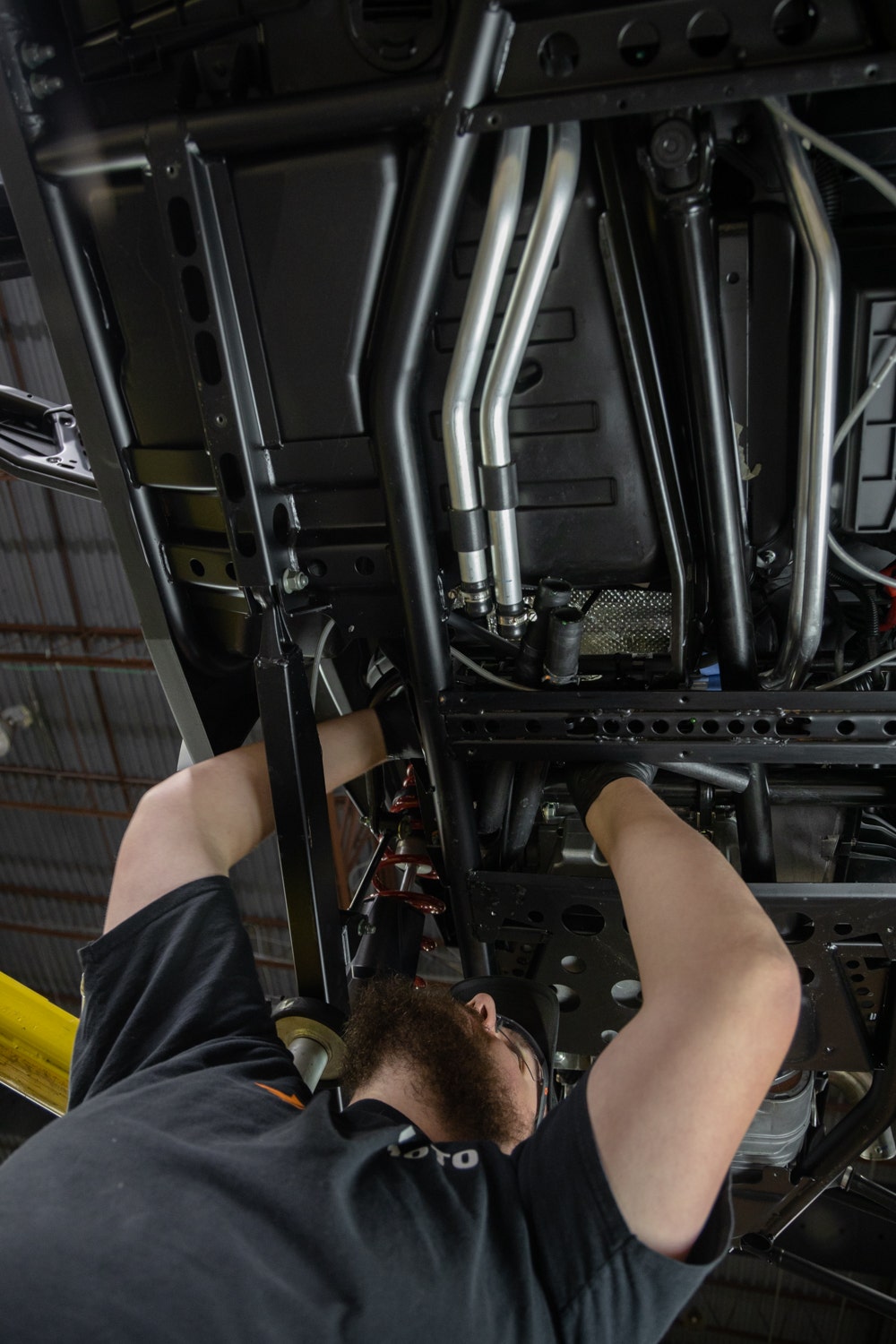 Rehoming an entire cooling stack is much easier said than done. While the supportive relationship between the brackets makes these radiators start to feel more at home, they still feel lonely without their old connections. So, Dan devised the perfect method for these heat exchangers to keep in touch with their old systems. Our new radiators would be useless without these vital channels, but we also wanted to minimize the amount of permanent modification to your Polaris. So, we opted to route our lines through the backside of the driver's cockpit to a lower access panel. This eliminates the need to drill through the RZR's bed while also providing a more direct route for our lines to integrate into the stock system.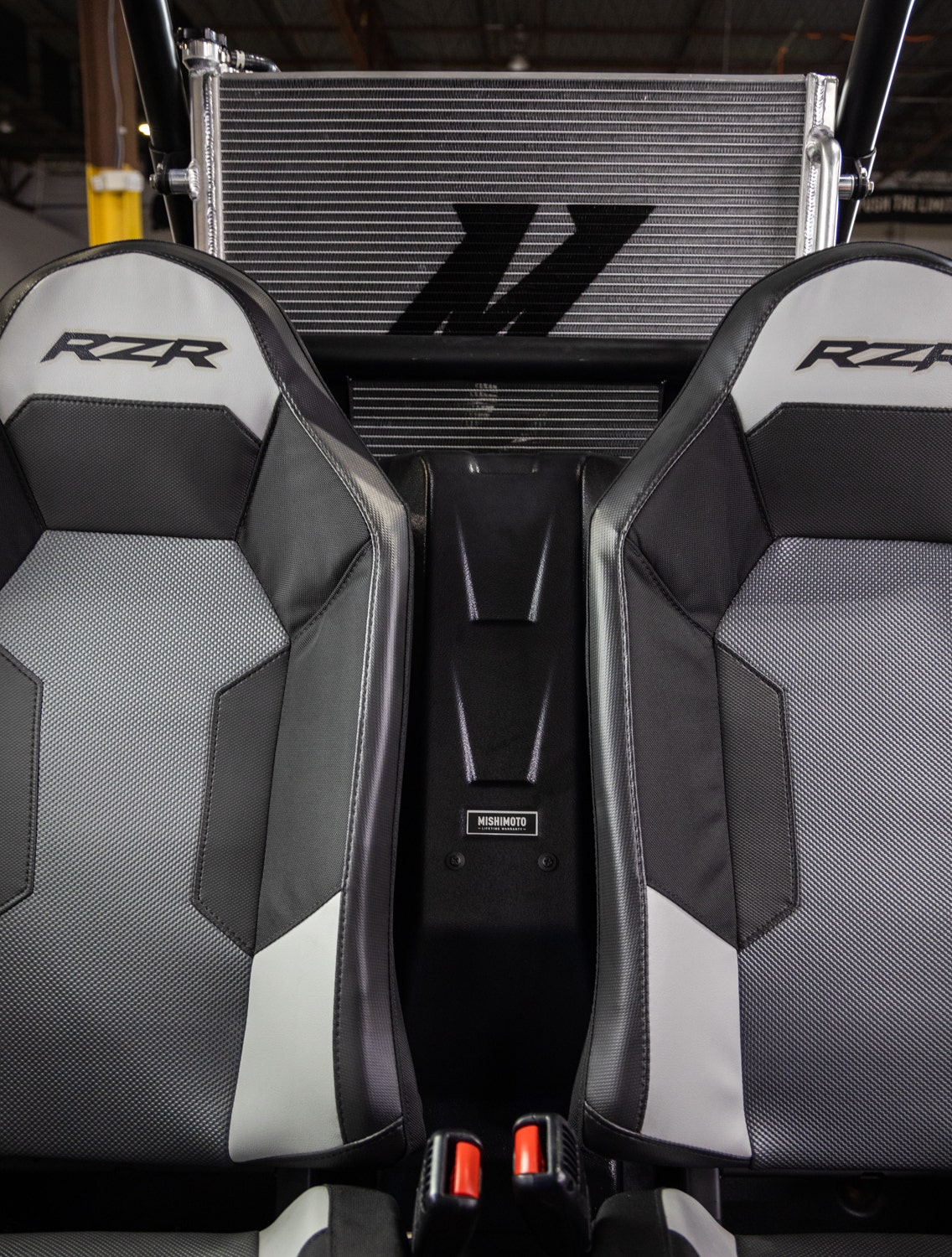 This might sound like a good way to receive some stylish burn marks on your elbows, but not to worry, we have you covered. Literally. Dan devised a rotational-molded panel that will have you second-guessing if it came straight from Polaris' factory to keep all appendages and coolant pipes out of harm's way. 
Our quest for durability doesn't stop at the radiators themselves. Even though we're taking these radiators out of the danger zone, they still need to be tough. Though unlikely, stray trail hazards could still bring your expedition to a screeching and steamy halt; our radiators, fan shroud, and reservoir tank are all clad head to toe in tough, high-grade aluminum to ensure that rogue rocks or branches just bounce right off.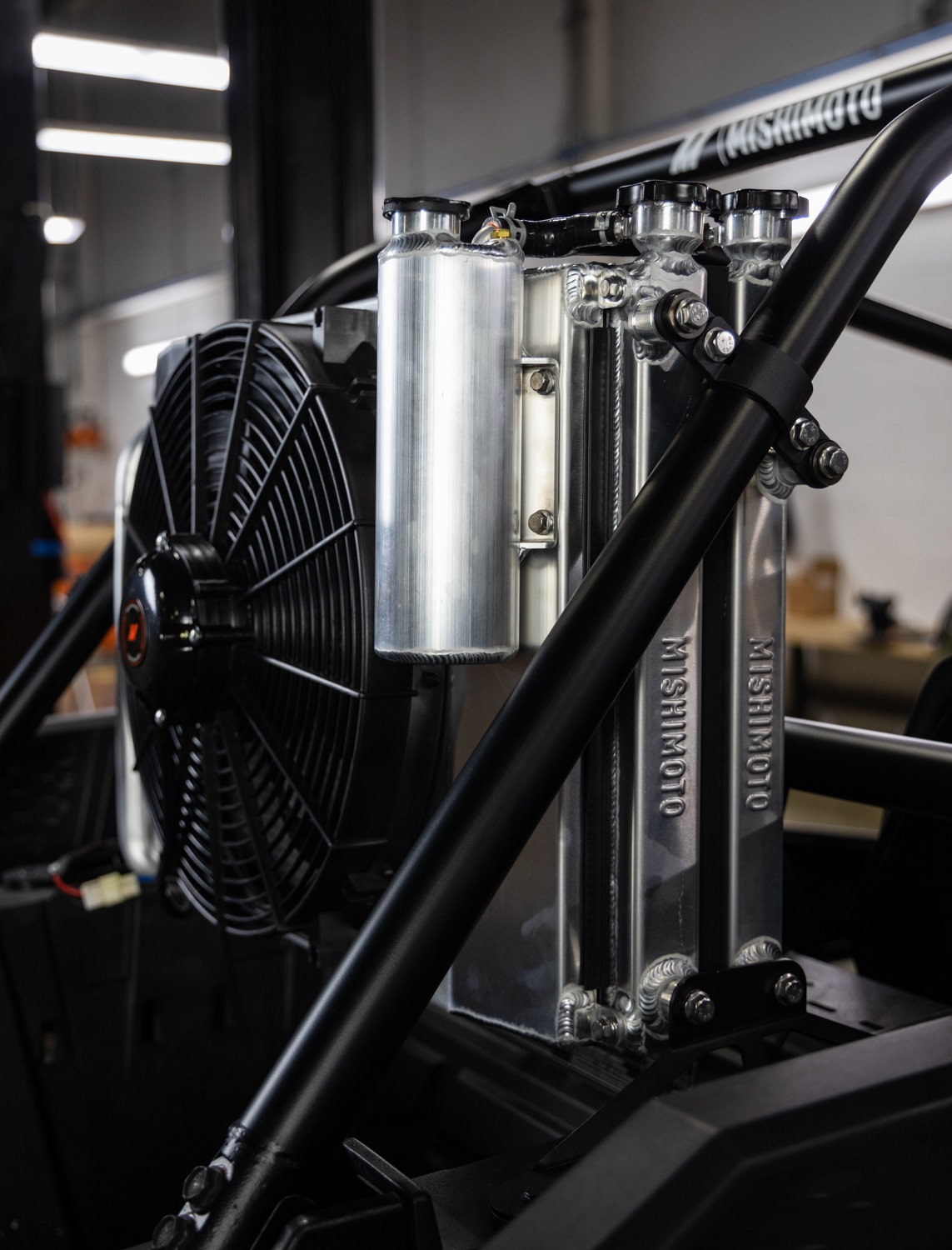 While toughness is the main focus for this kit, we couldn't help but inject some extra cooling performance into the punchy turbo 925 twin. For starters, we added 72% core volume and 96% external fin surface area to the intercooler heat exchanger. Both specs are ideal improvements for increasing the heat dissipation characteristics for the RZR's air-to-water system and delivering more consistent charged air temperatures. In terms of our radiator, the thickness of our core didn't grow as much, but we're still boosting the external fin surface area to help whisk away heat. On top of the size increase, Dan also revised the fins on both cores for an increased fin surface area to further improve cooling power. In addition, we also updated these cores to utilize a dual-pass configuration over the OEM single-pass cores, giving the coolant a second lap through the fins for improved heat dissipation.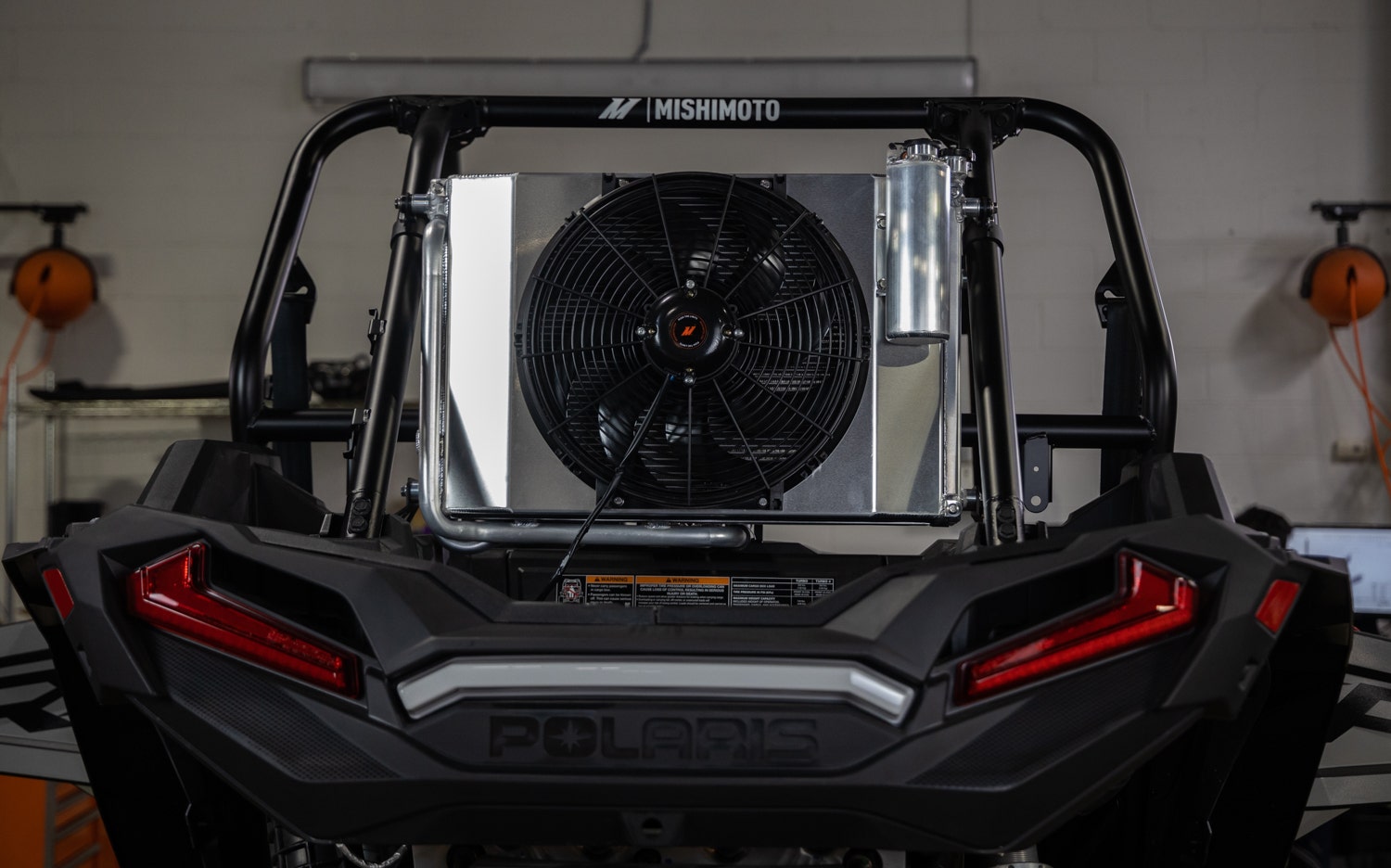 Keeping the fresh air flowing through the cores is essential for proper heat dissipation, which is in short supply when navigating through tight and tricky terrain. Our 16" HD fan fixed to the radiators picks up the slack and delivers 2200 CFM of air to keep the RZR from losing its cool.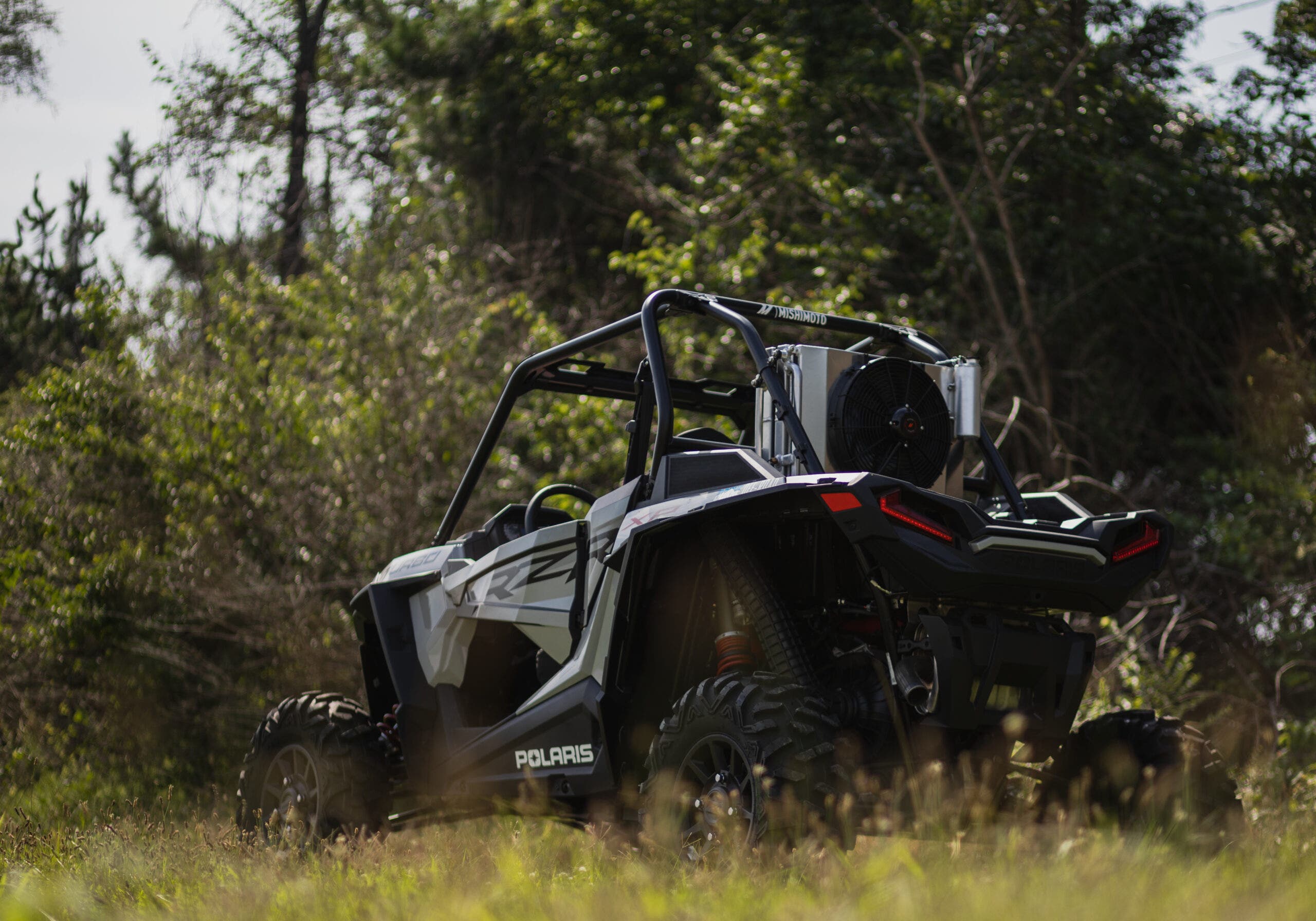 The aptly named Polaris' RZR XP Turbo is designed to cut through any terrain with ease. The small but mighty chassis slices through dunes and scrambles over boulders with ease, but no blade stays sharp without routine honing. Without the proper equipment, muck and debris cause the RZR to lose its edge and cut even the most carefully prepped expedition short. With the cooling system relocated, however, this adventure machine will not only keep its edge for much longer but come out even sharper than before. So make sure to grab your kit today: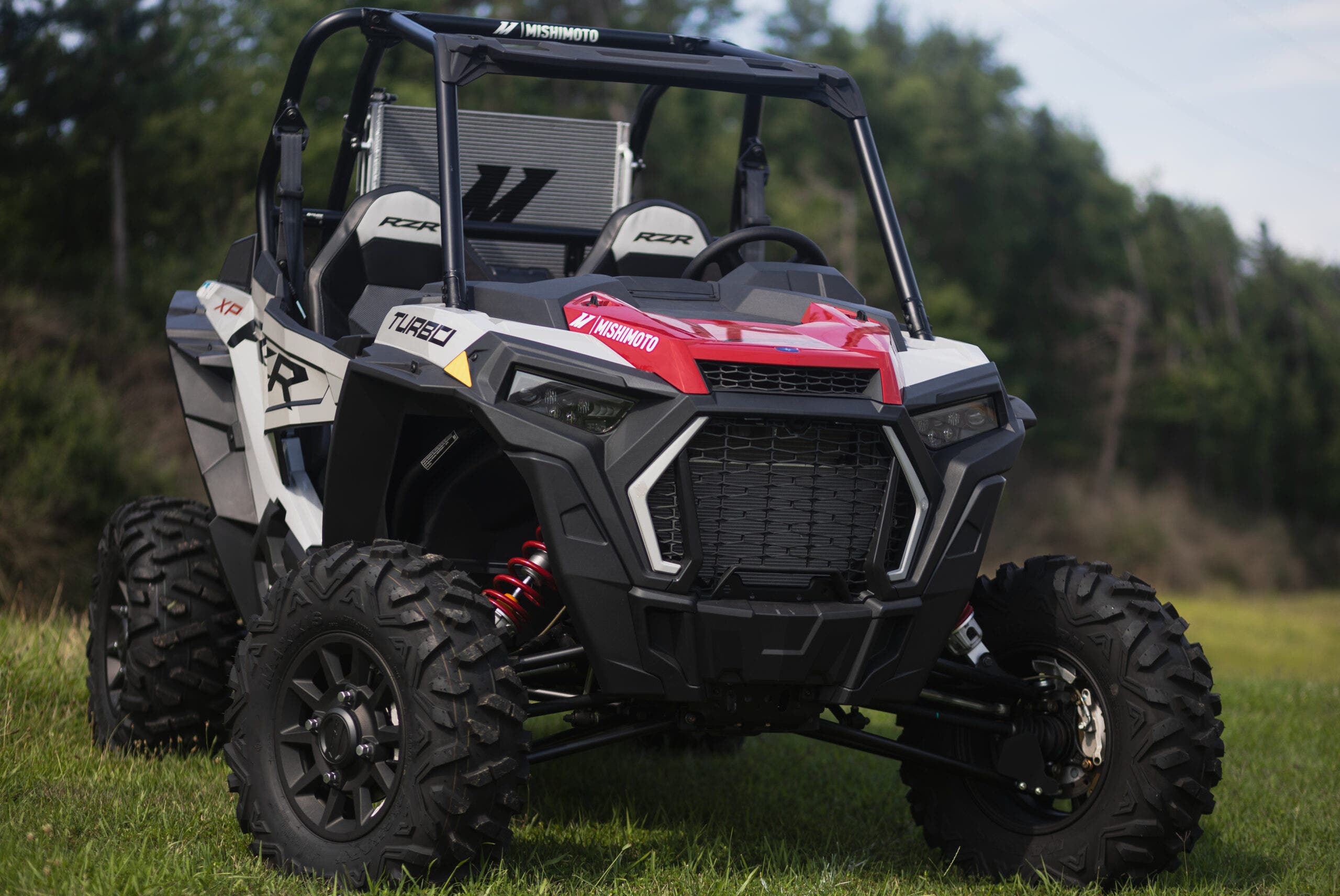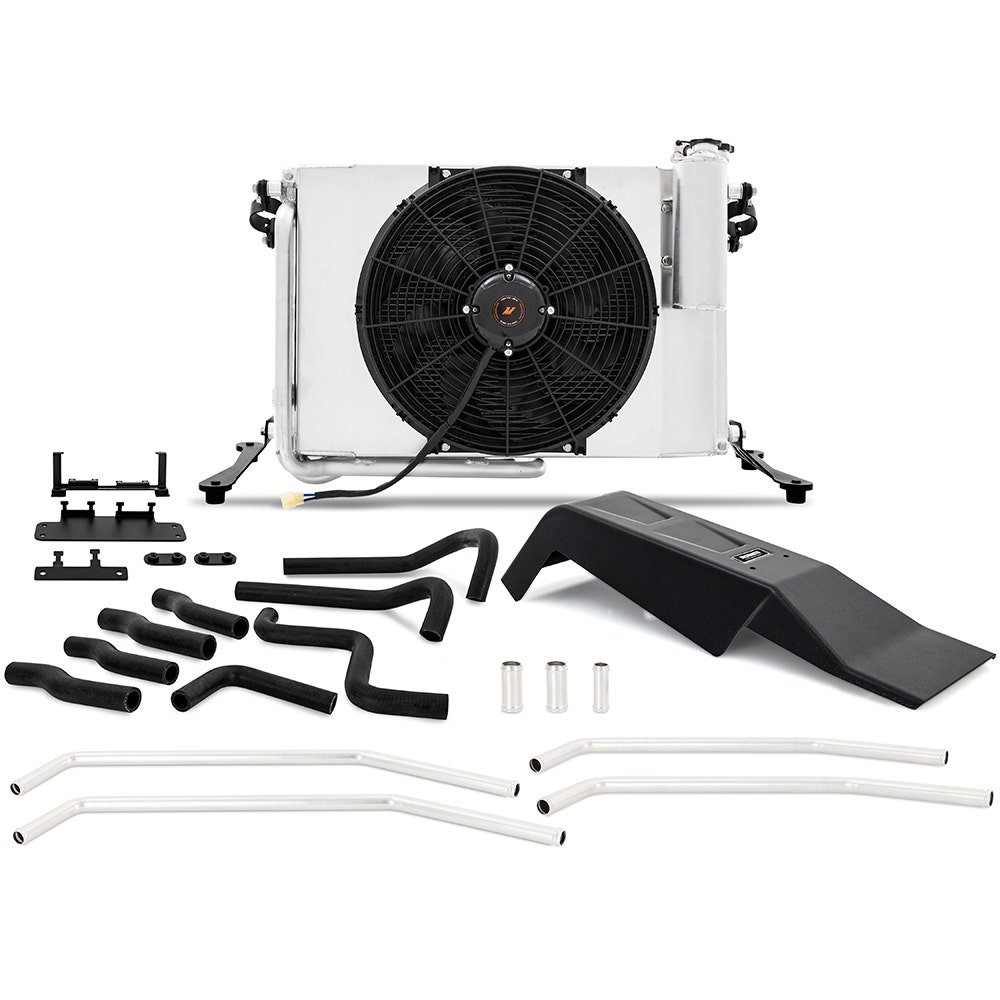 Thanks for Reading!
-Nick