MISHIMOTO TV
Installation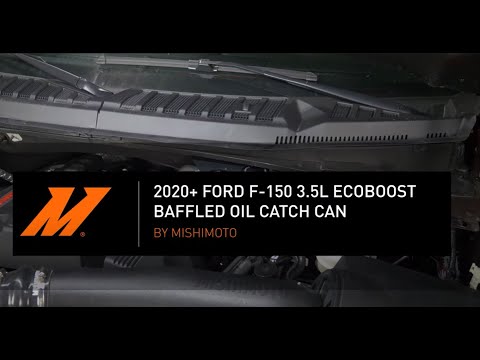 2021-05-18 14:05:53
2020+ Ford F-150 3.5L EcoBoost Baffled Oil Catch Can Installation Guide by Mishimoto
Product Page:
https://www.mishimoto.com/ford-f-150-35-ecoboost-catch-can-kit-2017.html

Facebook: http://www.facebook.com/GoMishimoto
Twitter: http://www.Twitter.com/Mishimoto
Instagram: http://www.Instagram.com/Mishimoto
Engineering Blog: http://engineering.mishimoto.com/

MMBCC-F35T-17SBE
• Direct fit for 2017+ Ford F-150 3.5L EcoBoost (2017+ install guide: https://youtu.be/D1fR9cvIIUw)
• Dual-can setup captures blow-by from both the PCV and CCV systems
• Includes oversized 12 fl. oz. can for longer service intervals
• CCV side accommodates stock pressure sensor for CEL-free running
• Application-specific lines fit with stock engine cover
• 3mm thick steel bracket won't bend, rattle, or break under heavy abuse
• Includes stock-style quick-disconnect fittings
• Filters and cans are fully serviceable
• Patent Pending
• Mishimoto Lifetime Warranty

Disclaimer
• Please dispose of any liquids properly.
• Allow vehicle to cool completely prior to attempting installation.
• Mishimoto Performance (MP) is not responsible for any vehicle
damage or personal injury due to installation errors, misuse,
or removal of MP products.
• MP always suggests that a trained professional install all
MP products.
• Do not run the engine or drive the vehicle while overheating.
Serious damage may occur.
• Raise vehicle only on jack stands or on a vehicle lift.