MISHIMOTO TV
Installation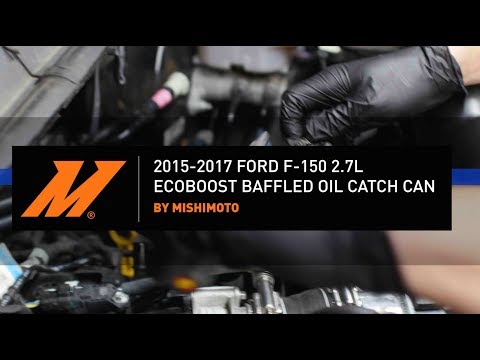 2020-06-29 18:30:52
2015-2017 Ford F-150 2.7L EcoBoost Baffled Oil Catch Can Installation Guide by Mishimoto
MODEL: MMBCC-F27T-15SBE
Direct fit for 2015–2017 Ford F-150 2.7L EcoBoost
Dual-can setup captures blow-by from both the PCV and CCV systems
CCV side accommodates factory pressure sensor for CEL-free running
In-line check valve prevents can from being pressurized under boost.
Application-specific lines fit with stock engine cover
3mm thick steel bracket won't bend, rattle, or break under heavy abuse
Includes factory quick-disconnect fittings
Filters and cans are fully serviceable
Mishimoto Lifetime Warranty

Disclaimer
• Please dispose of any liquids properly.
• Allow vehicle to cool completely prior to attempting installation.
• Mishimoto Performance (MP) is not responsible for any vehicle
damage or personal injury due to installation errors, misuse,
or removal of MP products.
• MP always suggests that a trained professional install all
MP products.
• Do not run the engine or drive the vehicle while overheating.
Serious damage may occur.
• Raise vehicle only on jack stands or on a vehicle lift.