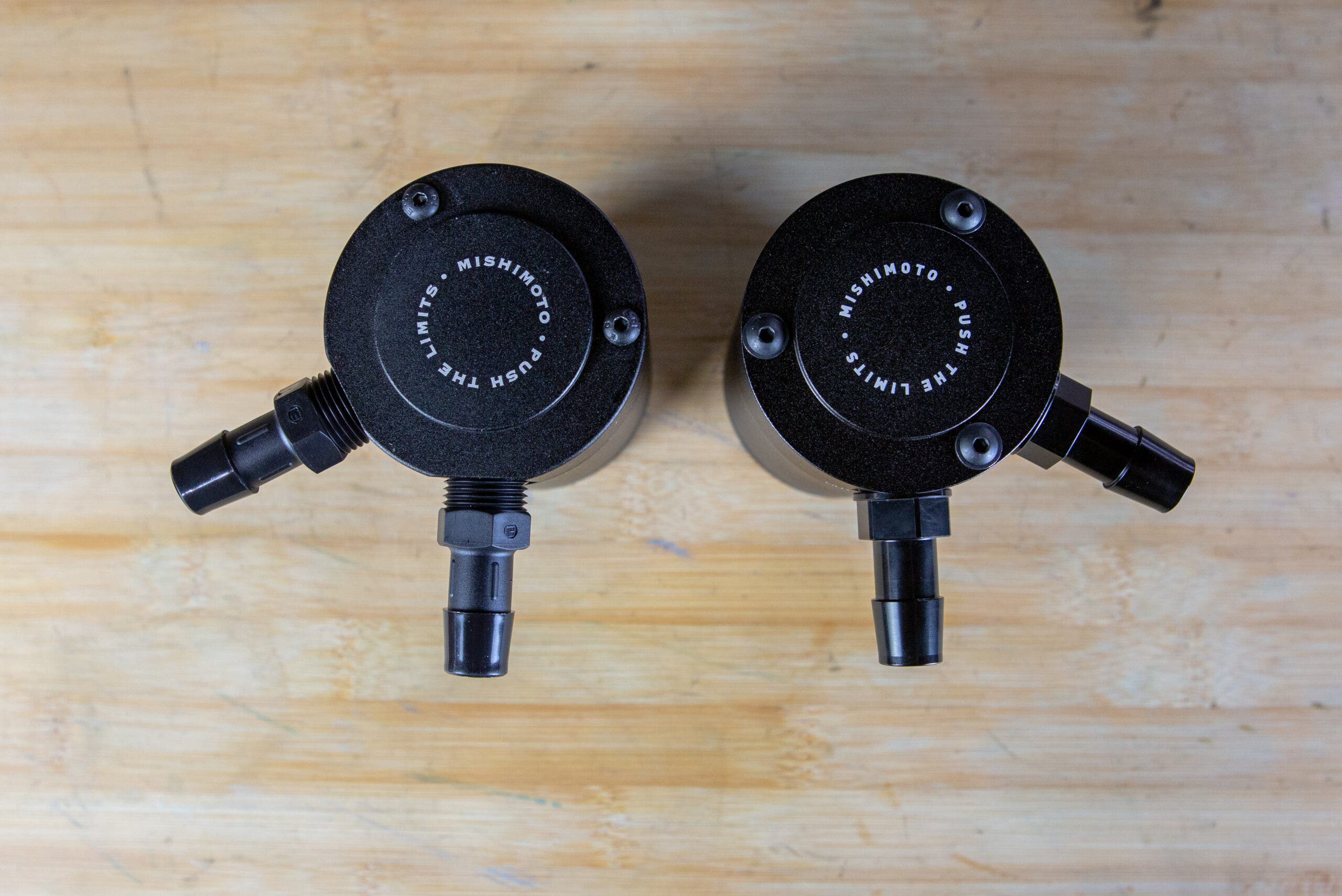 Meet our New and Improved Compact Catch Can
"If it ain't broke, don't fix it." This colloquialism is a phrase we've all heard before. It translates to, "If it's still working, why put any effort into improving it?" But that doesn't sit well with us here at Mishimoto, especially when referring to keeping your engine running at peak efficiency. So with that in mind, it's time our tried-and-true compact catch can got a refresh, and we're stoked to show it off. 
Since 2014, our compact catch can has been filtering out harmful blow-by from CCV systems around the world in its universal form and has starred in tons of direct-fit applications. It has a long service history, but we wanted to evolve it into something even more effective.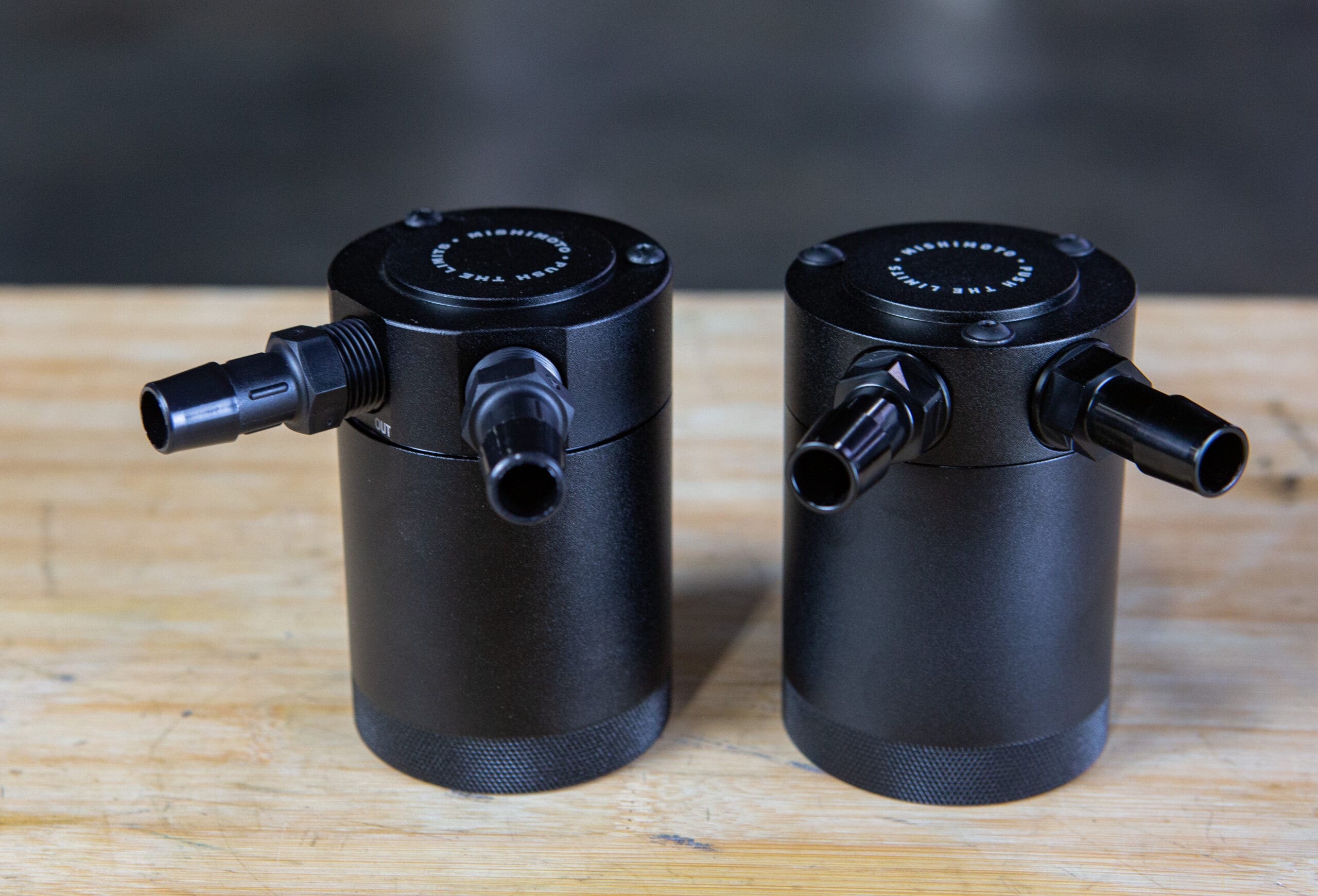 The old and new cans look just about the same from the outside, and that was on purpose. We prefer to keep a sleek and compact look that fits in with just about every engine bay, so we only made minor updates to the styling. If you take a peek at the top side of the can lid, you'll notice that we added an extra bracket mounting hole for added stability under the hood. 
The most noticeable updates to the outside of the can are our updated fittings. While NPT fittings got the job done, they didn't look as clean as we'd like. We wanted a pair of fittings that sat flush with the lid, so we switched from a tapered NPT thread to an O-ring sealed straight thread. To go even further with our fittings, we also revised the construction to a CNC-machined aluminum.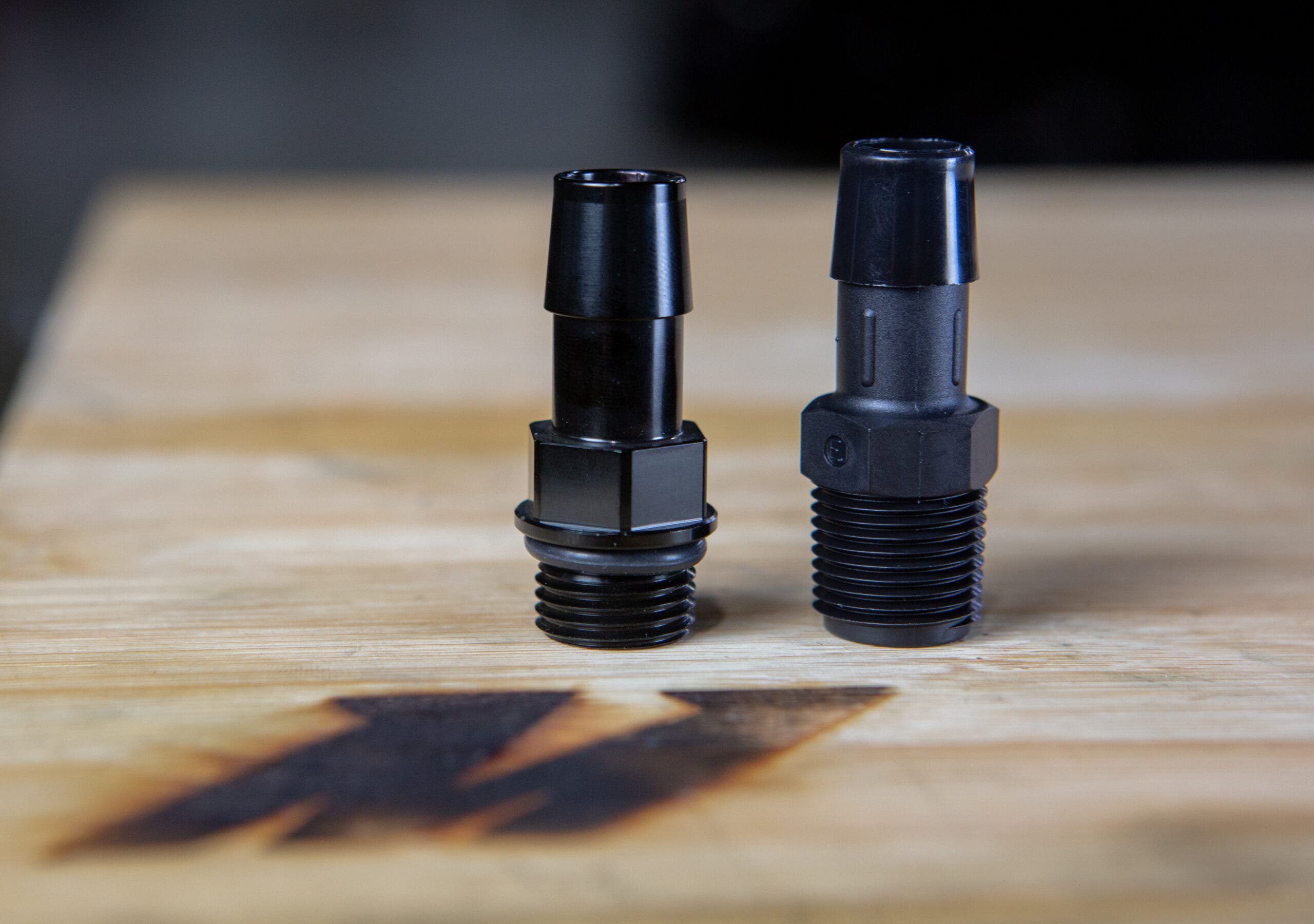 They say it's more about what's on the inside that counts, which rings true for our updated catch can. Inside the can are some familiar bits, including our 50-micron bronze filter and air diverters, but our baffle received a serious overhaul. We raised the mounting height for starters, bringing the capacity of our compact can up to 3 fluid ounces. We also revised the baffle peg to create a more secure mounting method. This mount prevents rotation of the baffle and eliminates any risk of sheering the baffle off of the can lid.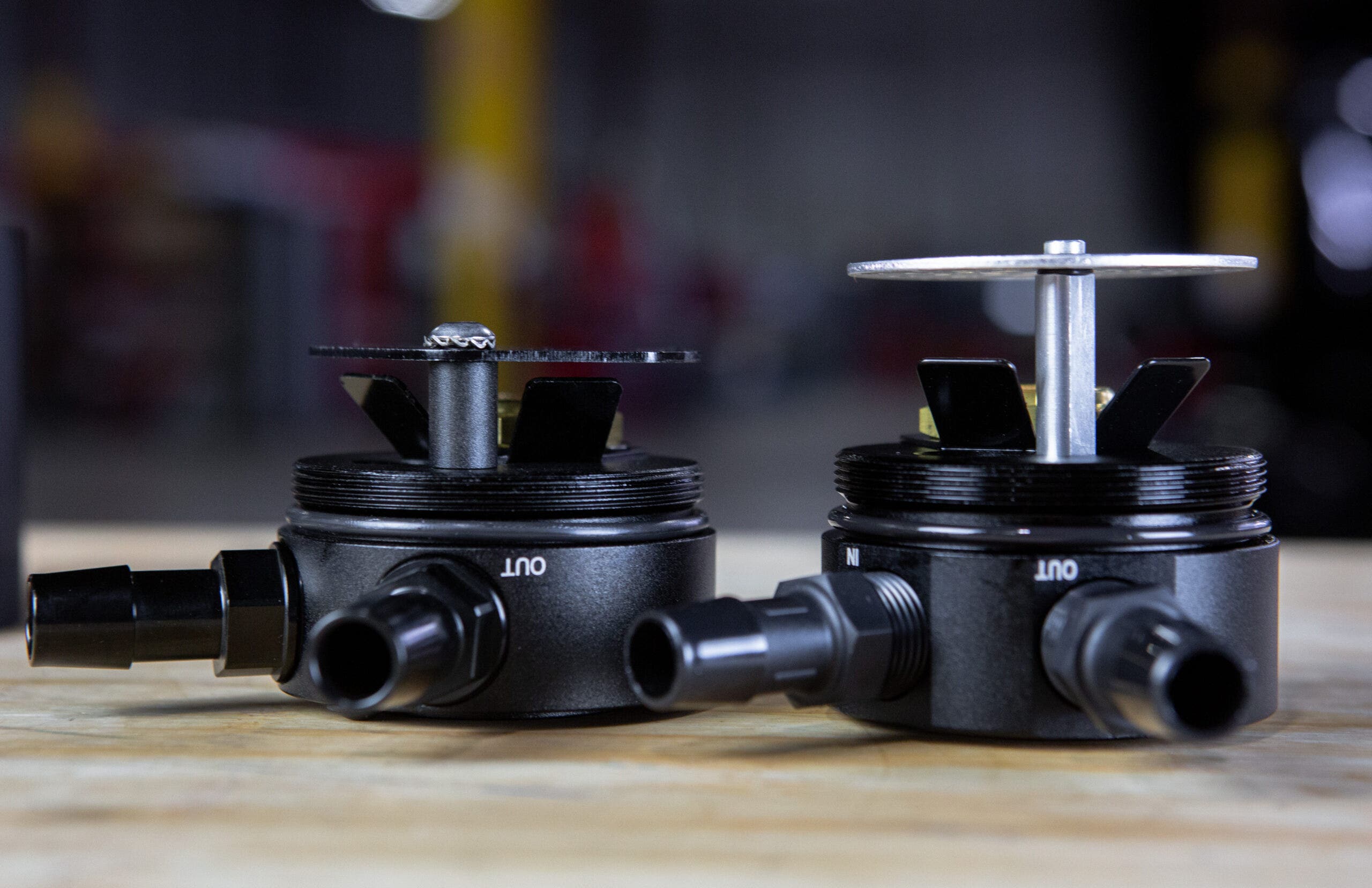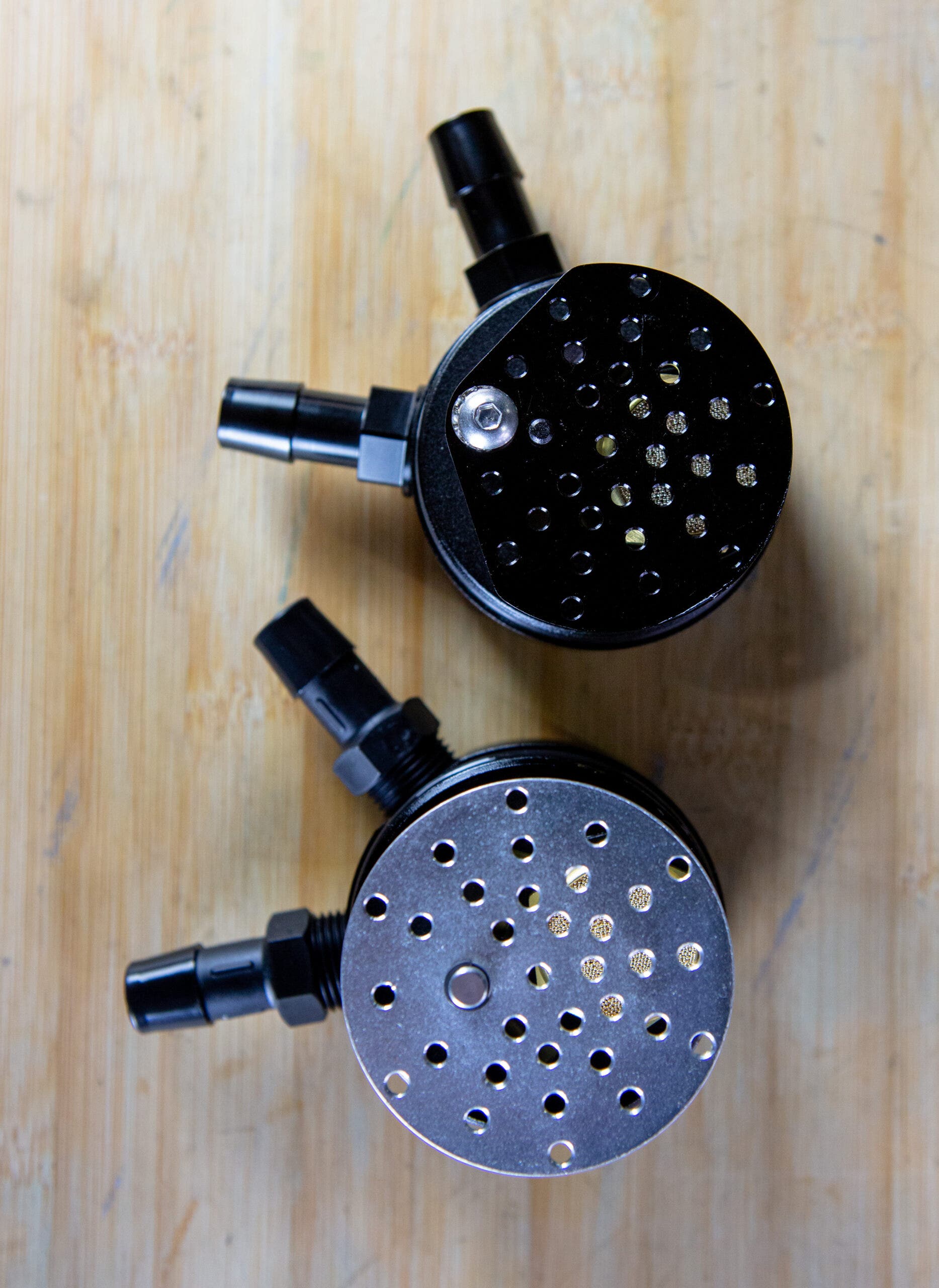 You might have also noticed the difference in shape between the baffles. Our revised baffle isn't round on purpose. The cutouts allow incoming air to flow around the baffle straight into the can. That gives the contaminated crankcase air more time in the can to expand, enabling harmful blow-by vapors to condense for more efficient collection. 
Our Compact Catch Can has been getting the job, but nobody's perfect, and after years of dedicated service, it was time for a refresh. We're pleased with the results, and we think you will be too. Check out the newest catch cans and accessories now ready for universal or direct fit applications. 
Thanks for Reading!
-Nick