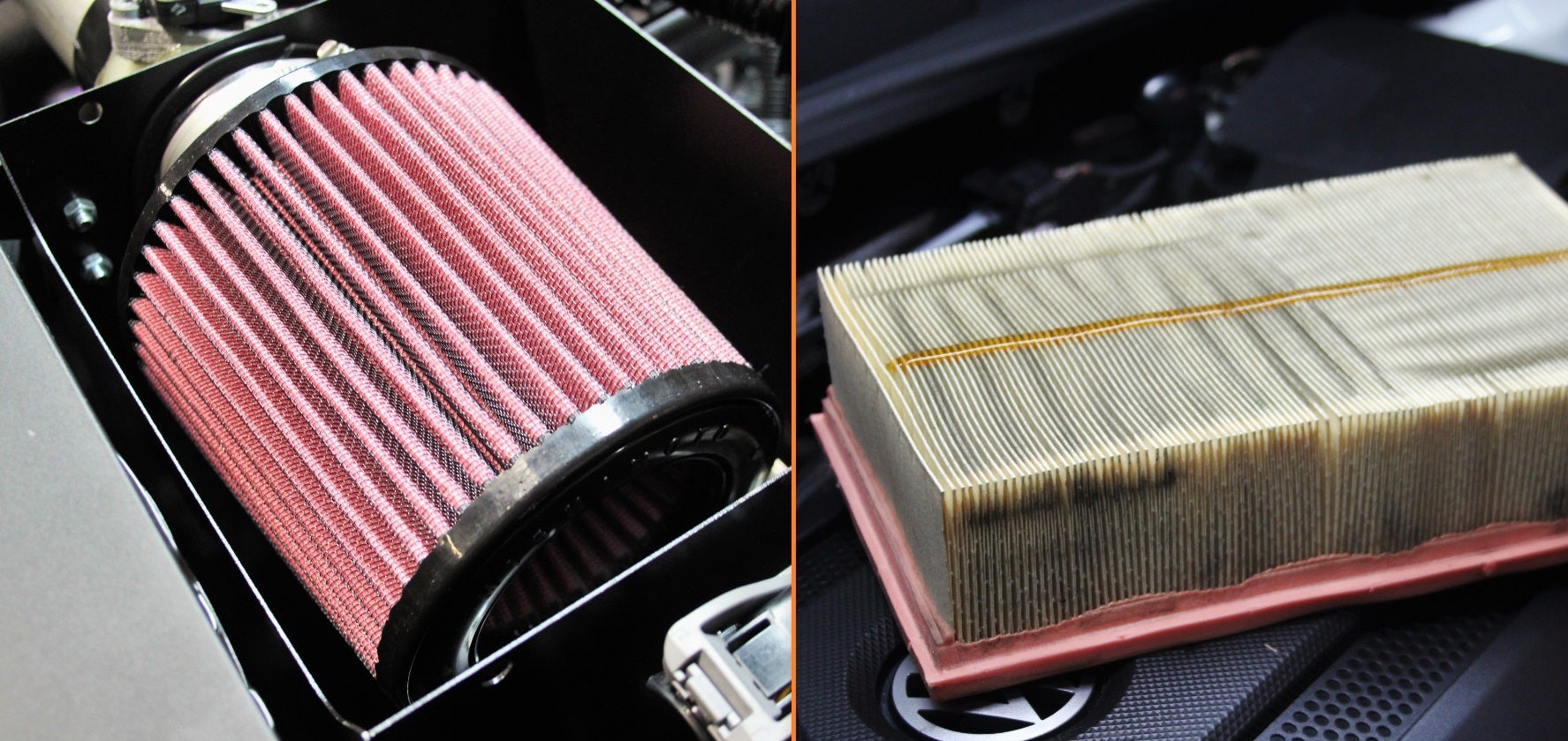 Filtering the Right Stuff: Dry vs Oiled Air Filters
Posted:
November 21, 2016
Do you remember your first car? Your first modification? Was it an intake? I bet it was an intake. I bought my first car in high school. Watch out ladies; it was an extremely clean, pearl white, 1999 Mitsubishi Eclipse GS (automatic and with a Bomex body kit". I was 17), and yes, the very first thing I did within a week of owning it was buy a cheap, used intake from some guy on Craigslist. It felt cool to finally own a "modded" car, and I'm sure most of the gearheads reading this can relate.
Usually, an intake is one of the first ideas that come to mind when someone starts modifying a car. Intakes are a relatively cheap, power-producing part (on most applications) and the results can usually be immediately felt and heard, especially on turbocharged applications. If you have been following this engineering blog, you may have noticed that I have been the guy writing about our performance intake development for the past year. This means that I field a lot of questions from our community about intake performance. One of the most common questions, and a topic that is still hotly debated amongst us gearheads, is whether one should use a dry or oiled filter. There is no hard-set answer to that. It depends on a few things, so let's quickly talk about it.
Dry Filters
We all know what a dry filter looks like. Almost all factory cars come with one and they are usually made with either a paper or foam element. Due to this, their filtration properties are generally hard to beat.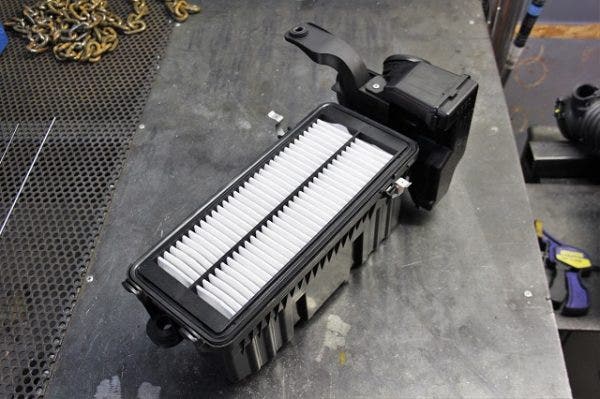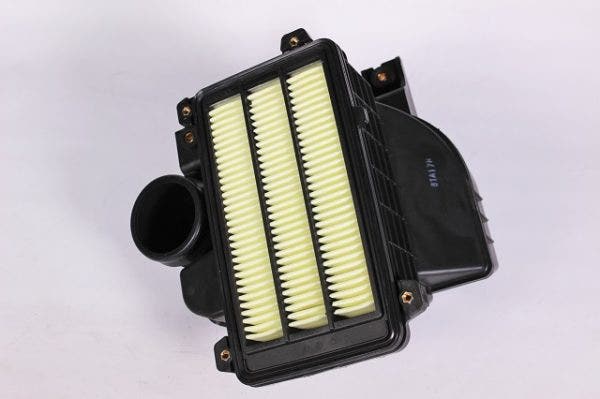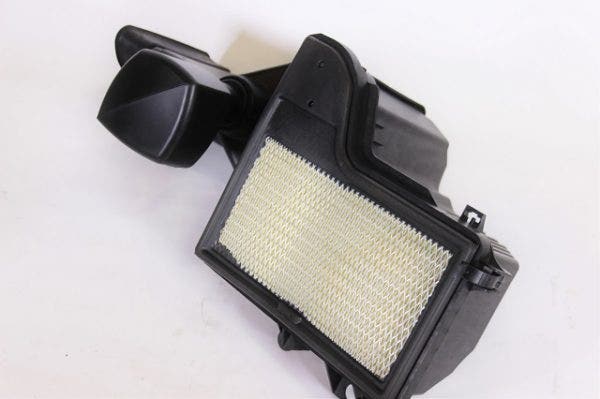 Air intake filters must meet minimum filtration standards and trap a certain amount of air contaminants to prevent harm to the engine, so by OEM design, they are more restrictive with respect to airflow. Although these types of air filters are great at keeping contaminants at bay, over time, the accumulating dirt and trapped particles causes an extreme decrease in power and fuel economy. These filters are already restrictive to begin with, so when you add a layer of dirt to the mix, it's almost like trying to breathe through a paper lunch bag inside another paper lunch bag. Try it! Tough, right?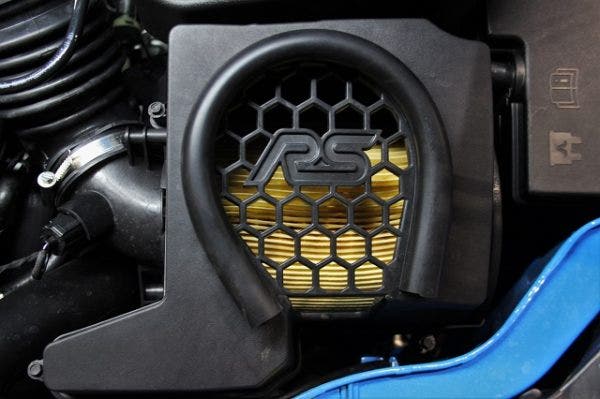 Due to their materials and construction, the air flow of even the high-performance dry air filters will usually be less than an oiled filter of the same size. The upside to dry filters is that they require less maintenance. They aren't always reusable, since using water to clean them will damage the filter element. Their life can be extended by using compressed air to blow some of the dirt off, but that can only be done so many times. OEM dry filters are generally effective up until 10,000 to 15,000 miles (check your service manual), then they must be replaced. Dry filters are commonly used in vehicles that are driven in drier, dustier climates, where airborne contaminants are way more plentiful than in wetter climates. Many people run dry filters in these environments because there is usually so much dust, that an oiled filter would need to be cleaned constantly. So, in what situations would an oiled filter perform better and how do they differ from dry filters?
Oiled Filters
In most aftermarket intake kits, companies supply their product with an oiled filter. Oiled filters flow more air through their media because they are constructed from a more open cotton material that is coated with a thin layer of oil.
Generally, high-performance dry filters can catch up to 99% of the incoming contaminants due to the smaller micron size of the filter media, while oiled filters catch about 98% of what passes through - a minute difference, but a difference none-the-less.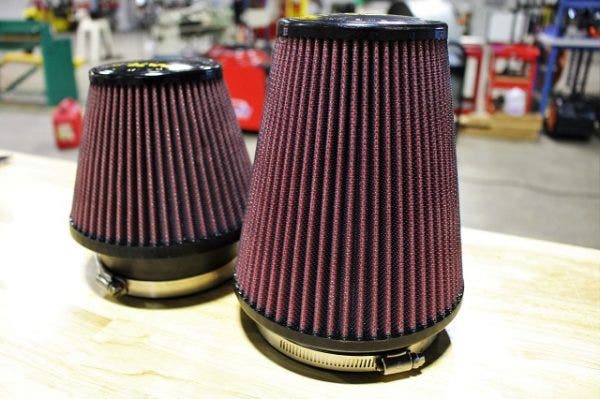 The oiled filter material relies on the tackiness of the oil to catch contaminants while the more open media allows a higher flow rate. The oil acts as a sticky trap for incoming air contaminants, providing an important layer of protection to keep the air free of debris. These filters typically come pre-oiled with a specific amount so they can drop right in without the user having to do anything. Oiled filters are what you see in most race applications (excluding off-road). They aren't always conical as pictured above. Many companies offer a direct drop in replacement for the stock air filter, and often, there is a slight bump in performance.
Another benefit is that these filters can last a lot longer than their dry counterparts. Oiled filters have the advantage of being completely washable and reusable, so you don't have to keep buying filters once they become too dirty. All you must do is follow the instructions to clean the filter and you're all set!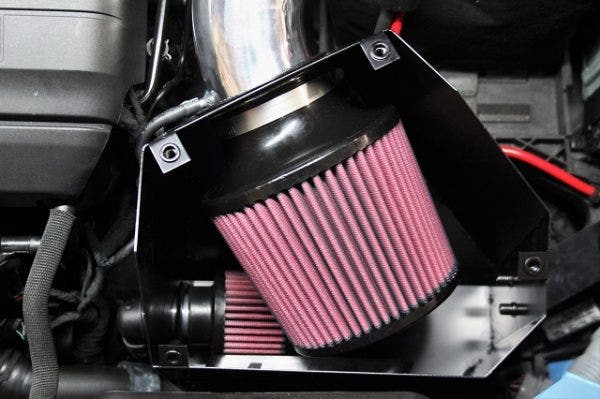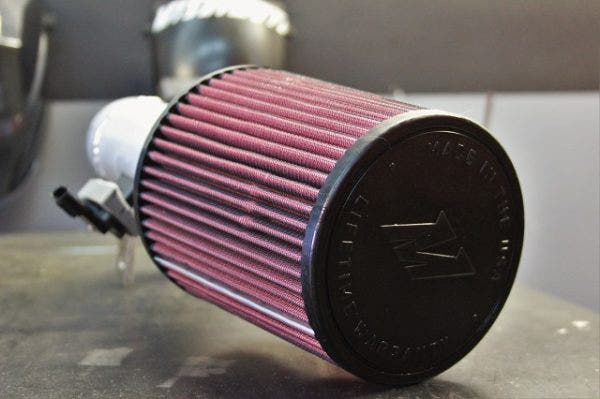 However, with greater airflow from these filters comes great responsibility. Oiled filters must be regularly cleaned, maintained and properly oiled, or else they can become detrimental to performance. You may have also heard that oiled filters can damage your mass airflow sensor (MAF). Let's nip this right in the bud. Usually the only way for something like this to happen is if you over-oil your filter when re-applying the oil. If there is too much oil on the filter, some of it can get sucked in through the cotton gauze and damage the MAF sensor. This is where you must be careful and follow the instructions on how to clean your oiled filter.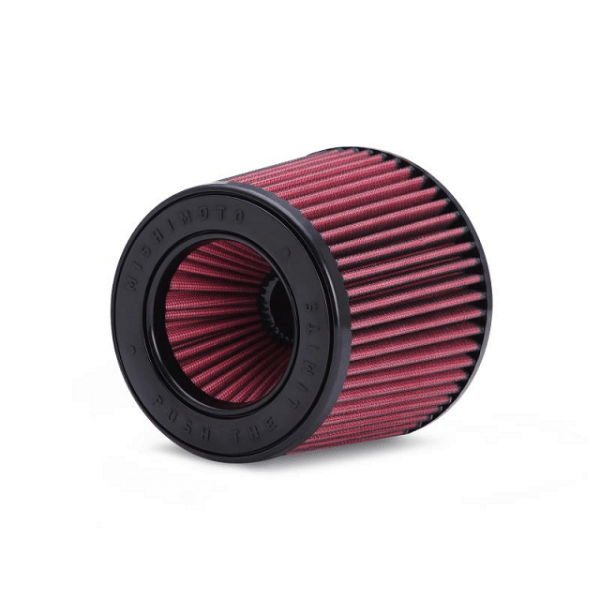 If properly maintained, an oiled filter can look as new as the day you purchased it. This additional maintenance schedule would be a drawback for some, but for us gearheads, it's just another day under the hood.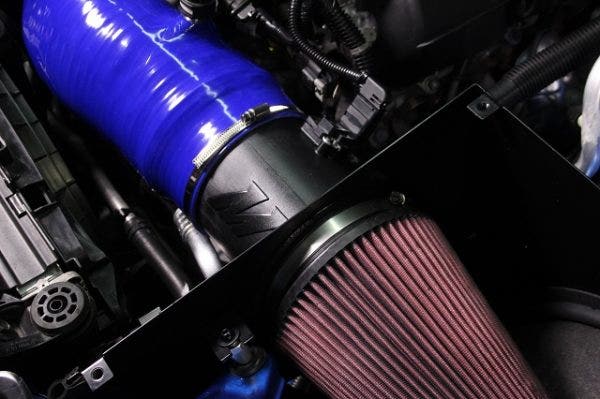 There are benefits to both types of air filters. If you are looking for performance, but are not interested in being bothered with maintenance, a high performance dry filter might be right for you. If you want slightly more airflow and are prepared to properly maintain it, an oiled filter (OK, here comes the plug) like one of our Mishimoto performance air filters would be a great choice. All of our filters come pre-oiled with the right amount of oil for that filter's surface area, are fully cleanable/reusable, are made right here in the USA, and of course, have the Mishimoto Lifetime Warranty.
The difference in real-world performance between a dry and oiled filter can sometimes be very small, but what it comes down to is the type of driver you are, and the type of environment you are driving in. When you're trying to shave the 1/100 of a second off your lap time, every ounce of power helps.
Choosing the right filter is always important, I hope this article helps you make the right choice. "Till next time, and thanks for reading!
-Diamaan