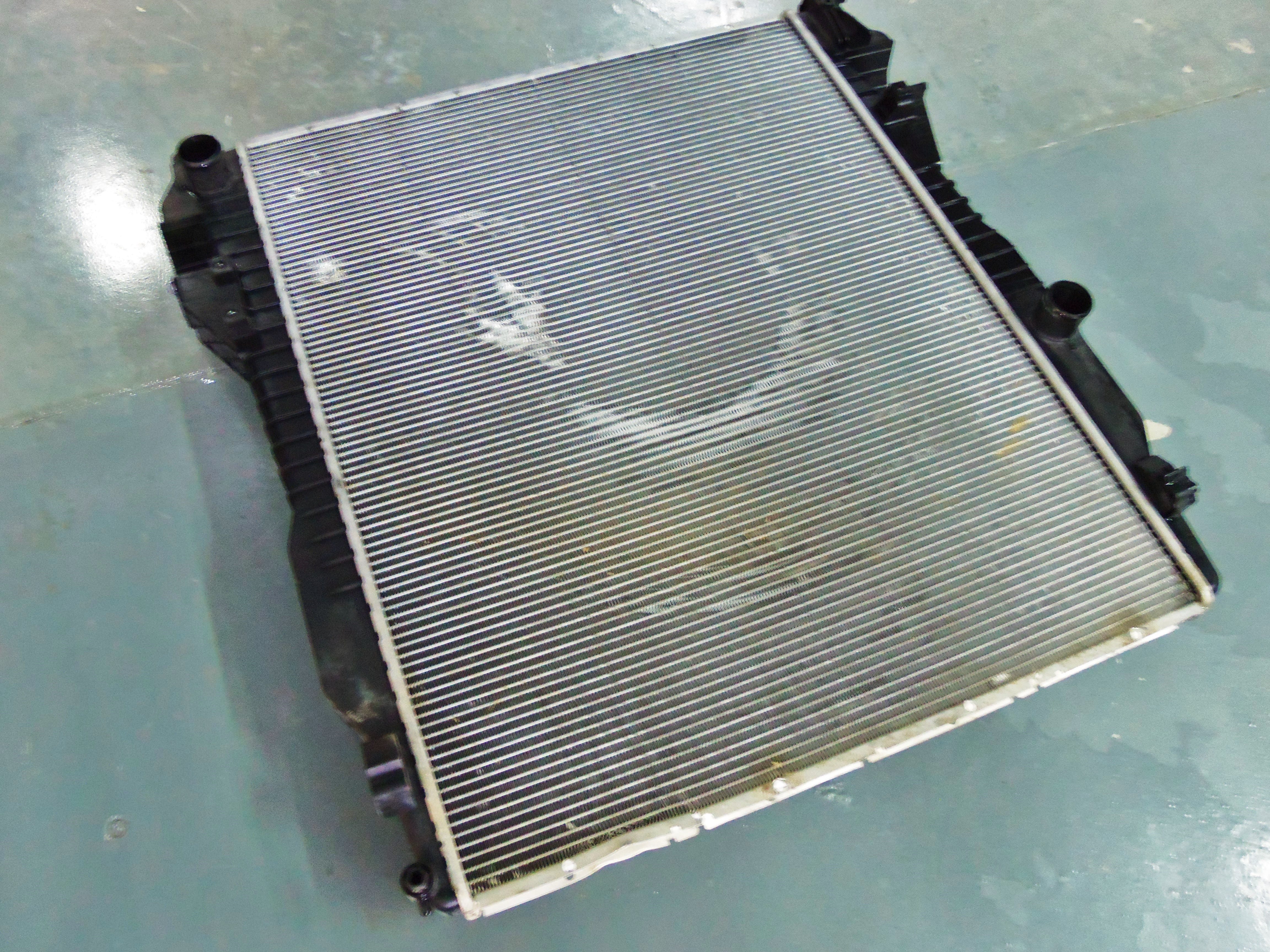 Mishimoto 2010-2012 Dodge 6.7L Cummins Performance Aluminum Radiator, Part 1: Product Introduction
Posted:
September 29, 2014
Interested in purchasing this Cummins radiator? Check out our product page for more information!
Many of you may be following our other write-up regarding the development of our intercooler for the 2010-2012 6.7L Cummins. Along with designing and testing an incredibly efficient intercooler, we also worked to improve the engine cooling efficiency by crafting a performance aluminum radiator. A typical enthusiast may be wondering, why would I want to upgrade my radiator? Couldn't I spend that money on modifications that make my truck faster, louder, and more fun? Possibly, but keep in mind the benefits of an aluminum radiator upgrade. First, the improvement in reliability is a huge factor for many of our consumers. The factory radiator is constructed from an aluminum core mated to plastic end tanks. The connection point uses a rubber gasket which is then crimped to the core to provide an appropriate seal.
Take a look at the factory radiator and the offending end tanks shown below.
These plastic end tanks are likely going to cause some sort of problem in the future. As you know, the cooling system in your truck is constantly fluctuating, from subzero temperatures to coolant temperatures well over 200°F. Years of temperature variations will eventually weaken this plastic material, likely resulting in a failure between the tank and core, or a crack in the tank. If you drive your truck frequently or use it for hauling or work purposes, the stress on the cooling system is even greater. So why are the factory end tanks made of plastic? It is very likely a cost consideration.
Now, the second improvement we can provide is in cooling efficiency. Factory radiator cores are well designed these days. Manufacturers are using rather dense cores that promote impressive heat transfer while maintaining a small footprint. We have found that factory radiators are efficiently cooling factory trucks in a majority of driving conditions. That being said, modified trucks, or trucks exposed to serious towing or hauling in extreme environments, often have temperature creeping problems, especially when engine load is high for long periods of time. By providing a radiator with greater capacity, greater heat dissipation, and a more efficient core, we can ensure that your trucks coolant temperatures will remain properly regulated under any possible driving situation.
Take a quick look at the factory radiator core.
Now that we had rationale for this project, we could move forward and set a few goals. By setting goals, we can ensure that our engineering team creates what our customers want. Check out our project goal list!
Project Objectives
Must be direct fit and require no vehicle modification.
Increase fluid capacity and core size.
Improve cooling efficiency.
The goal list for this particular project is short and basic, unlike some of our more extensive projects involving numerous variables. The design of this radiator should be relatively straightforward. Let's examine these goals for a quick explanation.
Fitment
As with all our products, the majority of our customers rely on proper fitment. If you spend your hard-earned money on an automotive part, you expect it to fit perfectly and perform exactly as the manufacturer states. Our engineering team will be designing this radiator to bolt into position just like the factory unit. All accessories and engine bay components that interact with the radiator will need to be addressed as well. We will be test fitting this radiator multiple times to ensure that all dimensions are correct and that our prototype fits perfectly.
Size Increase
Bigger is always better right? Well, most of the time. In this case, a larger heat exchanger core will provide greater surface area for our fins to transfer heat. Additionally, we can incorporate larger coolant tubes, which will increase the fluid capacity of our radiator compared to the factory unit. An increase in capacity will result in lower, more stable fluid temperatures. Although increasing the core size makes an impact, one has to consider the actual design of the radiator core as well. Core fin-and-tube composition of modern radiators has become quite impressive. If we intend to improve thickness, we will have to at least match the core density of the factory radiator so our size gains are valid. In short, we will be designing this core much larger than the factory unit with a fin-and-tube design that meets or exceeds that of the OEM radiator.
Cool It
Our headquarters incorporates a huge engineering facility that combines fabrication equipment and testing equipment in one location. We utilize this equipment as much as possible to fully test all products coming out of our shop. By providing real-world testing data, we can show our customers the benefits that our products will provide for their vehicles. Stay tuned for this!
That wraps up our first segment of the build for our aluminum radiator. Check back next time where we will be collecting data from the factory radiator and developing our first prototype!
Thanks for reading!
Interested in purchasing this Cummins radiator? Check out our product page for more information!