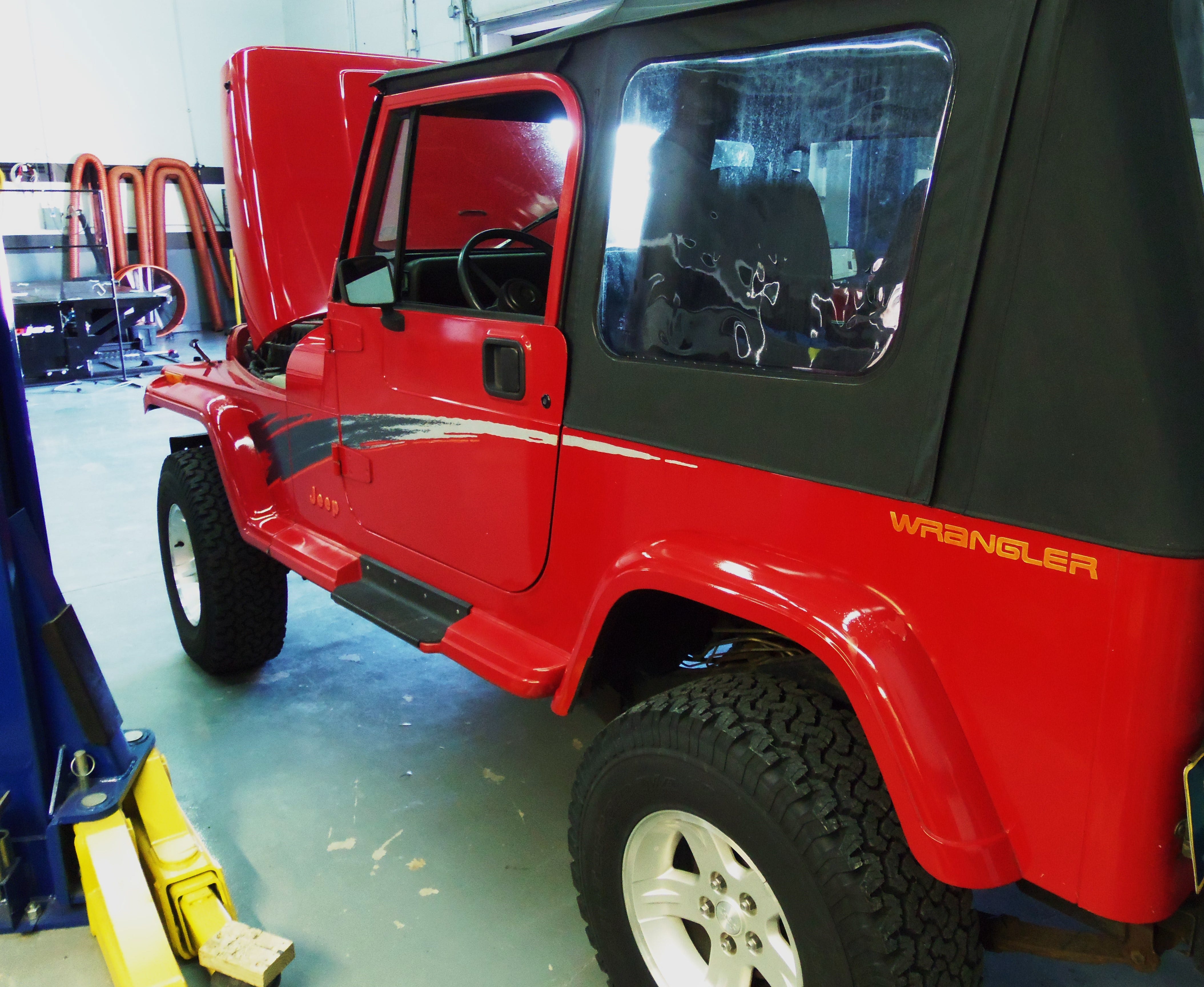 Improve The Cooling Of Your Wrangler, Part 1: Fabrication Work
Posted:
February 09, 2015
Interested in purchasing our YJ/TJ electric fan setup? Check out more details on our product page linked below.
Project Intro
After a few successful electric fan conversion projects, we chose yet another vehicle that could benefit from the removal of the stock clutch fan. Our previous endeavors involved BMWs that experienced frequent failures of the plastic stock clutch fan. After checking through potential applications and scouring the forums, our team chose the Wrangler as a prime subject for a reliable and efficient electric fan conversion kit.
Along with providing greater reliability, replacing the mechanical fan with an electric fan would reduce rotating mass and possibly free up a bit of power. Extra power is always welcome!
Stock Fan Setup
First, let's take a look at the stock fan setup equipped on both the Wrangler 4.0L and 2.5L vehicles. First up, the 4.0L.
This is our second test vehicle, a 2.5L powered TJ.
The design of these systems is quite interesting. To make up for the additional space on the 4-cylinder model, a massive shroud is used to pull air properly through the radiator. By eliminating the mechanical fan connected to the engine, we could free up a ton of space in the engine bays of both vehicles.
Initial Fabrication
We decided to jump into this project by fabricating the shroud. We started with our 16" electric slim fan. This fan has been proven effective on a variety of other vehicles, so it should provide more than enough airflow to keep your Wrangler cool. Considering that many Wranglers spend substantial time at low speeds crawling through trails, a reliable fan solution is crucial.
Additionally, we would be testing this unit to ensure proper operation and cooling.
We started by designing a shroud to fit the footprint of the radiator core. The hole for our 16" fan was also cut from the center of the shroud.
Next, we 3D-printed some templates for the mounting brackets and mocked them into place on our aluminum radiator. This shroud is being designed to function with both the stock radiator and our aluminum counterpart.
We then fired up the TIG and welded these brackets to the shroud.
Our first prototype was ready for test fitting!
Next time we will be installing this first prototype in both a YJ and TJ Wrangler to confirm fitment and make any necessary design adjustments.
Thanks for reading!
Interested in purchasing our YJ/TJ electric fan setup? Check out more details on our product page linked below.