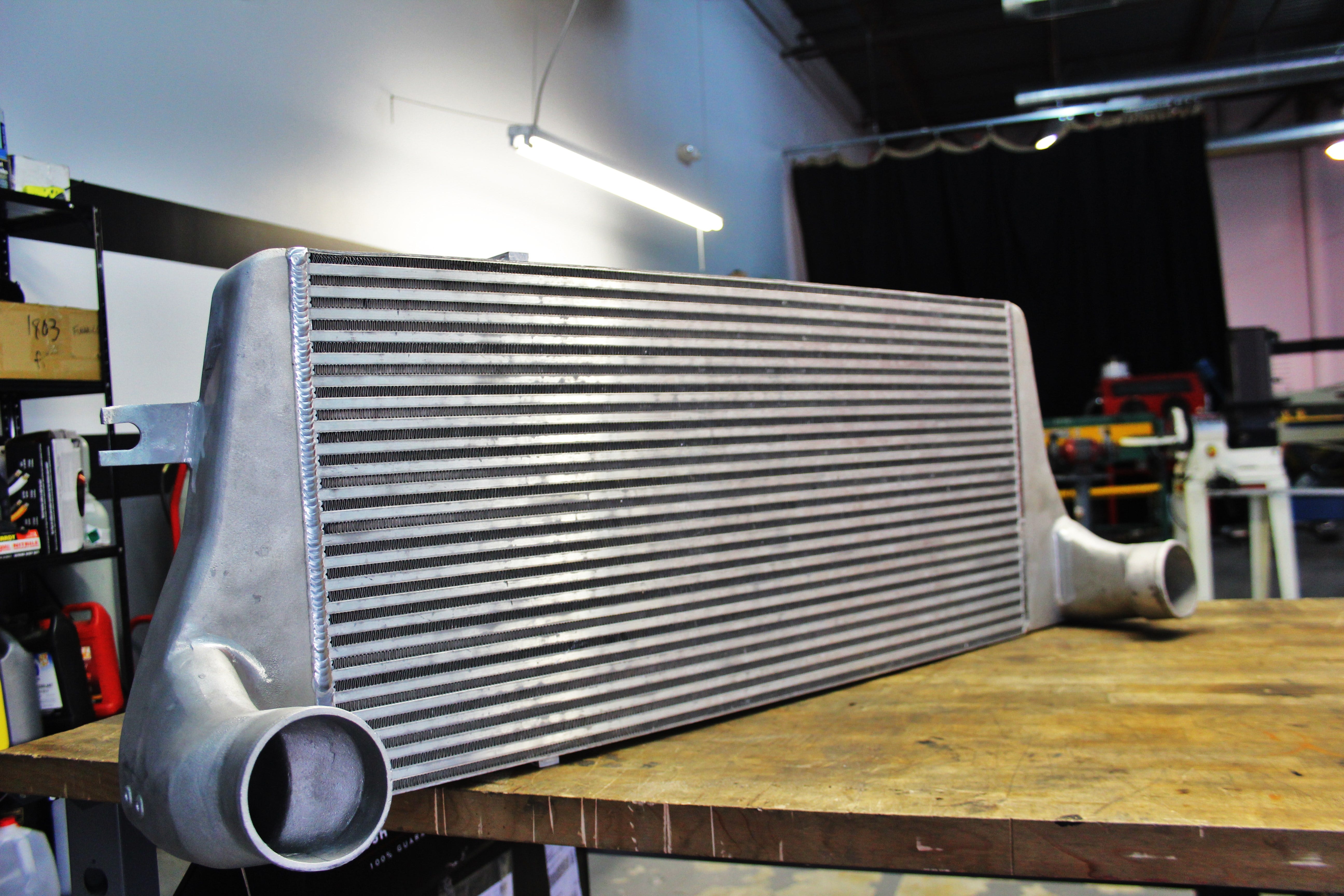 The Mishimoto 2nd-Generation Cummins Intercooler, Part 2: Factory Cooler Data and Mishimoto Design
Interested in picking up our 2nd Gen Cummins intercooler or intercooler pipe kit? Check out the product pages linked below!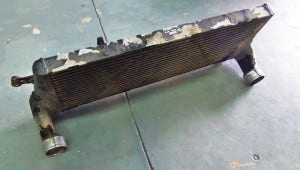 Cummins factory intercooler
The factory inlet/outlet portions of this intercooler are quite interesting. They are shaped to route around the radiator support; however, this has a significant impact on the airflow through this part of the cooler. This bottleneck cannot be eliminated unless users want to grab the Sawzall and shred some steel. We will be looking to reduce this restriction as much as possible with our design. Here is a look at the factory setup.
And a close-up shot of the tube-and-fin core.
Factory Intercooler - Basic Dimensions
A couple dimensions are shown in the images below to give you an idea of the size of the factory cooler, assuming you've never measured yours!
Stock core specs are listed below.
Dimensions: 35.5" x 16.65" x 2"
Volume: 1,180 ci
Core Type: Tube and fin
End Tank Construction: Cast aluminum, TIG-welded
Collecting Overall Dimensions
Once we had an idea of the features and basic specs of the factory intercooler, it was time to collect more accurate dimensions so we could begin designing our intercooler. We placed the factory intercooler on our coordinate measuring machine (CMM) table, fixtured it in place, and started modeling the cooler.
And another look at the restrictive inlet/outlet.
Mishimoto Intercooler 3D Model
After quite a bit of time working on 3D models, we finally completed the design of our planned cooler. Our first prototype might require light tweaking, which will be determined when we install the prototype on each truck. Check out the renderings!
This cooler is looking pretty awesome so far! A few of the basic specs of our intercooler are shown below.
Dimensions: 35.9" x 16.65" x 3"
Volume: 1,793 ci
Core Type: Bar and plate
End Tank Construction: Cast aluminum, TIG-welded
From these specs you can see that we have increased the core size substantially, which should provide some impressive improvements in intake temperature reduction. Now, we didn't just slap a big core into this cooler. Our engineering team experimented with a variety of bar-and-fin sizes to determine the best core for the flow provided by the 5.9L/Holset combination. Testing will provide final validation for our design; however, we are very confident that we nailed this one.
In addition to placing quite a bit of focus on the core design, we also worked to reduce restrictions within the inlet/outlet as much as possible. We used Computational Fluid Dynamics (CFD) to evaluate different designs, tank curvatures, and internal diameters to come up with an ideal solution. Not only did we want to reduce restrictions, but we also wanted to ensure that the airflow was reaching the full height of the core. We developed an internal end-tank diverter that spreads airflow to the top of the cooler. This will help utilize as much as the core as possible so we can achieve greater heat transfer. All these improvements should translate into very low intake temperatures for your truck. Check out a couple shots from our CFD work!
Coming Up
With our first prototype fully designed it was time to work up a functional prototype for test fitting and actual dyno and road testing. Check back with us next time for a look at our prototype unit and some cool shots from test fitting!
For now, we leave you with a teaser of the cooler.
Thanks
-John
Interested in picking up our 2nd Gen Cummins intercooler or intercooler pipe kit? Check out the product pages linked below!