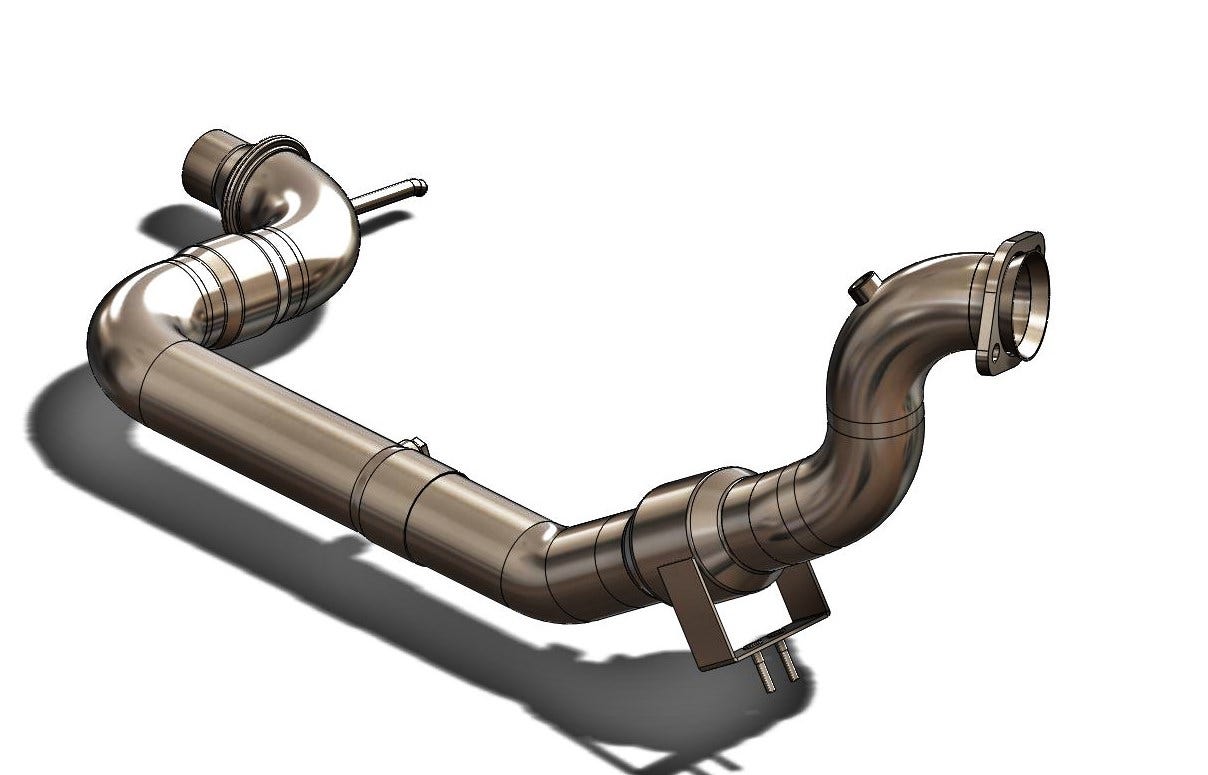 Unleashing The EcoBoost. Downpipe Development, Part 2: 3D Printing and Initial Prototype
Interested in purchasing our Mustang EcoBoost Downpipe? Check out more details on our product page linked below!
It has been awhile since our last update on the Mishimoto downpipe, however I assure you it was worth the wait. We have had our engineers tackling a ton of awesome new products for the EB, this exhaust system included. We left off with an evaluation of the stock downpipe. Once that was complete we set out to design our own system.
3D Printing
Is Mishimoto going to print out an entire downpipe? Not entirely, but we do intend to flex the muscles of our new 3D printer on this particular project. If we have the technology, why not use it. After creating a model of our design in Solidworks, we began to print components that would require additional time to fabricate. This includes bungs, flanges, and bends within the system.
Check out a shot of our printer pumping out one of the bends on our design.
Once out of the printer we needed to clean up the parts and file down some portions of the support material.
First Prototype
With our components printed, we could then combine this with piping to match our design, allowing us to put together a prototype for test fitting.
In the foreground we see the flange that meets the cat-back portion of the exhaust system. This follows the same path as the stock downpipe. We are using the stock exhaust hanger points, which you see mounted to this flange piece. Now, a look from the top.
This pipe reflects our catless design; we will also be offering a catted pipe. From this image you can see three oxygen-sensor bungs on the pipe. The first sensor is located in the exact location of the stock unit, while the second sensor has been placed slightly more downstream. This is done to account for a catalytic converter in between the first and second sensors.
The third sensor bung is an added feature with our pipe. As you may be aware, the stock pipe uses only the first two sensors. Our third sensor has been included for folks interested in adding a wideband oxygen sensor to monitor air/fuel ratios.
This last image shows the flange that mates to the turbocharger exhaust housing. We have modeled our design to the exact specifications of the stock flange for flawless fitment.
Test Fitting
Now that we had our prototype put together, it was time to install this unit and check for clearances. If we find any issues at this point they can be easily corrected before we construct a functional prototype. Check out how this unit fits into place.
The prototype mated up perfectly with the stock turbocharger housing as well as the front downpipe mounting point.
3D Models
After inspecting this prototype fully installed, we made a few minor adjustments to our design and moved forward with producing a functional prototype. In the meantime, check out some cool 3D models showing our downpipe.
Catless Downpipe
A few more interesting features to note! Toward the end of the pipe near the cat-back connection you will notice a slight bulge within the pipe, which is an intended flex joint. Exhaust flex is important to consider with our design. A rigid system without play may end up with cracked welds or damage as the engine moves during acceleration.
At the cat-back flange you will notice a neck-down piece in place to mate with the stock slip joint. This flange is connected to our exhaust with a V-band. We are working on a cat-back system that will mount directly to our V-band on the end of this downpipe. This allows for compatibility with both the stock cat-back as well as our future 3" design.
Catted Downpipe
The downpipe equipped with a catalytic converter is very similar to the previous design, but with the converter placed within the confines of the front mounting bracket. Check out a few more renderings!
Coming Up!
Our next task is to construct a functional prototype for test fitting, sound testing, and power output tests. Check back soon for more details on this!
Thanks for reading!
-John
Interested in purchasing our Mustang EcoBoost Downpipe? Check out more details on our product page linked below!