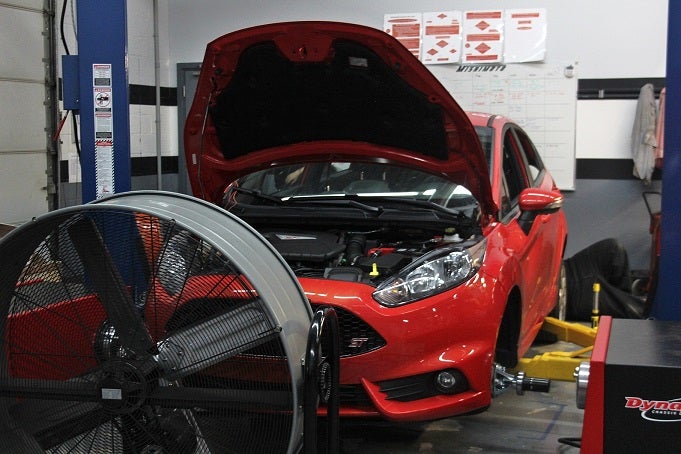 Fresh Air For The Fiesta! ST Performance Intake R&D, Part 5: Prototype Dyno Testing
Testing day has finally arrived and it's time to see how our new Fiesta ST parts perform! After weeks of prototype design and fabrication, we have our first prototype Ford Fiesta ST intake system ready for dyno testing. Our first round of product testing is being conducted for two reasons:
First, we want to evaluate power output. Our initial post explained that we were skeptical about making power with our intake. The Fiesta is a MAP-based vehicle and only uses its MAF sensor to gather temperature data. Through our years of development, extracting additional power from speed density (MAP-calculated) is a bit of a challenge. The gains we usually see on these vehicles is a result of reduced restriction within the intake tract. With this intake we've certainly improved flow, so let's see what we are able to produce.
Our second goal with testing is to procure sound clips with our Ford Fiesta ST intake installed. When replacing the restrictive stock setup, intake volume is typically increased, which can be a great added bonus for aftermarket intake installation.
No more waiting, check out the video!
First impressions, this intake sounds fantastic. Noise from the bypass valve is far more audible with our setup installed. Turbo spool sounds are also increased, but not to the point of annoyance. If I was a FIST owner, this would be the blend I'd want for sound improvements.
Next, let's take a look at the dyno plot we produced with back-to-back testing of the stock Fiesta intake and our prototype.
One thing to keep in mind regarding our testing. Each plot shown is an average of three runs from each setup. We made pulls until the car produced three consistent plots, which were then averaged. To be clear, we did not compare a low run from the stock Ford Fiesta ST intake to a high run from our setup, so this data is completely repeatable.
Our pull starts at 2500 rpm and ends at around 6300 rpm. As you can see, the Mishimoto intake made gains throughout most of the power band, to the tune of around 1-3 whp/wtq on average. Maximum gains of 6 whp and 10 wtq were recorded early on in the pull, at just over 3,000 rpm. Pretty good results, especially considering we did not anticipate huge gains.
As we've noted, reduced restriction is the primary contributor to these gains. Our filter has a lot to do with this, made evident by the surface area comparison below.
The stock filter is rather small and we were able to easily improve the size of the filtration area.
Coming Up!
Last series we discussed checking out both intake temperatures as well as the functionality of our additional port on the airbox. The port proved to make negligible differences on the dyno, but we are still interested in seeing if it can contribute to bringing cold air into the box. We will be conducting some additional testing to determine if any changes are needed with our Fiesta ST intake prototype design!
Keep an eye out for more blog updates on new Mishimoto Fiesta ST parts!
Thanks for reading!
-John