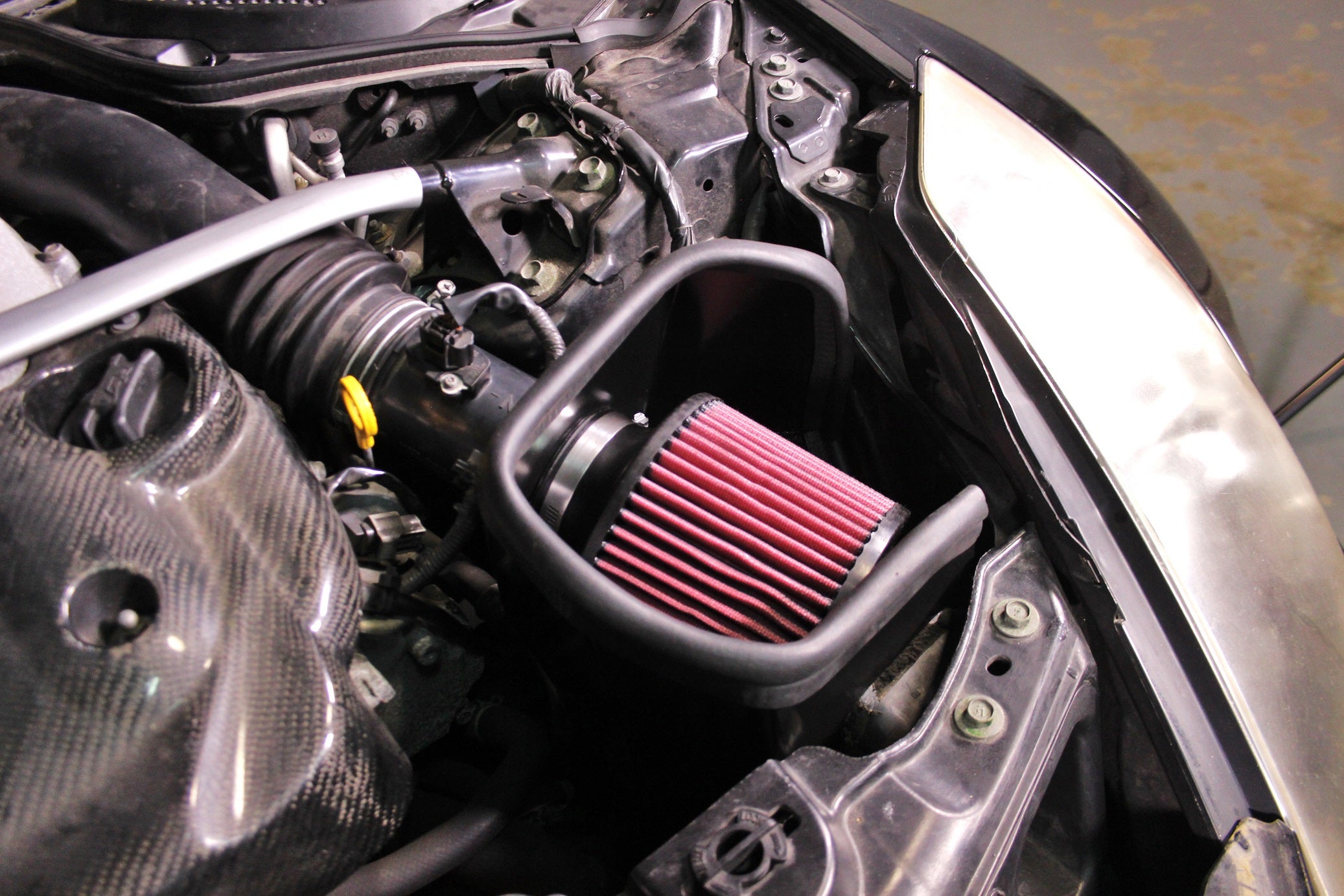 Pure VQ Sound! Mishimoto's Nissan 350Z Performance Intake R&D, Part 4: Final Prototype Assembly
Posted:
September 04, 2015
Interested in purchasing our awesome intake system? Check out our product page linked below!
Last time we dyno tested our assembled prototype for sound and performance. Maximum gains were achieved in the midrange of the rpm band to the tune of 10 whp and 13 wtq. These are impressive numbers. We saw gains from the start of the pull through redline, averaging around 5-7 whp/wtq throughout.
The sound produced by the VQ with our intake installed is nothing short of awesome! The large air filter and reduced restriction produces a deeper, amplified induction tone that sounds quite satisfying from behind the wheel.
Our last task is to fully model our design in Solidworks and construct our final prototype for fitment confirmation. As we mentioned last time, minor tweaks were needed to perfect fitment.
Intake 3D Models
With our prototype airbox in hand and our adjustment notes ready, we began constructing our 3D models of the final design. Check out the renderings!
The models below of the full assembly include our MAF-housing adapter and filter in place within the box.
The model above reflects the final iteration of our Z intake system!
Final Prototype Fabrication
Construction of the final prototype will be based on the dimensions of the final model, which will allow us to verify that our fitment is 100% spot on.
First, we split up the model into separate pieces so that we could map out the cuts needed for the airbox. These were then printed out as templates for the individual pieces.
We then adhered these templates to a sheet of steel to start fabrication.
We went to work with the band saw, grinder, bender, shears, and sander to accurately construct the individual pieces of our airbox.
All components are ready for welding.
We then began putting this puzzle together with the help of our TIG-welder!
Once the box was fully welded, we used the sander to clean up the welds and smooth the joints.
Final Prototype
Once the seams were smoothed and represented the desired quality of our final product, the prototype was complete.
This piece was painted, and we attached weather-stripping on all edges to ensure vibrational noises are eliminated during operation. Check out a few fully installed shots!
Coming Up!
Development and product design are complete for our first Nissan 350Z air intake system. From the power gains, to the fitment, to the sound produced, we are extremely pleased with how this setup turned out.
Now that our first batch of intake kits is being manufactured, we are preparing to launch a discounted pre-sale for those interested in picking up this kit. Check back soon for details on pricing and shipping information!
Thanks for following our development progress!
-John
Interested in purchasing our awesome intake system? Check out our product page linked below!