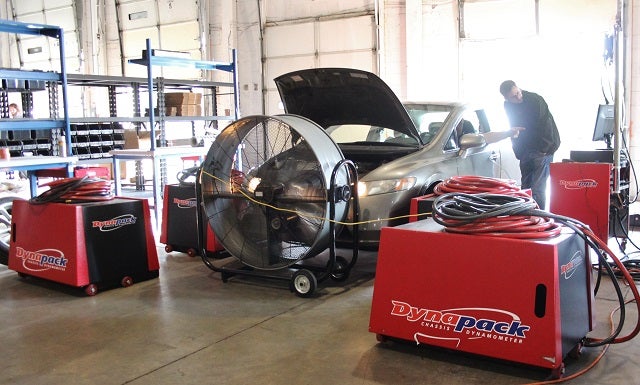 Smooth Airflow For The 8th-Gen. Mishimoto Civic Si Induction Hose R&D
Posted:
February 19, 2016
We've got another awesome project in the works for the 8th-generation Honda Civic Si! Our recently released performance intake system received great feedback from customers, but it also identified an additional need for intake system components. We decided to develop a Civic Si induction hose made from silicone to replace the stock rubber unit.
Stock Civic Si Induction Hose
Before jumping into the design of our prototype hose, check out a few shots of the stock unit.
The stock hose directs airflow coming through the airbox/mass air flow (MAF) housing to the throttle body. This hose has quite a unique route around engine bay components. Two separate flex joints on this piece allow for the engine movement. These areas of the hose are typically prone to cracking and splitting from oil saturation and extended exposure to heat. This hose features two crankcase ventilation (CCV) connection points that will need to be replicated on our design to provide bolt-on fitment.
Mishimoto Prototype
After capturing the dimensions needed from the stock hose, our team went to work designing the silicone counterpart. Check out our first prototype unit!
As you can see we've matched the contours of the stock hose while providing a smoother component. In addition, we've molded both CCV connection points into our design.
Our prototype hose is a five-ply silicone unit that will provide optimal durability and much greater longevity than the stock rubber piece.
Prototype Installation
Time to install our first prototype to ensure fitment is spot-on.
As we expected, this piece fit just like the stock hose, and both CCV connection points aligned perfectly. A successful installation!
Dyno Testing
Next, we needed to verify our design and see if any power increases occurred. Although we did not see any gains with our 9th-generation induction hose, we decided that it wouldn't hurt to test the 8th-generation hose as well.
First we set up the vehicle on our Dynapack™.
Once the vehicle was situated on the dyno, we began making pulls with the stock hose installed and then with our silicone induction hose installed.
Check out a couple clips from testing!
Dyno Results
As with the testing of our 9th-generation Civic, we did not see any appreciable gains on our stock test vehicle. Check out the plot below.
Both plots follow a similar path, and you can definitely see the impact of VTEC. At the top end of the plot we do see some gains of 1-2 whp and 1-2 wtq. With additional airflow from a bolt-on and/or tuned vehicle, gains in the upper end of the range could be a bit more significant.
For a stock vehicle, the primary benefits of this hose include improved durability and longevity. In addition, the aesthetic styling is improved over the stock piece.
Product Release
This induction hose is now released and available for purchase. Be sure to check with our vendors for availability.
Thanks for reading!
-John