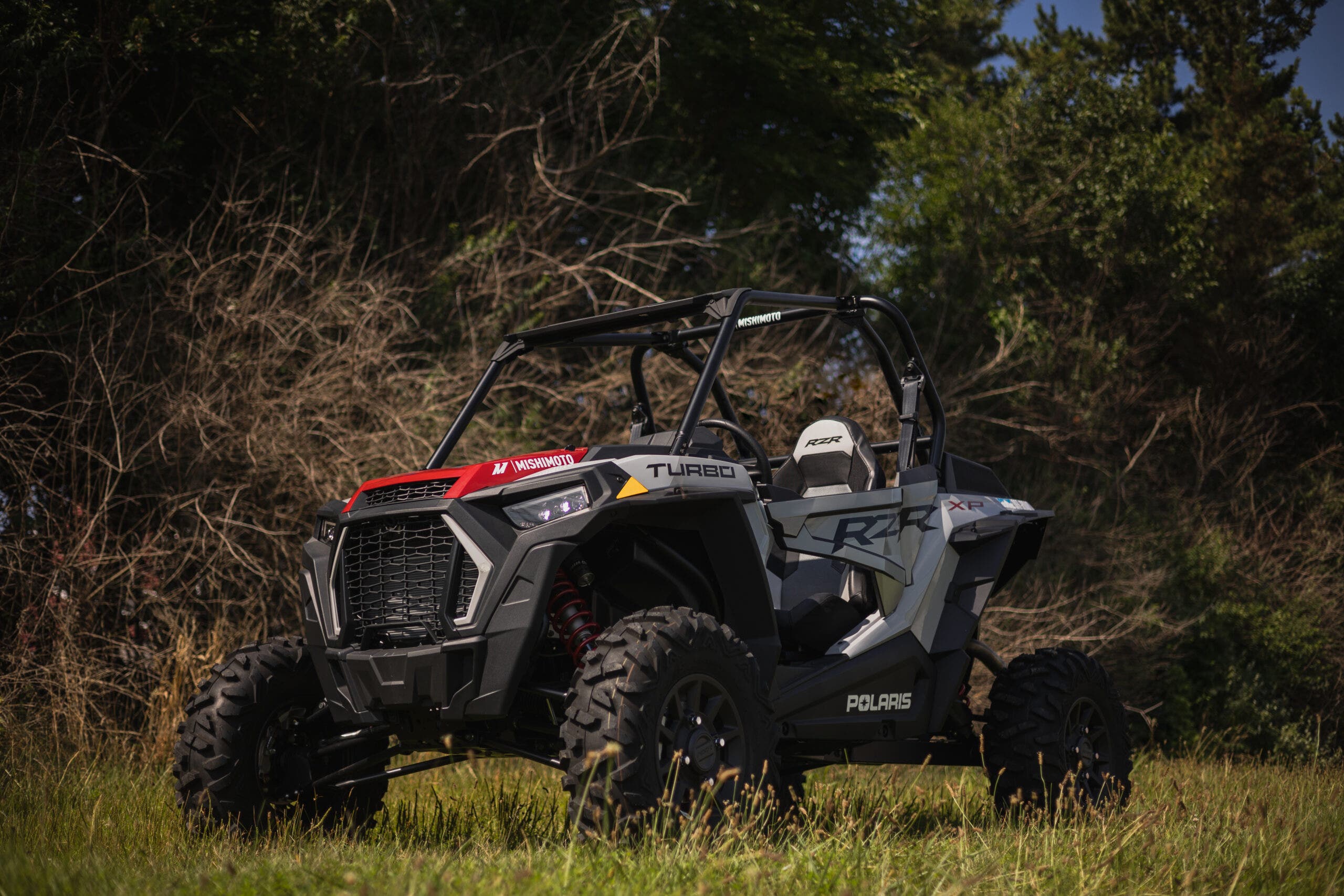 RZR Sharp - 2016+ Polaris RZR XP Turbo Radiator Relocation R&D, Part 1 - Design Plans
Our RZR XP Turbo Radiator Relocation kit is now available! Click here to grab yours today!
---
Let's take a trip. We're in a dense, tropical jungle, trudging through the thick vegetation to reach our final destination. We're searching for something so old that all trails were lost to the test of time with only jungle remaining. The only path forward is the one we're blazing with our trusty machete. You swing your arm to carve out a new passage through a tangle of vines. "THWANG!" The blade skips off the bark armoring the thick web obstructing your forward momentum. You make another attempt, this time aiming for a pocket of thick leaves. The blade swings true, with the brush only bending to the will of the machete. Quickly, they snap back in place, mostly unscathed and still standing in the way of the destination. The machete you put you trusted to blaze a path through uncharted territory is dull, and the blade is covered in the remnants of past plants hacked, bringing your expedition to a halt.
The Polaris RZR XP Turbo tends to suffer a similar fate. Aptly named, this off-roader combines the power of a 925CC turbo twin with knobby tires, towering long-travel suspension, and a tough and tiny chassis making it the ideal tool for slicing through any terrain. Unfortunately, even with its beaming list of qualifications, the sharp-performing RZR turbo' abilities are easily dulled due to the OEM cooling system.
Performance isn't the source of the RZR's colling weakness; instead, it's the placement of the cooling stack. To optimize cooling performance right out of the box, the primary radiator and intercooler heat exchanger are mounted front and center on the vehicle, giving them first dibs on cool, fresh air. However, there is a trade-off for this configuration, especially in the world of off-roading. Since the RZR is built for tackling challenging terrain, these heat exchanger cores are easily coated and clogged with thick mud and debris, quickly dashing any cooling qualities they once possessed. They are also easy prey for any trail debris to pop, puncture, or skewer these components, leaving you stranded in a pool of coolant in the middle of the wilderness.
There are only so many situations that off-road recovery gear can get you out of, but unfortunately, a mangled radiator can't be rectified with a winch or sand ladders. In that case, finding a new home for your radiator and heat exchanger is the best solution for ensuring your off-roading expedition doesn't abruptly end. Luckily, our engineering team is already on the case.
Our engineer, Dan, decided that the safest location for the cooling stack is behind the cockpit while utilizing the roll cage for mounting support. This location is much less susceptible to fin-clogging mud and pointy trail hazards, with the bonus of surrounding these radiators with a rigid metal cage. It seems like a no-brainer, right? As simple as this solution is, however, it still requires our full range of engineering prowess to relocate an entire cooling stack.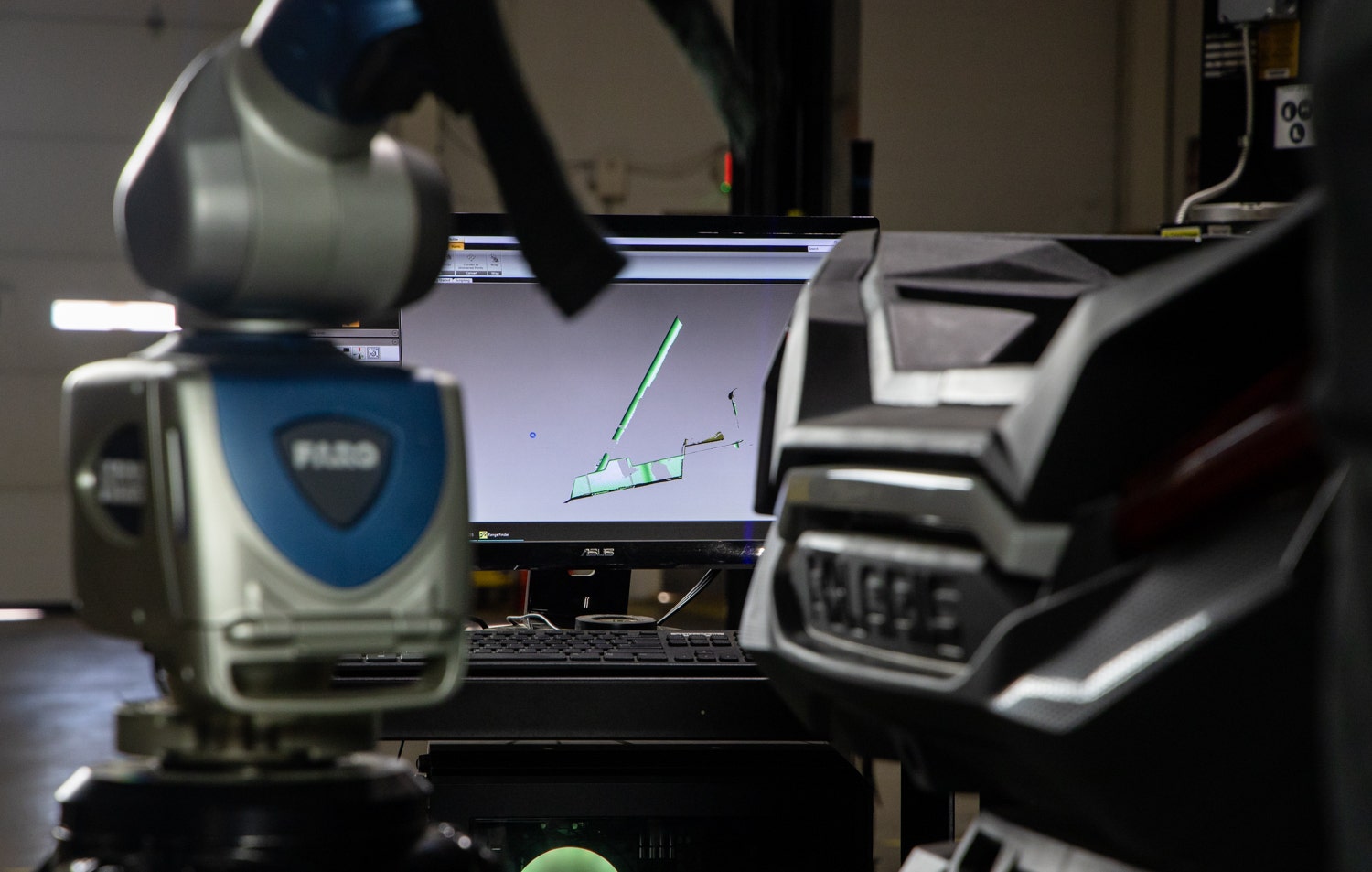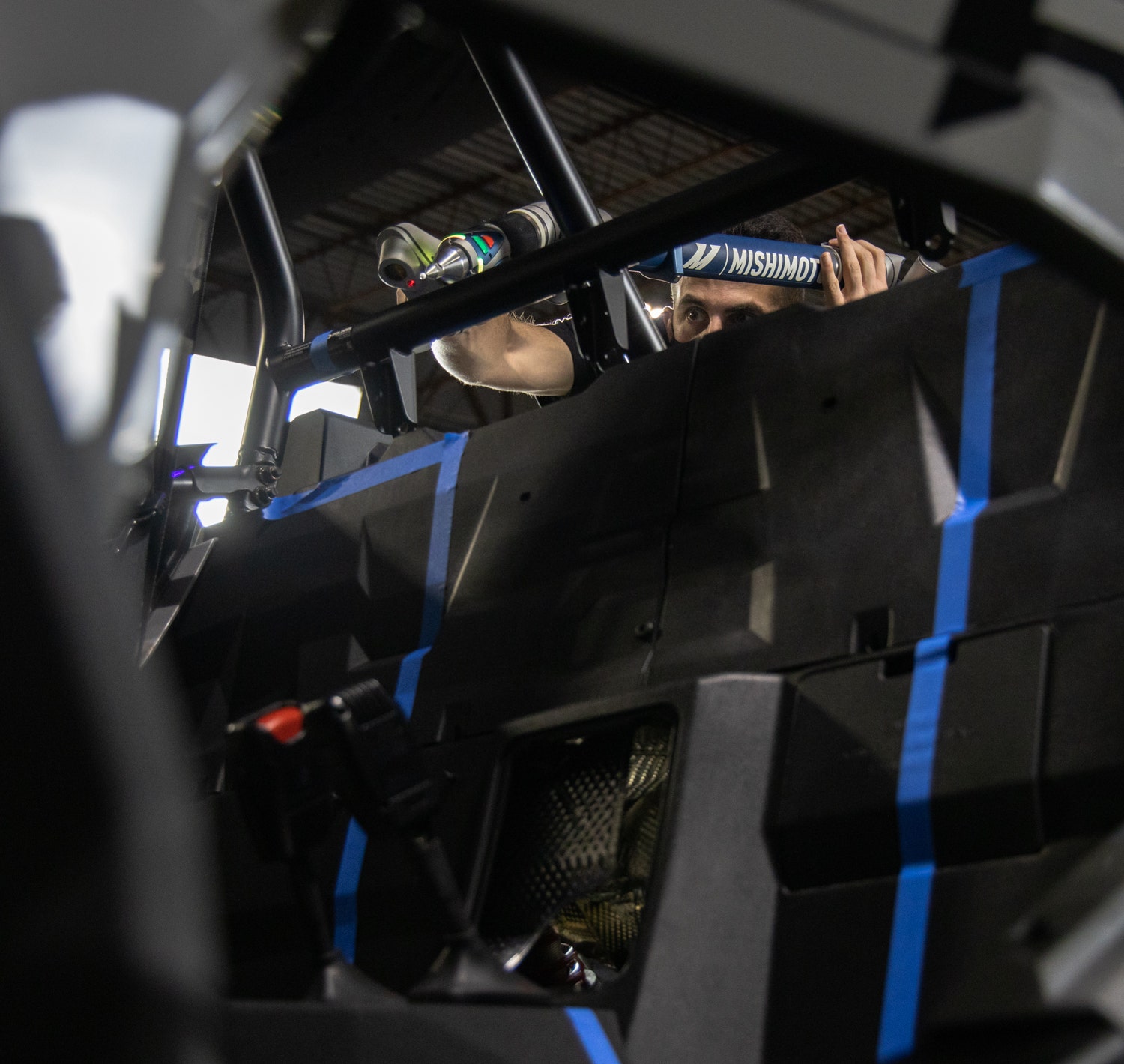 Dan starts the design process by creating a virtual workspace with the help of our Faro Design ScanArm. This scanner combines lasers and an integrated camera to generate a 1-to-1 scale digital replica of the rear and interior of our RZR with precise, real-world angles and clearance for a more precise design. Then, with the RZR downloaded into the modeling software, Dan started digging into the detail of our new design.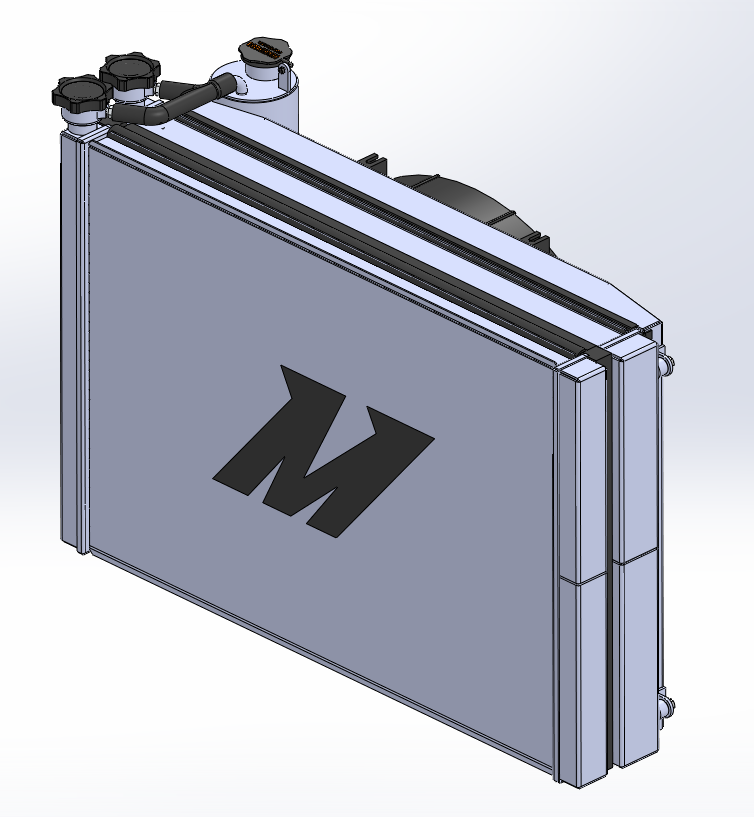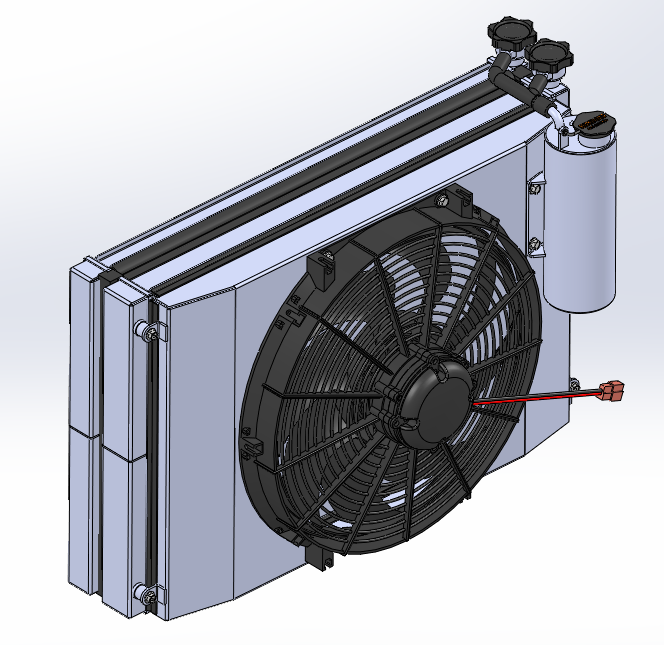 Out of context, it seems like a simple design. We plan on sandwiching a pair of dual-pass radiators together, complete with one of our tried-and-true 16" HD fans, shroud, overflow tank, and a thick seal between the two cores. Again though, this simple-sounding solution will still require some complex engineering.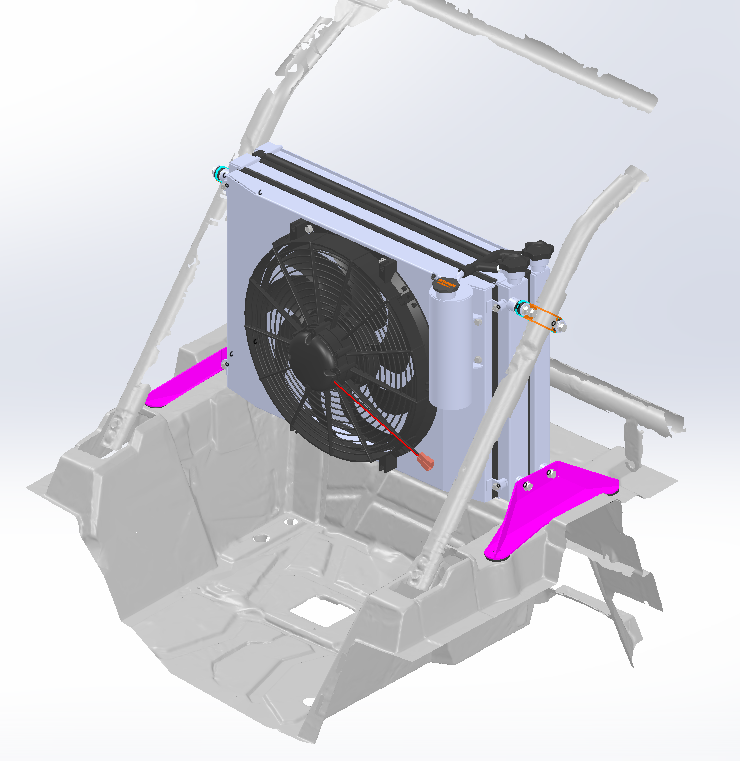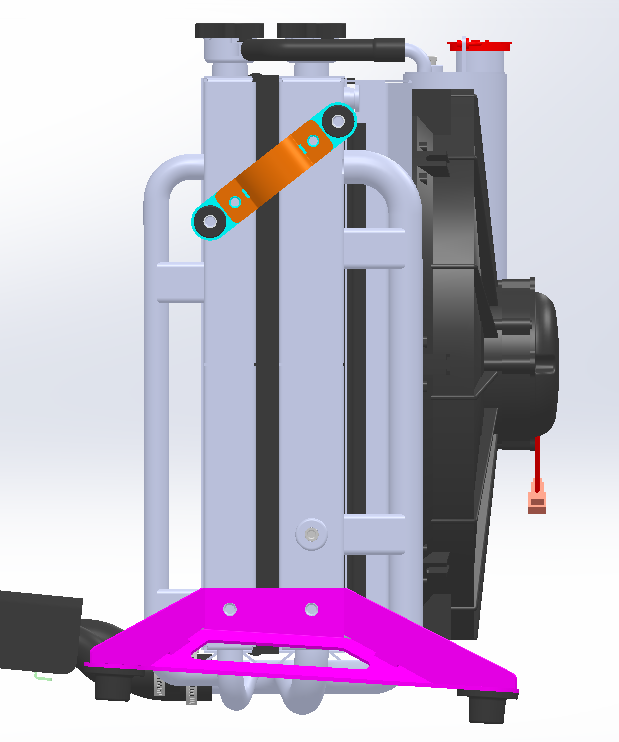 For a closer look at our designs, let's start with the radiators themselves. Even though the RZR wasn't lacking in cooling power, it never hurts to upgrade. Also, since these radiators are now further from their fresh air source, they'll need to pack in more cooling power. For starters, we're aiming for more efficient cooling with the updated dual-pass core design over the single-pass OEM design. This will give the coolant a second lap through the cores to whisk away heat. Plus, we're planning for larger core volumes and external fin surface areas to increase cooling capacity further. Of course, larger cores are of no use if there's no means to mount them, which is where things get a little more complex.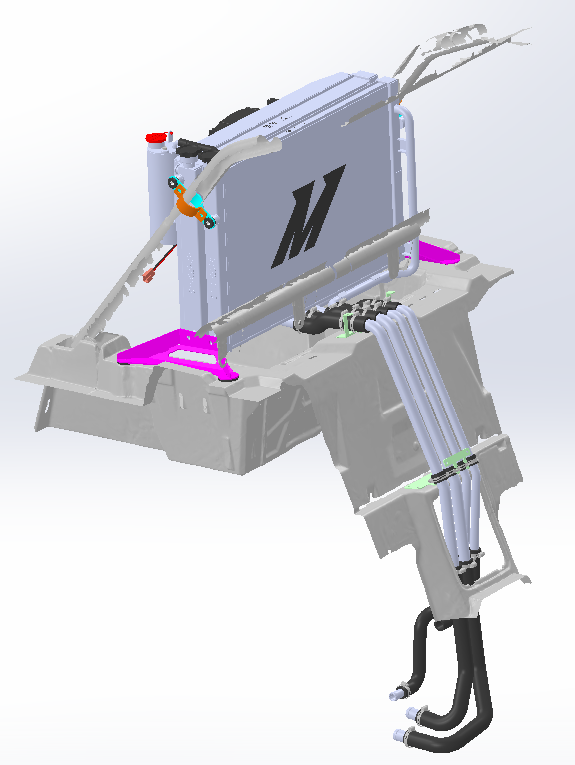 We're planning on four points of contact for this cooling stack supplied by a set of brackets for sturdy mounting to the Polaris. Dan designed the lower brackets, highlighted in purple above, with a broad base in mind. These utilize drain holes that are already molded into the RZR's bed and will securely nestle in with the help of a set of specialized grommets. This secure base is complimented with a pair of upper brackets that will hug the roll cage tubes, preventing unwanted shifting. We'll dive deeper into these brackets once we start prototyping, so stay tuned.
Now we turn our attention to the RZR's interior, or at least what can be considered an interior. As mentioned above, our engineers were sure to capture and create a virtual copy of the cockpit because the most straightforward access to both cooling systems is through a panel located between the seats. Since this area is vacant, we're opting to use this to channel the quartet of hardlines to each system. In addition, Dan plans to neatly arrange each radiator's inlet and outlet and the edge of the cockpit for a clear path to the engine.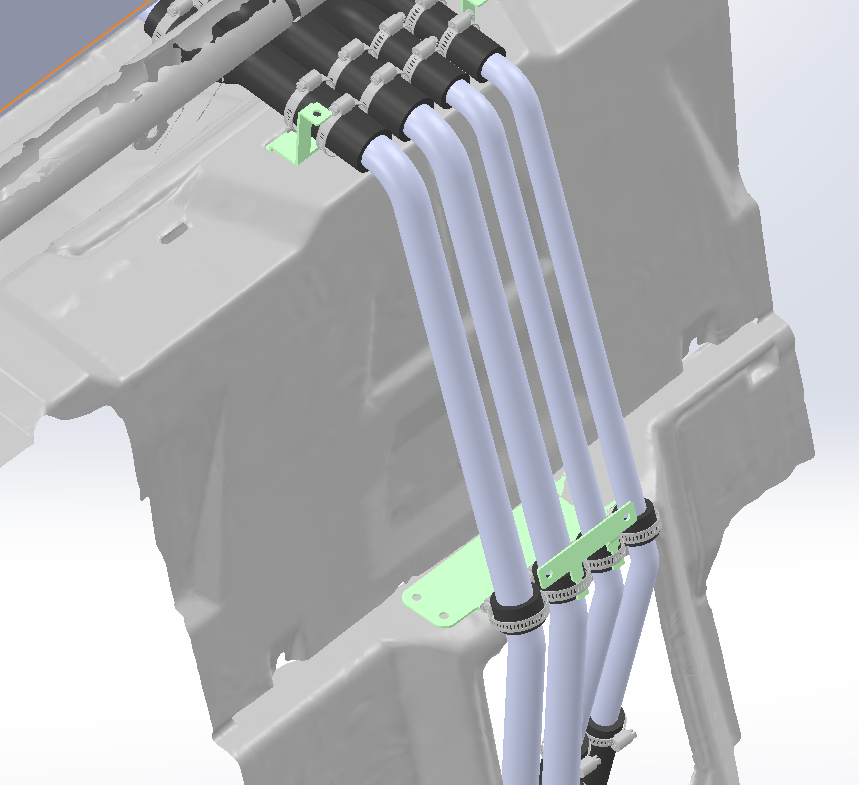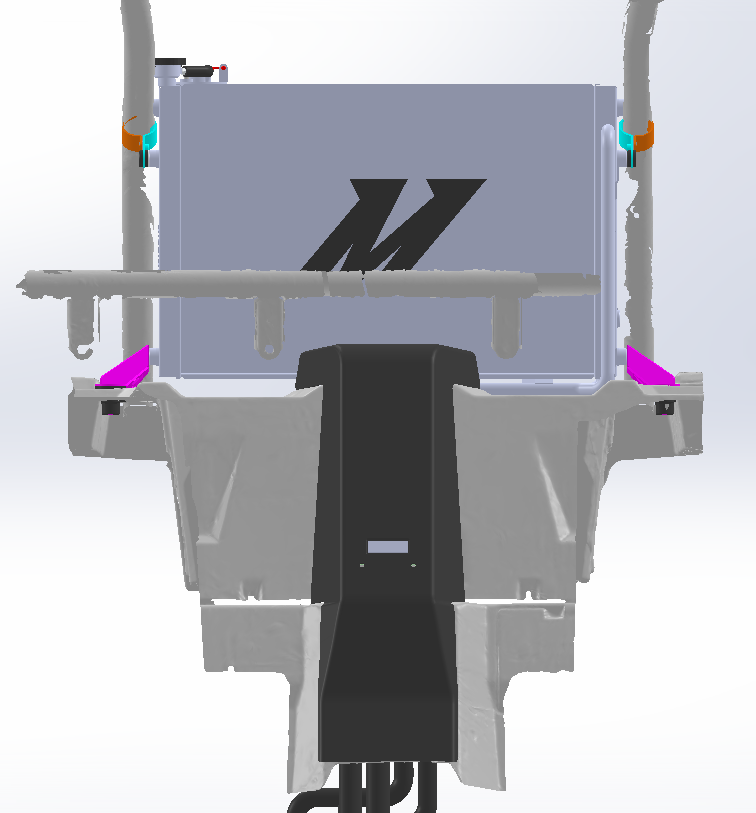 Worried about hot coolant lines right next to you while you're rock crawling? We are too. To prevent any damage to your skin or the lines, Dan also worked up a design for an OEM-style cover panel that keeps these lines covered. We plan on vacuum forming this panel from high-density plastic, which will match the rugged interior of the Polaris while also repelling any residual heat expelled from these lines.
The RZR Turbo is already an off-roading force to be reckoned with, but some drawbacks could leave it stranded on the trail. Nevertheless, we're already hard at work to solidify your adventure machine, so make sure you head to our next post to check out our prototype: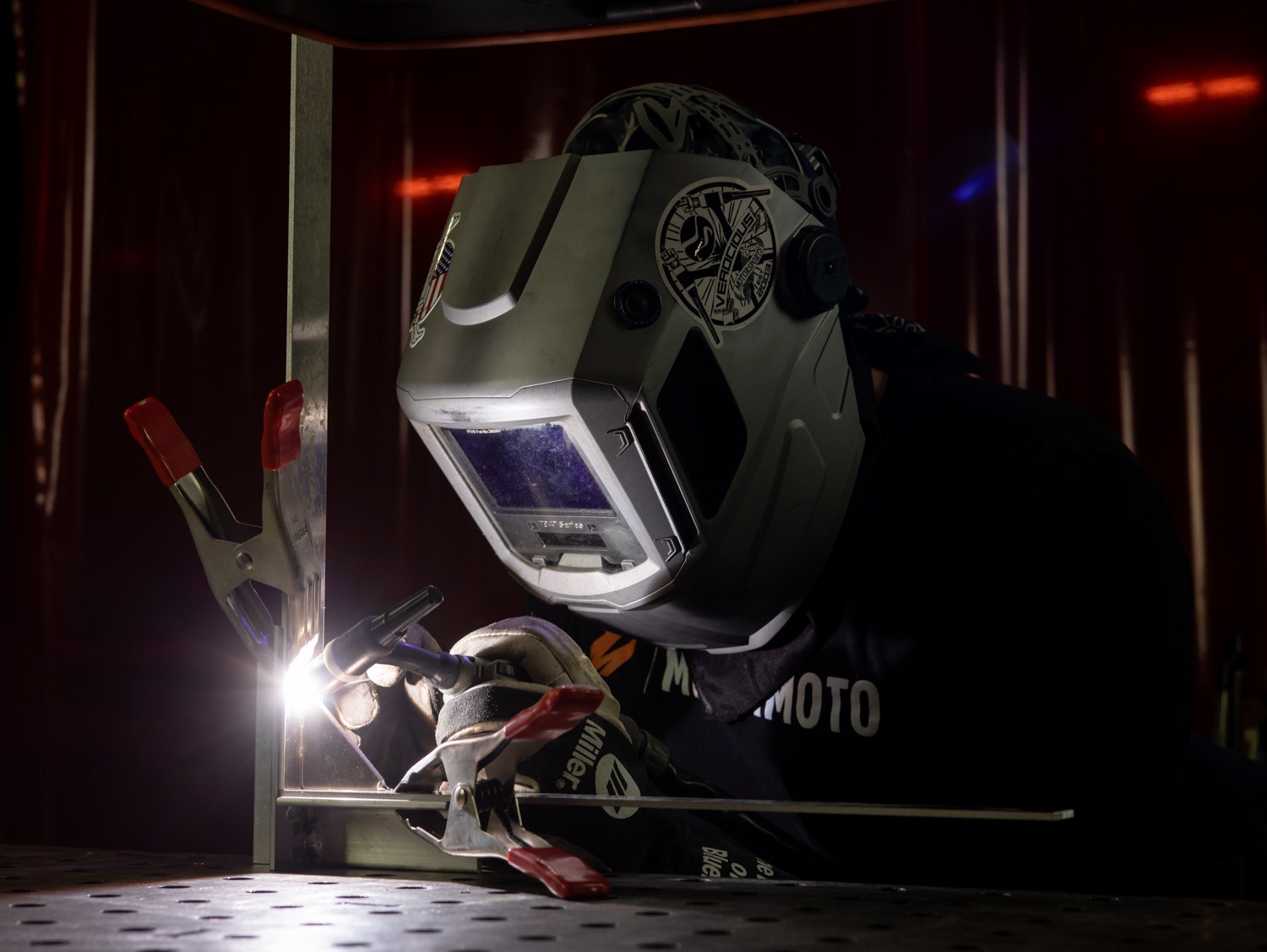 Thanks for Reading!
-Nick