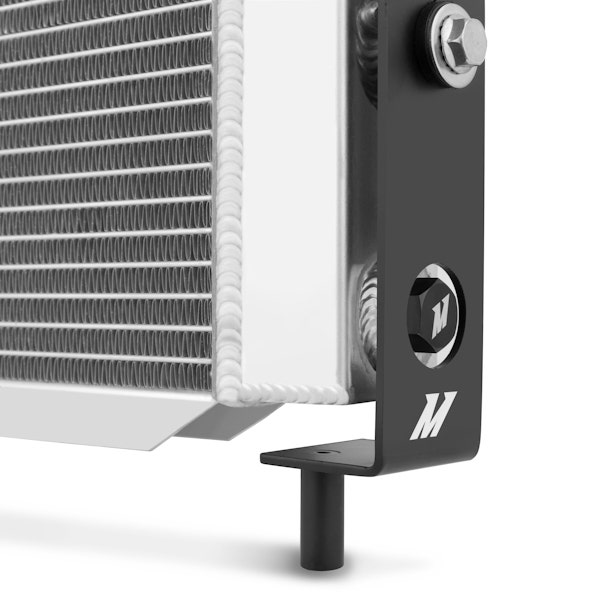 SN95 Mustang Radiator Woes? Mishimoto has the solution!
Interested in purchasing our new stabilized Mustang aluminum radiator? Check out more details on our product page linked below!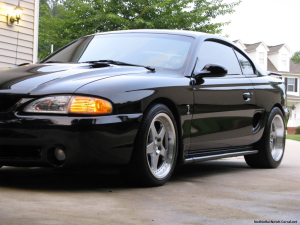 Here at Mishimoto we're always developing new products, with a great deal of them focused on enhancing the cooling systems of everything from old-school Datsun 240s to the latest Ford F-series diesel. Occasionally we revisit an existing product to see if we can give our fellow enthusiasts an even better solution for their performance cooling needs. A few years after we released our all-aluminum SN95 radiator to the public, we started to notice a trend. We were getting an increased number of warranty claims for radiators that had separated between the core and the end tanks.
Our engineering team investigated the issue and found out something very interesting: These kinds of failures were not limited to our customers. Just about every stock and aftermarket radiator manufacturer was reporting the same kind of failure!
With that in mind we knew it was time to bring in a car to answer these questions:
What's causing this problem?
Is there a way to fix it?
Will our solution really work?
First: What's causing this problem?
Chassis Flex
We placed the test car (a GT) on our dyno and we could actually see the chassis flex as we applied more throttle input. This flexing action transfers to the radiator support and eventually twists the radiator, causing the core/end tank separation issues enthusiasts were seeing. If a car has been modified to make more power and torque, this issue gets exacerbated.
Aluminum radiators are generally more stiff and rigid than factory units with their plastic end tanks. Normally this doesn't pose a problem, but in the SN95 it lead to radiator failures.
Second: We know what's causing the problem. Is there a way to fix it?
Yes! After some thought, our engineers came up with a great idea: They wanted to reduce or eliminate the amount of chassis flex translated to the radiator itself. How could we do that?
We would be designing a system to isolate the radiator from as much of the chassis flex as possible. The design would use steel brackets on each end of the radiator. These brackets would be attached to the radiator by rubber bushings. The bushings would absorb most of the chassis flex that was otherwise getting transferred to the radiator.
Here are a few pictures of our initial designs in Solidworks.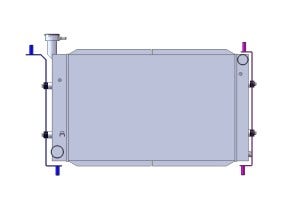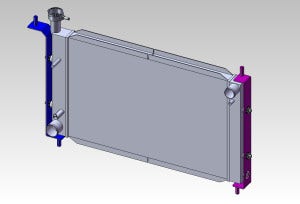 Notice the little space in the upper and lower plate/core supports? It might not look like much, but that small space helps to absorb any chassis flex that manages to get through the isolation system and to the radiator. Pretty slick!
Now the real question: Does it work?
Our development car had great success with our updated design, but we knew that the true test would come from you, our fellow enthusiasts.
Our stabilizer system has been on the market for a few years now, and we've shipped hundreds of the new design to our customers. We're happy to report that none of our customers have reported a failure related to end tank separation! This includes many forced induction cars that generate a lot more torque than your standard bolt-on will produce.
Here are some shots of the final product:
Thanks for taking a look at the process for designing our innovative solution for the Mustang radiator. If you are interested in picking one up for your SN95, check with our vendors for the best available pricing.
Feel free to ask any questions you have about our improved SN95 radiator. I'd love to help out!
Thanks!
Interested in purchasing our new stabilized Mustang aluminum radiator? Check out more details on our product page linked below!