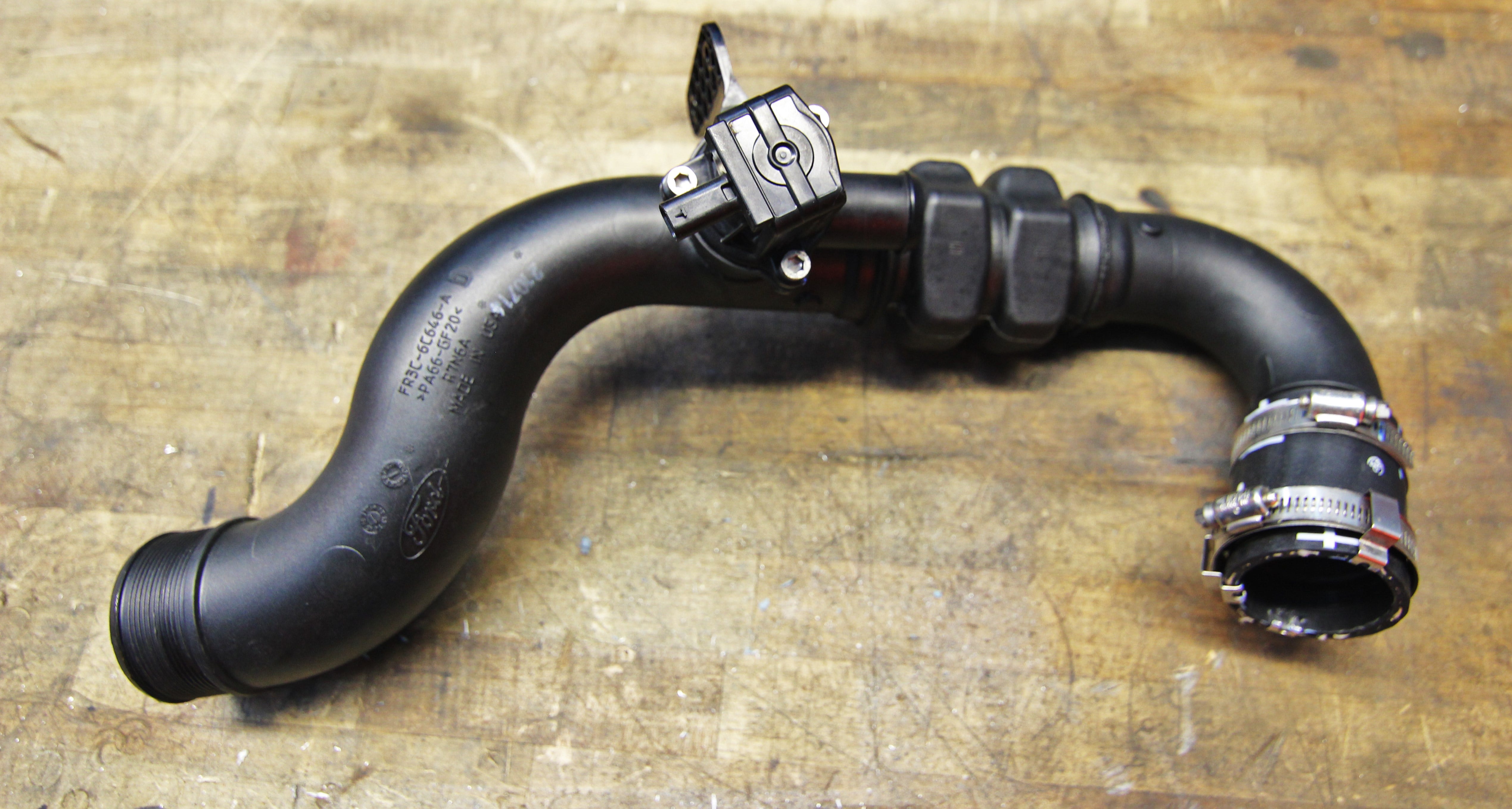 Mustang EcoBoost Intercooler Pipe R&D, Part 1: Stock Piping Evaluation
Interested in picking up our Mustang EcoBoost Intercooler Pipe Kit? Check out more details on our product page linked below!

The factory-equipped intercooler piping for the Mustang EcoBoost (EB) is a bit of a disappointment. Assuming you have popped the hood and poked around a bit, it is likely you noticed the flimsy cold-side piping and the plastic hot-side pipe that connects to the turbocharger.
Several folks have experienced boot separation from the connection points on the hot-side pipe. After evaluating the stock pipes, we highly recommend upgrading these pieces for any vehicle being modified for greater power and/or boost.
Stock Hot-Side Pipe
First, let's take a look at the stock hot-side pipe coming off the turbocharger. As you know, this pipe routes airflow from the turbocharger to the intercooler, which is located on the passenger side of the engine bay.
We popped this unit off to inspect it a bit further. Three hose clamps, one electrical connection, and two push clips and this piece was out of the car.
The turbocharger has a standard coupler connection, which quickly transfers into a 90-degree bend to head toward the intercooler.
The intercooler connection is 58mm (2.25") in diameter and features a metal insert for improved rigidity and reduced chance of cracking or damaging the pipe when torquing down the clamps. This portion of the pipe connects to a short rubber coupler that mates the pipe to the intercooler.
Here is a look at the intercooler inlet.
This hot-side pipe also contains the bypass valve (BPV), which works to relieve boost pressure during shifts to prevent compressor surge. The EcoBoost is electronically controlled, unlike older vehicles that use a vacuum source.
We will need to replicate the stock BPV flange on our pipe design to provide OEM-like fitment. This will also allow for functionality with aftermarket options that use the stock flange. If you would prefer an alternate flange, we are certainly open to recommendations.
Stock Cold-Side Pipe
The stock cold-side pipe, located on the driver side of the engine bay, routes air from the intercooler to the throttle body.
The flimsy cold-side pipe was one of the first things we noticed when we picked up our '15 EB. This unit is not plastic or metal but is constructed from rubber for the entire length. The pipe is easily compressed by hand and should be replaced by a solid component for those seeking optimal performance and reliability.
A few shots of this hose removed:
Coming Up!
Check back next time for a look at a few 3D models featuring our prototype design as well as some work with our 3D printer to verify BPV fitment.
Thanks for reading!
-John
Interested in picking up our Mustang EcoBoost Intercooler Pipe Kit? Check out more details on our product page linked below!