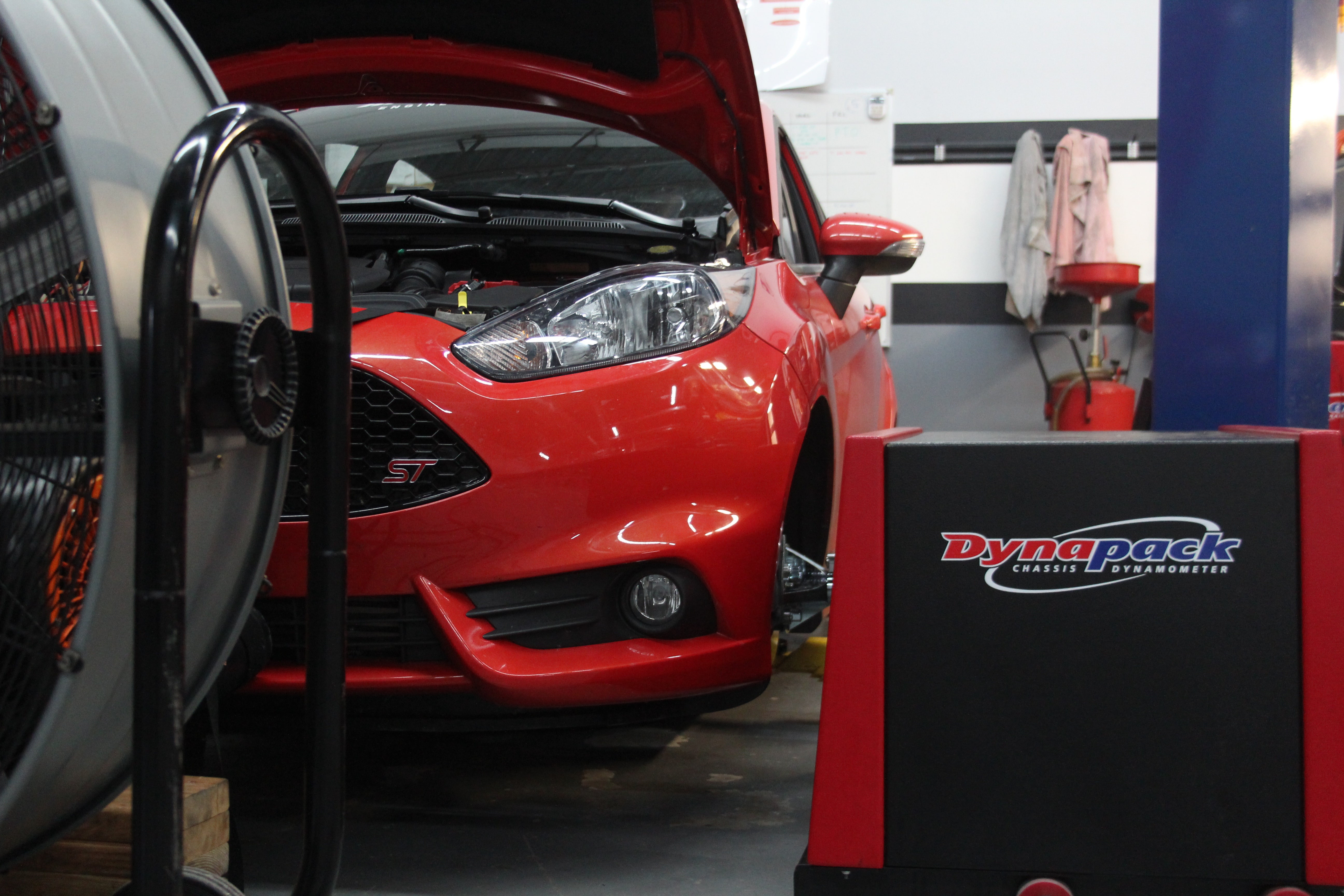 Turn Up the Volume - Cat-Back Exhaust R&D, Part 2: Sound Testing
Posted:
September 10, 2015
In our last post we took a good look at the stock Fiesta ST exhaust and the initial design of our cat-back exhaust. The exhaust was fabricated and installed on the car and then it was time to test the stock system.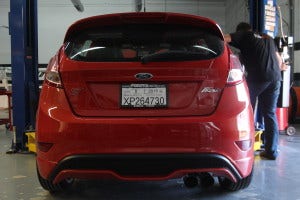 To Resonate or Not to Resonate
Getting the sound just right was quite a process. Our initial prototype featured 2.5" piping with a single rear muffler. This design did not feature a resonated mid-pipe unlike the stock unit. The initial design was sound tested on the dyno and also test driven by several members of the team. While we loved the low growl of the exhaust as it was, we wanted to test a resonated version before settling on a final design. As with all exhaust development projects, we are aiming for a final product that sounds great on throttle while still being volume friendly to daily driven Fiestas. So we set out to test both a resonated and non-resonated option.
First we needed to create a resonated pipe in order to test both versions of the exhaust. We cut out the center of the portion of our exhaust piping and added a bolt-in resonator section for testing. We kept the original section of pipe and added clamps to make this section bolt-in as well. This allowed us to test the exhaust with and without the resonator relatively quickly. The tests that were conducted were purely for sound purposes as we would test the winner more thoroughly later.
Sound Testing
Once we had the resonated and non-resonated pipes ready for testing, we hit the streets to let both versions of the exhaust plead their case. There was great debate throughout the office as to whether the Fiesta sounded better wild and free of a resonator, or whether a tamed resonated version was the way to go for a subtle hum. Many weighed in on this important matter, sides were chosen, and we eventually came to a conclusion. Drumroll, please!
Our final design will feature a non-resonated single muffler setup as seen in our initial prototype. We found that adding a resonator made the exhaust too quiet, with sound that resembled that of the stock exhaust. As enthusiasts we want to hear our vehicle roar, so we let the Fiesta be heard! As promised, here is a clip of some behind-the-scenes road testing of the exhaust. Check it out below!
On the Dyno
After we were certain of our exhaust design, we tested the exhaust on the dyno with the stock downpipe. As expected, we saw no power gains with the exhaust alone. Still, the larger piping featured in our exhaust will allow for more flow and set us up for power gains with the addition of other modifications.
Coming Up!
Now that we have chosen an exhaust style, we are going to concentrate on choosing tips and getting this exhaust ready to sample! Stay tuned for more updates on this as well as other Fiesta ST parts!
We thrive on your feedback and love to hear from you on the development of our Fiesta ST parts. Let your voice be heard and let us know which tips you would like to see on the Fiesta ST exhaust!
Thanks for Reading!
-Sara