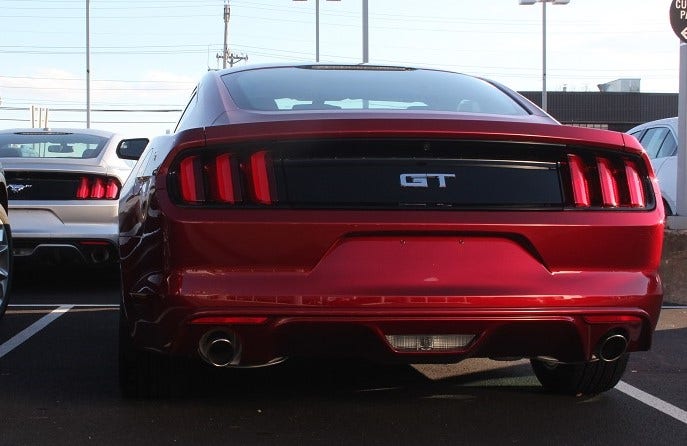 Let Your Ponies Be Heard - Exhaust Components R&D, Part 1: Stock Evaluation
At Mishimoto, our job is to bring you more than just exceptional cooling products. Another product category that we offer is exhausts, and what better car for an exhaust project than the fantastic-sounding Mustang GT!
The stock system on the Mustang GT sounds pretty darn good as is, but after inspection we found some ways that we could improve on the stock design. If you aren't familiar, here are some photos of the stock Mustang GT exhaust.
The stock exhaust manifolds exit into two catalytic converters, one of which is integrated into the exhaust manifold itself. Is this Ford's way of deterring the installation of aftermarket headers? The world may never know. The exhaust is 2.25" in diameter from the exhaust manifolds all the way through the resonator that you see in the photos. After the resonator the diameter of the exhaust jumps back up to 2.5". The pipes then snake past the rear differential into two mufflers at the rear with a single tip exiting from each muffler.
Plan of Attack
After spending some time underneath the brand-new GT, we decided that the large resonator in the center of the exhaust could use an immediate upgrade. Some owners have reported that they saved 20 to 30 pounds by replacing this big hunk of metal with an X or H-pipe resonator. We wanted to test these designs for ourselves. We plan to create one H-pipe design as well as test several X-pipe designs, comparing them with the stock exhaust. In addition, we have decided to design our own version of the axle-back exhaust to pair with our resonator.
Coming Up!
In designing our X- and H-pipe resonators for the Mustang GT, we will be using an entirely new design process that utilizes our Waterjet. Check back for updates on the creation of these resonators!
Thanks for reading!
-Sara