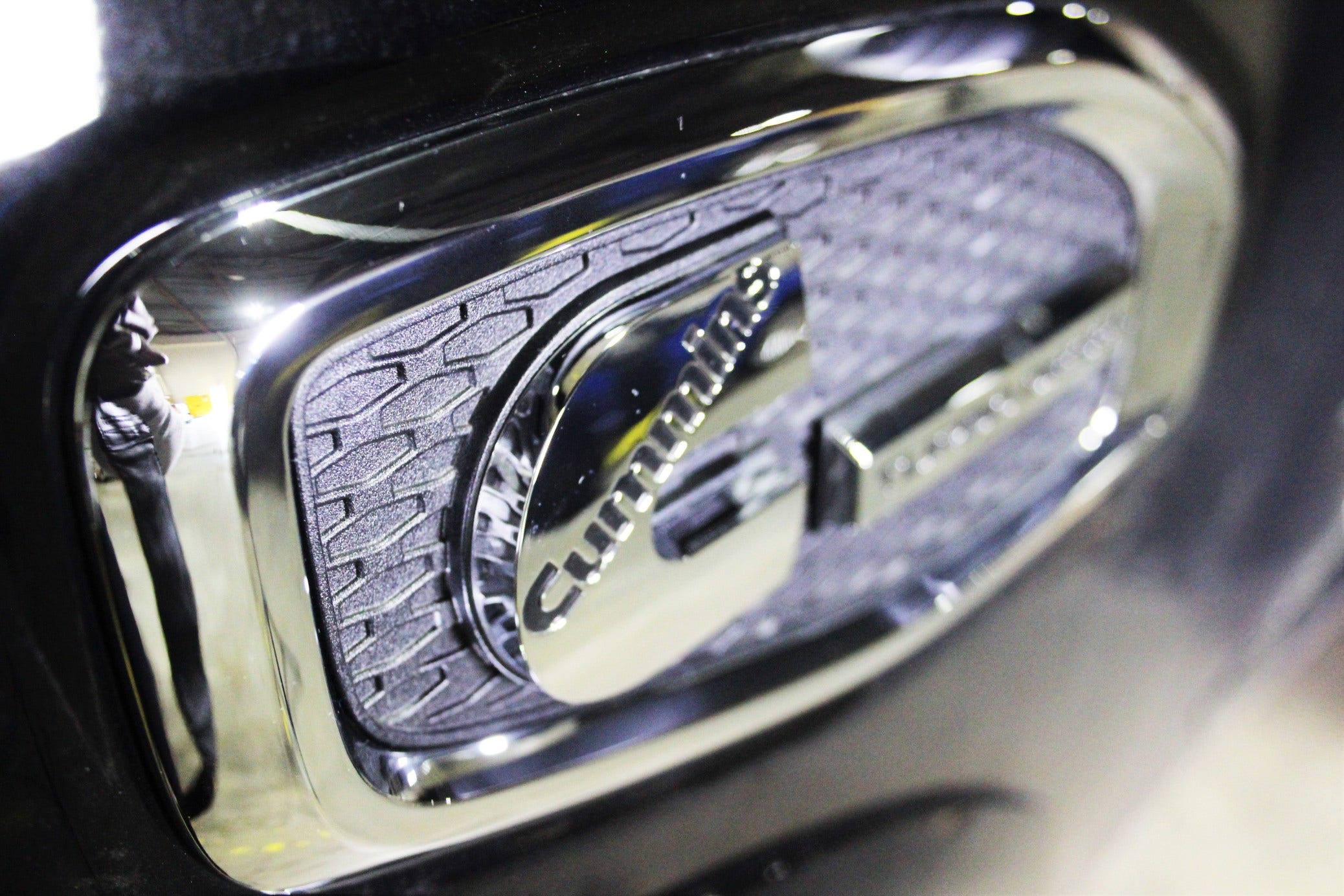 XD Intake R&D, Part 1: Stock System Review
Some exciting things are happening for this new Titan! In addition to the projects already planned, we want to develop a performance intake that will squeeze out a bit more power from this 5.0L V8 Cummins Turbo Diesel. We managed to get an accurate dyno reading with a few adjustments, which we know a few folks have been struggling with on this truck, but more on that later – let's dive into the stock intake!
Dissection of the Stock System
This turbo inlet is located at the top of the engine. The inside diameter measures right around 3.5 inches; the intake tube has the same inside diameter as well. The airbox grabs its air from inside the fender on the passenger side of the engine bay. Check out the opening in the image below.
That's a pretty sizeable opening, so we will definitely incorporate that into our prototype design for an airbox. Speaking of which, let us take a closer look at the stock airbox and its components.
As you can see, the stock airbox has two sensors. The one on the top of the inlet is the mass airflow (MAF) sensor, and the one toward the bottom of the box is the intake air temperature (IAT) sensor. Both of these are necessary for this truck to run properly, so we'll be including these sensors in our design. At this stage, we are unsure of the sensitivity of the MAF sensor. In our experience, the MAF sensor tends to be finicky with some of the newer applications, so we may need to test multiple MAF housings to find the best size.
The two images above show the bottom half of the airbox with the opening for the inlet scoop. Another inlet duct bridges the connection to the air coming from inside the fender to the airbox. It is important that we include this aspect of the stock intake in our prototype design. The intake tube is fairly straightforward as well. On both ends, the diameter measures right at 3.5 inches.
Baseline Dyno Run
We know that this Cummins turbo diesel is factory rated at 310hp and 555ft-lb of torque. That torque figure is high, but we expected this, as trucks generally have higher torque ratings because they are utility vehicles meant to carry and haul heavy loads.
Now back to my original point. Before going into this project, we knew that dyno testing this truck was going to be a challenge. We turned to our Dynapack™ in order to get the most accurate results. It's important to note that this truck has a torque converter and that when it engages, the torque output spikes. To give you an idea, during our baseline testing, both of our packs nearly started overheating!
Because of this, we had to carefully monitor the temperature of our packs just as closely as we did with the truck's engine while we ran it on the dyno. Whenever we use the Dynapack™, we run water through it during each run so the packs don't overheat. Our engineer had to run almost twice as much water for a longer time to keep them cool during and even a little after each of the runs! This was indeed a first for us.
We were spot-on when we said that dyno testing would not be easy. If you get on the gas too slowly, the resulting data would show power outputs similar to those that would be obtained at half-throttle. If you get on the gas too quickly, the transmission would immediately shift into a lower gear and give us all sorts of weird numbers. To dyno this car properly, our awesome engineer figured out that feathering the throttle to steadily match the boost increase with the RPM rise would give us our cleanest runs with the most accurate plots. Much easier said than done! We had to make countless runs to get the good plots. Check out a clip of some dyno runs below!
[embed]https://www.youtube.com/watch?v=BkE30UuSiTs&feature=youtu.be[/embed]
We made right around 300 horsepower and an impressive 499 ft-lbs of torque. It's not often we see a dyno chart where both data plots are so far apart from each other. This does, however, make sense due to how much torque this truck makes. This big disparity between the power and torque is a first!
What's Next?
Now that we have a foundation for our design with the stock data, we can move on to the prototyping phase of these Titan XD performance parts. We know that we will want to use a fully enclosed airbox and a big filter, and for this kit to be safe, it needs to run on a stock tune. Of course, seeing some power gains is important as well. Stay tuned for the next update!
Thanks for reading!
-Diamaan