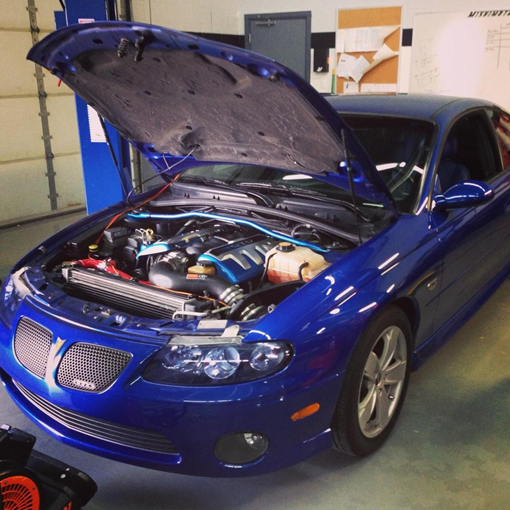 2004-2006 Pontiac GTO Performance Aluminum Radiator Development
Posted:
February 10, 2014
Want to see all the product details? Check out our product page linked below!
Product Introduction and Goals
Our team has received numerous requests for a reasonably priced, high-performance aluminum radiator for the new-age Pontiac GTO. After reviewing the project and evaluating the current offerings available, we found a vacancy in the market. Our target would be to design a direct-fit unit that provides additional cooling and reliability over the stock radiator with plastic end tanks, while still maintaining a reasonable price point. Although it was available for only a few years in the States, the Pontiac GTO (OK, it's a Holden) was a seriously unique vehicle. The LS engine combined with an optional manual gearbox was ideal for a quick street car or a fun weekend track or autocross car. These cars may be a touch heavy, but thanks to a very responsive engine, squeezing a few extra ponies is a piece of cake.
These vehicles are nearly a decade old, so proper maintenance is key to reducing the chance of a serious and expensive repair. A plastic radiator is often a failure point, thanks to the constant variation in temperature that it endures over time. Frequently the end tanks will split, crack, or develop a leak at one of the crimp points between the core and the tanks. Another common failure point is the overflow nipples that weaken over time. These ports are often the victim of someone leaned into your engine bay with a poorly positioned hand. Whatever the failure may be, our goal is to create a radiator that will eliminate these issues, making it the last radiator purchase for your vehicle. So, prior to the start of any project, we normally lay out a set of goals and guidelines for our end product. Our goals include the following.
Product must be a direct-fit unit with minimal to no cutting or trimming.
Features must include full aluminum construction and a significant increase in core size.
Product must improve coolant temperatures significantly.
Product must be compatible with factory automatic transmission lines.
Factory Radiator Evaluation
With goals established, we set out to obtain measurements to generate a prototype. First, our team procured OEM radiators for both the 2004 and 2005-2006 models. Then we tracked down a vehicle for initial measurements to see just how much room we would have available to enlarge the core of the radiator. Although this vehicle was very dirty and had been sitting for several years thanks to a blown engine, we were able to capture all the necessary measurements to develop a prototype.
Everything in this engine bay seems to be tightly confined, and the A/C system is no exception. Our goal is to increase the core size of this radiator, so we collected several measurements to help us determine which way to go.
The radiator fan shroud and radiator assembly are close to the hoses, but not so close that they would prevent us from enlarging the core in this direction.
The end tanks of this radiator are rather unique, so we would need to ensure that the measurements for our unit were accurate to all critical points.
Despite the tight confines of the engine bay, it seemed to provide reasonable space for general maintenance. The nightmare of weekend-long spark plug replacement on the F-body LSX vehicles is not carried over into this model, which is fantastic!
Prototype Testing
With measurements collected and a direction established for the project, our engineers created models and drawings of both units for development of prototypes. Once the prototypes were complete, we would need to find a test-fit vehicle for each radiator. Our team reached out to several enthusiasts groups, friends, and forums such as LS1GTO.com in order to find a few gracious folks who would allow us to borrow their vehicles for the day. Thanks again guys!
Once we obtained the vehicles, we brought in a 2004 model for fitting and data collection. This particular vehicle was equipped with a manual transmission and was rather clean. Was I a bit jealous? Perhaps. Was this owner interested in a trade for my 1980s Mazda? Unlikely.
We first set to work removing the factory hoses so we could install our data collection equipment. We used our Mishimoto silicone radiator hose kit and temperature sensor adapters. These adapters splice into the hose and provide a 1/8" NPT port for mounting the sensors, which would be ideal for our PLX devices to collect pre- and post-radiator temperatures.
On the day of testing, the ambient temperatures ranged between 75°F and 83°F. For this test we drove the GTO on a highway at 65 mph and cruised for approximately three miles. We paid special attention to the location of vehicles in front of us to be sure a fresh stream of air was being supplied to the radiator.
Our preferred data collection method is through the use of our PLX devices, which allow for data logging as well as live results. Check out the equipment!
After collecting data for the factory unit, we headed back to the shop and allowed the vehicle to cool while we grabbed some lunch and began tackling installation of the Mishimoto radiator.
The factory radiator came out quite easily. We installed the Mishimoto unit as well as our silicone hoses with our temperature sensor adapters attached in the middle of the hose.
Fitment was exact for this particular unit. The mounts for the A/C condenser fit perfectly, as did the upper and lower radiator mounting points. Once everything was installed and the system was bled of air, we set off to collect some live data. The process was completed exactly as before, making the test repeatable. After completing this testing we compiled our data and were very pleased with the results!
Testing Results
The inlet temperatures are essentially identical between the factory and Mishimoto units, but the Mishimoto radiator reduced outlet temperatures by a significant margin. The factory radiator was able to drop temperatures from 205°F to around 100°F, while the Mishimoto unit kept temperatures well below 90°F.
The graph above provides a linear temperature average. Near the end of our testing we reported a 20°F drop in coolant temperatures compared to the stock radiator. This testing was conducted under normal driving conditions. If this vehicle was driven aggressively or competing in a track event, the results would be similar if not more pronounced.
The positive results of this testing stemmed from the dense core composition and the significantly increased fluid capacity. Our core size is nearly two inches thicker and provides additional cooling as well as perfect fitment. While we had both the stock and Mishimoto radiators on hand, we decided to collect capacity information as well.
The stock radiator holds 0.88 gal of coolant while the Mishimoto capacity is 1.05 gal. The difference provides 0.17 gallons of additional capacity and an overall gain of nearly 20%. Righteous!
Increased core thickness also provides for improved efficiency and fin surface area, which directly results in improved heat transfer. The Mishimoto radiator core is 1.96" thick, while the stock unit features a core thickness of 1.38". This provides nearly 0.6" of increased thickness for the Mishimoto radiator!
With our testing complete and successful with the 2004 model, it was time to bring in a 2005-2006 GTO to be sure the second radiator design fit perfectly. Our test-fit vehicle was a 2006 model with automatic transmission, which was ideal for proper testing of the transmission cooler fittings. Both of our radiator designs feature internal transmission coolers that are designed for use with the OEM cooler lines.
The Mishimoto radiator went in with zero issues, and it fit exactly like the factory unit! Both transmission lines matched perfectly to our radiator as well. Check it out!
With two successful test fits and very positive performance data, we were ready to put this project to a close. Normally I would prefer to do so with a long smoky burnout, but the vehicle owners might not have appreciated the loss of rubber!
So let's recap our goals and check out how this project went!
Goal Recap
1: Product must be a direct-fit unit with minimal to no cutting or trimming.
Result: Both the 2004 and 2005-2006 radiators fit perfectly and required no modification.
2: Features must include full aluminum construction and a significant increase in core size.
Result: Our radiator construction is all aluminum, including the end tanks and core. The core size is substantially larger and provides a 20% increase in capacity.
3: Product must improve coolant temperatures significantly.
Result: Testing showed a 20°F drop in radiator outlet temperatures during normal driving conditions.
4: Product must be compatible with factory automatic transmission lines.
Result: Our radiators function perfectly with OEM transmission cooler lines.
Look like we hit the nail on the head with this project. All loose ends have been tied up and these radiators are ready for some abuse on the street and track!
Check out more information regarding this radiator by following the link below to our product page!
Additionally, check out the final product images below as well as our features and benefits video for this awesome radiator!
Features and Benefits Video
Thanks!
Want to see all the product details? Check out our product page linked below!