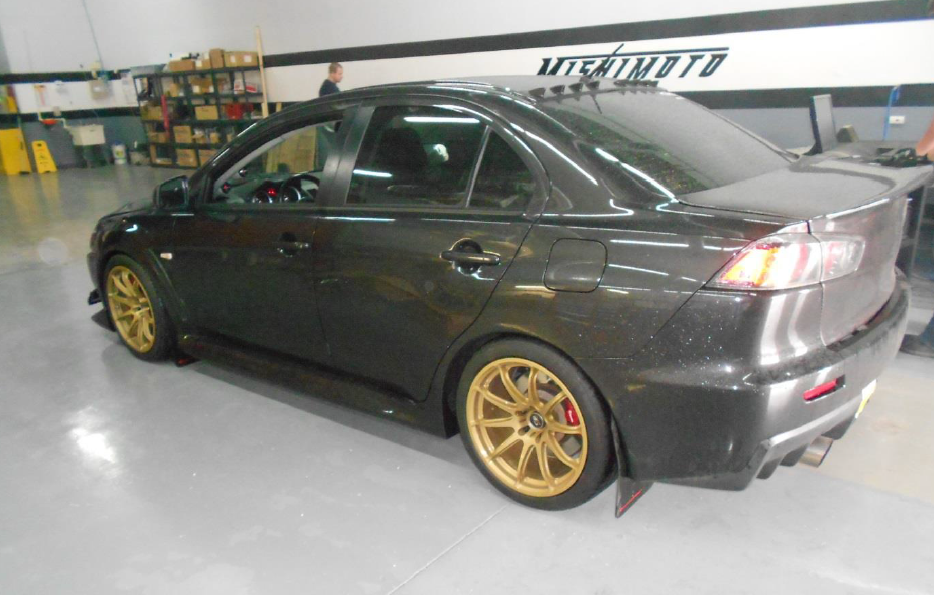 2008-2014 Mitsubishi Lancer Evolution Performance Intercooler Part 3: Final Testing and Completion of Development
Posted:
February 26, 2014
Interested in purchasing our Evolution intercooler? Check out our product page for more information!
After a successful run of testing with a stock vehicle, we were in the market for a higher-powered Evo to check performance with higher boost pressures and added heat. After scouring the forums and checking with locals we were able to locate this 2010 GSR model with a nice set of modifications!
Modifications:
Precision 6262 turbocharger
Equal-length exhaust manifold
External wastegate
Aftermarket 4" thick intercooler
Professionally tuned
3" turboback exhaust
2.5" intercooler piping
Once again we tested both core compositions as well as the intercooler currently installed on the Evo. We collected some baseline information first with the aftermarket 4" cooler installed. We saw power numbers at 410 hp / 340 tq in the vehicle's existing state. I was really impressed by the power this thing put down. The external wastegate with dump tube woke up the office when it belched out some nice tones. If the Evo X ever depreciates (unlikely), then I might have to check into one for myself!
Ready to make some pulls and some noise!
Our first prototype was the 6.5" fin, which performed with slightly less efficiency compared to the taller fins in our original test. Now we wanted to see how this core performs with a more powerful vehicle. Once the three runs were complete, we were surprised to see that our previously inferior core had exactly matched the power output of the aftermarket 4" core. Our previous testing on a stock Evo had shown that this cooler was inferior to our other core, so we tested the core with the larger fin height. After making three pulls we analyzed our data and found that once again the core with the larger fin height performed best. Not only did this new core outperform our other prototype, but it also gained a significant amount of power compared to the 4" aftermarket unit that had been installed on this vehicle! Check out the dyno plots below!
The Mishimoto intercooler achieved 10-15 whp and 10-15 wtq over the entire power band. Bolt-on power from an intercooler installation is a rarity - bigger is not always better.
With this project complete and successful test data collected, we were now ready for mass production. We decided to offer this core in either a silver or a black powder-coated finish, an option for those who want to show off the core or keep things stealthy.
It's time to recap our project goals and see if anything was missed or overlooked.
Goals:
Develop an intercooler that can support up to 550+ whp.
Result: Thanks to a large 3.5" thick core and an optimal fin density, our engineers rate this intercooler for a maximum of 600 whp.
Use cast end tanks for durability and airflow enhancements.
Result: Our intercooler utilizes high-quality cast end tanks that provide great durability and also allow for smooth and uninterrupted airflow through the core. For identification purposes our end tanks are cast with the Mishimoto "M" logo, which looks very slick!
Intercooler should perform adequately with stock vehicles and allow for future upgrades without having to upgrade this component again.
Result: This intercooler was tested on a stock Evo and produced 10 whp / 10wtq through a majority of the powerband.
Use a core size of at least 3.5" in thickness
Result: Our engineers identified the 3.5" core size as optimal for vehicles ranging from stock to 600 whp. Our testing proved that this cooler is extremely efficient and has produced increased power for both our test vehicles.
Support increased temperatures from upgraded turbochargers or high boost pressures.
Result: The Mishimoto intercooler supported and efficiently cooled temperatures produced by an upgraded 420 whp Evo X.
With all goals met and quite an efficient cooler on the way to mass production, our team of skilled engineers deserved a pat on the back. Seriously, these guys work very hard and know their stuff. Check out a few images below of the finished product that you can expect to pull out of the Mishimoto box!
Thanks for following along!
Feel free to follow up with any questions!
Interested in purchasing our Evolution intercooler? Check out our product page for more information!