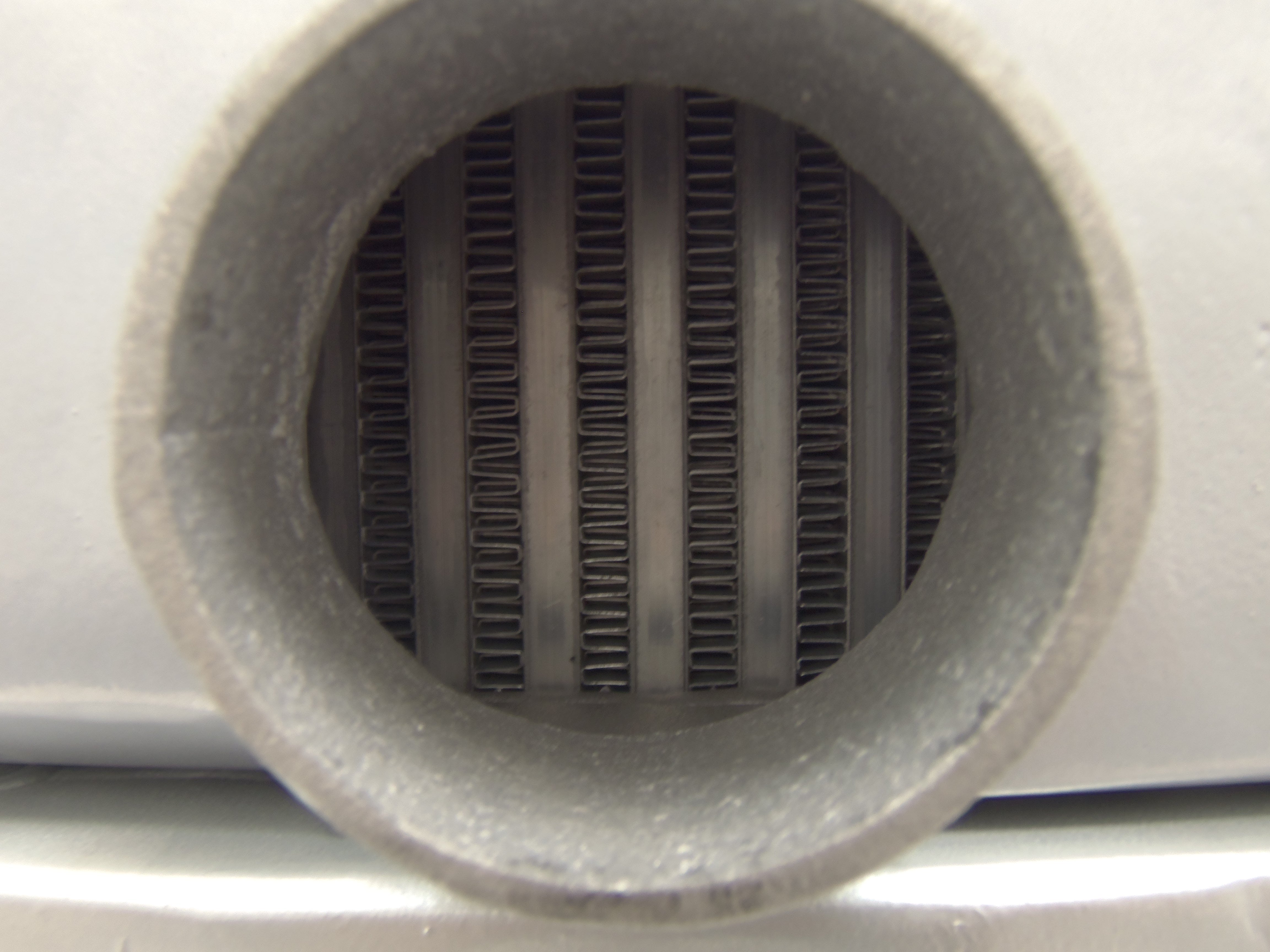 2001-2007 Subaru WRX/STI Top-Mount Intercooler Part 6: Core Corrections and Final Data Collection
Posted:
February 26, 2014
Interested in purchasing our WRX/STi top-mount intercooler? Check out our product page for more information!
While examining our existing intercooler, our engineers felt that yet another improvement was necessary. The current core composition was working well for our tests but would likely run out of efficiency with a higher-boost/higher-temperature vehicle. To adjust for this we added more boost tubes, changed our fin type, and increased the density of the fins. Our original cooler featured straight fins; for this test we switched to an offset fin style. The offset fins provide a huge improvement in heat transfer. Check out the images below showing the change.
As you can see, the new fin design is much denser. Each row of fins is offset to the previous row to allow for maximum contact and heat transfer. We were pretty excited about this adjustment and began our search for a test vehicle that could take advantage of the adjusted core design. We were interested in a vehicle that was pushing beyond 20 psi so we could properly evaluate heat transfer at higher boost/temperatures. After searching the local community we stumbled across this WRB WRX with a JDM 2.0 STI swap!
This vehicle was equipped with an aftermarket downpipe, 3" exhaust, aftermarket intake, boost set at 20-22 psi and a tune. The vehicle was also equipped with an STI intercooler, so this would be a great opportunity to see how efficient our core is, compared to this unit. So began the testing!
We used our previously tapped STI cooler for both pressure and temperature sensors and made some baseline runs. With the stock STI cooler this car was making a touch over 300 whp. The key data points were the outlet temperatures. We were seeing peak temperatures at 125˚F, which was 64˚F above the ambient temperature in our shop. Our shop temperature was 61˚F degrees with 13% humidity on test day. Once we had three solid runs with the STI cooler, we strapped in the new Mishimoto cooler and prepared to make a few more runs. Below is an example of the dashboard we see while making runs on the dyno. This software has data logging capabilities as well, which allows us to record temperature information during a pull.
We completed three additional runs with the Mishimoto intercooler and began to analyze the data. At this point you are either on the edge of your seat, anticipating the next few sentences, or you completely missed this portion and are simply scanning this write-up for dyno plots! Either way the results are below, starting with temperature improvements.
This is the test data we wanted to see throughout this entire project. Testing results showed an average drop of 15°F and a maximum temperature drop of 30°F. These are very significant decreases. So why are intake temperatures so important? The answer is below, from Kevin, one of our engineers.
"Colder air is denser than hot air and will therefore allow a larger combustion while also reducing the chances of engine knock. As the post-intercooler temperatures become colder, a tuner is able to load a more aggressive timing map into the vehicle's ECU, which will directly result in more power. An intercooler's primary function is to reduce its outlet temperature significantly and with the best possible efficiency. This requires a large amount of heat transfer with the least possible pressure drop. By using a larger core, optimizing the intercooler's fins, and improving on the airflow distribution, Mishimoto achieved this goal."
-Kevin McCardle
Now you may be wondering about power gains. With this test we saw an average gain of 3-4 hp and a maximum gain of 14 hp in the upper range from 5500 rpm to redline. Although our target was temperature improvements, it is also great to see that our cooler can provide bolt-on power increases for modified vehicles making over 300 whp. Check out the dyno plot below!
Pressure loss is another important aspect of intercooler design. Boost pressure is lost across the core of an intercooler during the heat transfer process. The amount of loss depends quite a bit on the core composition. A more restrictive/dense core might provide great heat transfer but result in massive pressure losses. We test all aspects of our products and we are pleased to report very similar pressure drop to the factory core. This is more than acceptable considering the additional benefits of this intercooler. Check out the chart below!
An additional potential concern was the proximity of the silicone S-hose to the turbocharger and its heat. With the design of this high-temperature silicone hose, we were confident that it would endure some serious temperatures. That being said, we realize that the enthusiast community might be skeptical about simply taking our word. So, we performed some additional testing to show that this hose would not be effected by the heat from the turbocharger located just below it.
Our engineers positioned a thermocouple outside and under the boost pipe during test runs. During our many runs the recorded temperatures varied from 140°F to 190°F. Street driving with improved airflow resulted in even lower temperatures, from 120°F to 160°F. In traffic at idle we observed temperatures at a maximum of 260°F. This may seem rather warm, but temperatures inside the pipe were 100° cooler than this. Also, we use a specific high-temperature silicone for this hose, which is 4-ply and can withstand temperatures to 500°F. These data allow us to be 100% certain that there will be no ill effects from the S-hose location in relation to the turbocharger/exhaust.
Project Summary!
After various phases of design and testing we are now able to present a fully functioning end product that provides all the benefits we wanted. Let's refer to our list of goals and recap our results.
Primary Goals
1.       Support vehicles to 325 whp
Our engineers have tested this intercooler to 305 whp and are 100% confident in rating this cooler to 350 whp. We recommend a front-mount intercooler for any vehicle that produces more power than this.
2.       Provide substantial AIT benefits
With improvements in our core composition and airflow we were able to provide substantial reductions in intake temperatures. Our final test produced decreases of 30°F compared to the stock STI cooler.
3.       Must be direct fit and require very minimal modification, if any
Our intercooler does not require any vehicle modification and includes all components needed for installation!
Secondary Goals
1.       Provide horsepower and torque  benefits
On the stock and modified vehicles, the Mishimoto intercooler provided great gains in both horsepower and torque.
This kit not only includes an impressive intercooler, but we also include some necessary ancillary hoses and other hardware that aid in installation. Check out the list below!
Kit Components
- Mishimoto intercooler
- 4 T-bolt clamps
- Silicone throttle body hose
- Bypass valve gasket
- Silicone bypass valve hose (1 for the WRX, 1 for the STI)
- Silicone crankcase ventilation hose with push-on connectors
With all our goals met it was time close this project! Please feel free to follow up with any specific design questions!
Thanks for following along!
Interested in purchasing our WRX/STi top-mount intercooler? Check out our product page for more information!