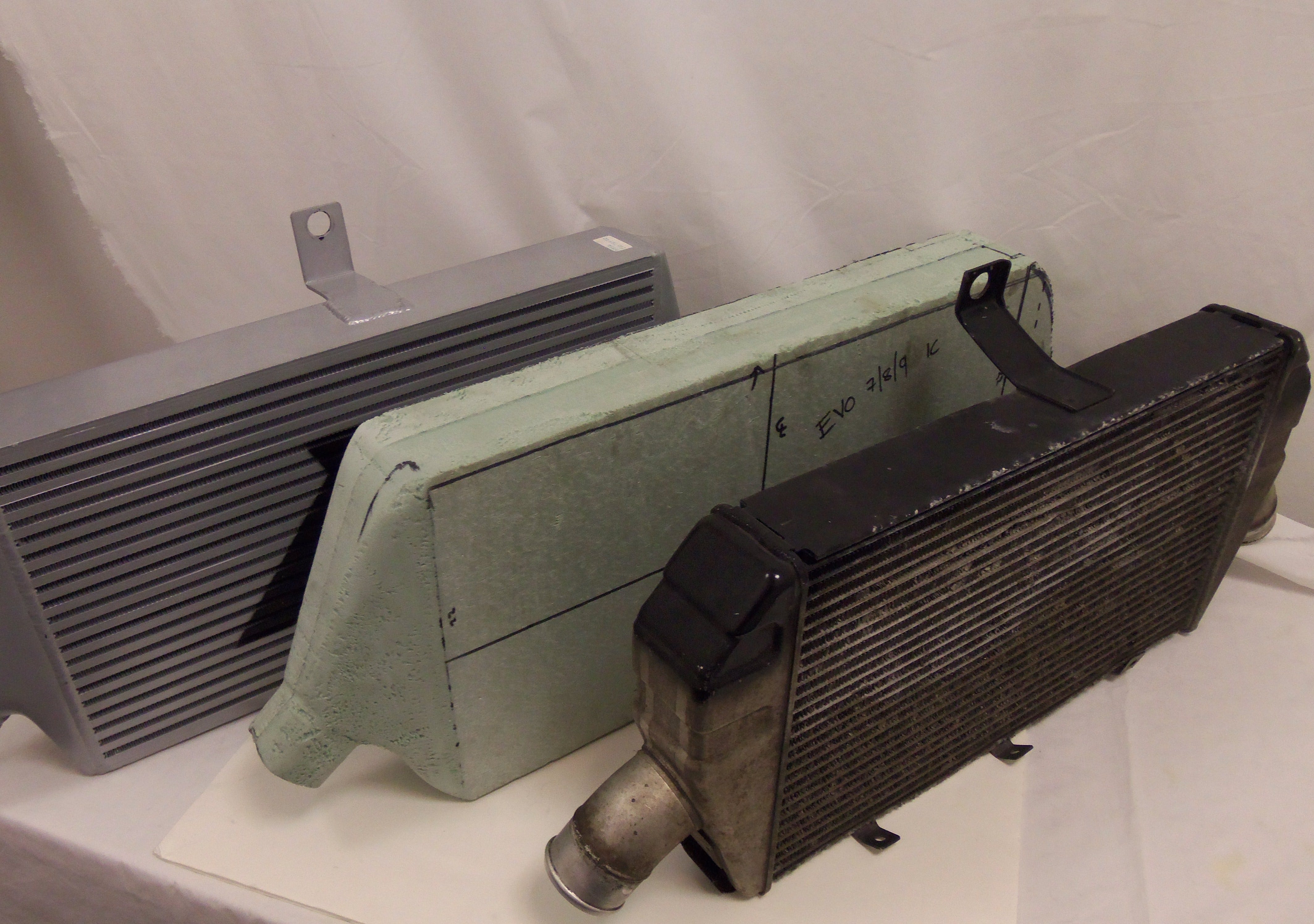 2001-2007 Mitsubishi Lancer Evolution Performance Intercooler, Part 1: Project Introduction and Design
Interested in purchasing our Evolution intercooler? Check out our product page for more details!
The Mitsubishi Lancer Evolution ticks all the necessary boxes to make it a legendary and unforgettable sedan that continues to be competitive on and off the tarmac. Mitsubishi has always had a way of triggering the enthusiast in their consumers, by producing unique vehicles for people who are looking for more than typical transportation. I spent a fair amount of my youth drooling over the body lines of Starquests, the immense power of DSMs, and the absolutely ridiculous 3000GT VR4. The Evo really was the compilation of everything great about Mitsubishi. For these unique vehicles oozing with character, we can only thank Mitsubishi and plead for its return to vehicle design based more on insanity and spirit, and less on the general consumer's needs!
Although the Lancer Evolution 7/8/9 was released over a decade ago, it is still a popular choice as a daily driver, rallycross toy, and even track rat. We recently decided to redesign our Evolution X intercooler and found numerous product features that we could improve to create an intercooler that supports massive horsepower while providing benefits for stock vehicles as well. This is a task more easily said than done. With one generation of Evolution out of the way, we needed to take a look at our 7/8/9 intercooler and see if we needed to modify it, reinvent it, or offer a supplemental product. Product improvement is a big part of the performance aftermarket. Although we strive for perfection, sometimes nailing a product 100% is difficult to do from the start. Often times the needs of our consumers change, technology changes, or our team develops new processes that can result in huge improvements. Our existing intercooler for the Evolution 7/8/9 provides ample benefits over the tube-and-fin OEM unit. Check out the factory unit we pulled off a vehicle below!
So you may be asking yourself, what exactly is wrong with the stock front-mount intercooler? Well I won't state that anything is wrong with this component, but certainly a few points can be improved. To start, the core construction is not designed for highly modified vehicles. Like most other OEM coolers, this uses a tube-and-fin core design. While lightweight and great for airflow, this cooler will not provide the heat transfer needed to support modified vehicles. The factory intercooler is said to provide reasonable efficiency for vehicles stock to around 375 whp. Another important factor is the type of driving your vehicle will see. Heat soak can be a problem, and repeated pulls, especially on a road course, will cause the stock intercooler to soak. While 375 hp may seem like a lot of power to some, Evolution owners won't even look twice at something in this power range. With just a few easy modifications, you are past this magical number, wondering why your intake temperatures were obscenely high. But wouldn't it be great to have an intercooler that would support a much broader power range while providing lower intake temperatures, improved flow, and increased power? The answer is yes, feel free to nod your head in recognition. Stick with me here!
On to my second point. Take a good look at the intercooler in the image above. Observe the ruined and destroyed fins from road debris. If you drive your Evolution as it was designed, this is bound to happen. A tube-and-fin core is easily damaged by road debris and can result in boost leaks. Don't let this happen to your Evo. A bar-and-plate core is a more robust design that is far superior in handling physical damage.
Finally, airflow is a big issue with the factory cooler. When you are trying to suck every last bit of power from your car, CAC airflow is going to play a role in throttle response and overall power. The design of the factory end tanks does not promote optimal flow through the core. Our engineers would need to craft smooth tanks, both internally and externally, for proper flow. Thanks to experience from previous successful projects, they are very familiar with this task and could tackle it with confidence.
So with all these factors in mind, we would need to set up a few project-related guidelines for our engineers.
Goals
Provide substantial cooling benefits compared to the factory intercooler
Support a minimum of 500 whp
Use a bar-and-plate core at least 3.5" thick
Provide bolt-on power with Mishimoto intercooler installation
Design precision cast end tanks to provide optimal airflow
Support boost pressures of at least 30 psi
We have a ton of great goals here, all arranged in order of preference. Our primary goal, as it should be, is cooling performance. Reduced intake temperatures means a more dense charge of air that can allow for more aggressive tuning, which will then net you more power. More power will net you more smiling, which will in turn make you a generally happier person. Mishimoto wants you to be happy!
Second, we would like to support a minimum of 500 whp. Although making power on an Evo is relatively simple, our target vehicle will be at or below this number. This lower range also allows us to optimize our core size and composition for pressure, flow, and heat dissipation. Catering to a higher power level (600+ hp) would require some form of sacrifice for a stock or mildly modified vehicle.
Our next goal, a bar-and-plate core 3.5" thick, is somewhat broad because a ton of other factors go into this. For comparison, the factory core is around 2.7" thick. Designing a product by just slapping on a big thick core is not the way we work. Our engineering team would take a close look at fin composition, bar construction and sizing, and end tank factors that would impact the overall results of our testing.
The fourth goal is essentially a secondary objective. While adding power isn't typical of an intercooler upgrade, we have found that several of our other intercoolers showed great power increases on both stock and modified vehicles. To address goal 5, our end tanks will be formed from cast aluminum, which provides a durable connection point for the core and allows our engineers to use CFD software to enhance and perfect airflow. This would provide ideal dispersion throughout the core, which would result in greater efficiency. Our final goal is to support 30 psi. With the materials and construction selected for this project, reaching 30 psi would not be a problem. If you are not aware, we recently launched a line of diesel products including intercoolers. We have rigorously tested these units to well over 100 psi without issue. This intercooler will laugh at 30 psi.
Onward to product design! Our team had quite a bit of aid in designing this product. For one, we had access to an OEM cooler. We also currently offer an intercooler for this application, which would provide most of our key dimensions. Our newest team member, Steve, has an Evolution 9 that he uses as a daily driver. Despite general jealousy throughout the department, it was awesome to have this vehicle so accessible, not to mention having an additional talented engineer on staff. Our team started with producing some Solidworks drawings and even constructed a foam prototype for sizing.
We were then able to develop a real functioning prototype with a few alternate core designs. As usual, our team designs a few different cores to observe the effects on cooling for each application. This project was no different and we selected a serrated fin and a straight/perforated fin design. Our initial theory proposed that this serrated fin design would promote turbulence within the core and result in greater air mixture throughout the core, which would improve heat transfer. It would be very interesting to see exactly how this core would react to our test vehicle.
Once the prototype was in, it was time for a few comparison shots of the product process!
Now, let's compare a few important elements between the Mishimoto and factory cores. First, thickness! This seems to be the big topic of discussion on the forums. Yes, a thicker core will provide improved volume that can result in improved performance for power and heat transfer. Keep in mind that other features of the actual core also dictate how it will perform.  Check out the comparison below!
For those struggling to see the difference, I have used this high-tech measuring device for your viewing pleasure.
All right, so it's bigger; what does this do for me? This will be determined later in our testing. In the meantime, check out these end tanks!
This benefit is easy to see. The end tanks on the Mishimoto unit are cast to a very smooth finish both internally and externally. This provides ideal airflow and reduced turbulence. The stock stamped tanks provide a bit of restriction, especially at the point where the inlet tube meets the tank itself. These tanks were designed with CFD software to create the best possible flow. You will also notice a weld on the inlet of the Mishimoto prototype. I know what you are thinking: John, you told me these were cast end tanks, what gives? Here's the deal. Our castings are rather thick for durability and longevity reasons. This increased thickness in the inlet/outlet results in a slight decrease in inner diameter. In an effort to fully optimize this cooler, we have designed a welded-on inlet/outlet to increase the inner diameter and reduce restrictions. Not to worry, this has little effect on overall durability. This method has been tried and tested on numerous applications, including our Evolution X intercooler and Subaru top-mount intercooler, which was recently released.
Now, check out a few more shots of the Mishimoto prototype intercooler!
Previously, I mentioned that this intercooler was being tested with two core configurations. The powder-coated black cooler shown above features a straight fin design; the other cooler has a perforated fin design.
That's it for this installment of the project. Check back soon for our testing and data collection. We will also be wrapping up this project in Part 2 with full product details.
Thanks for following along!
Interested in purchasing our Evolution intercooler? Check out our product page for more details!