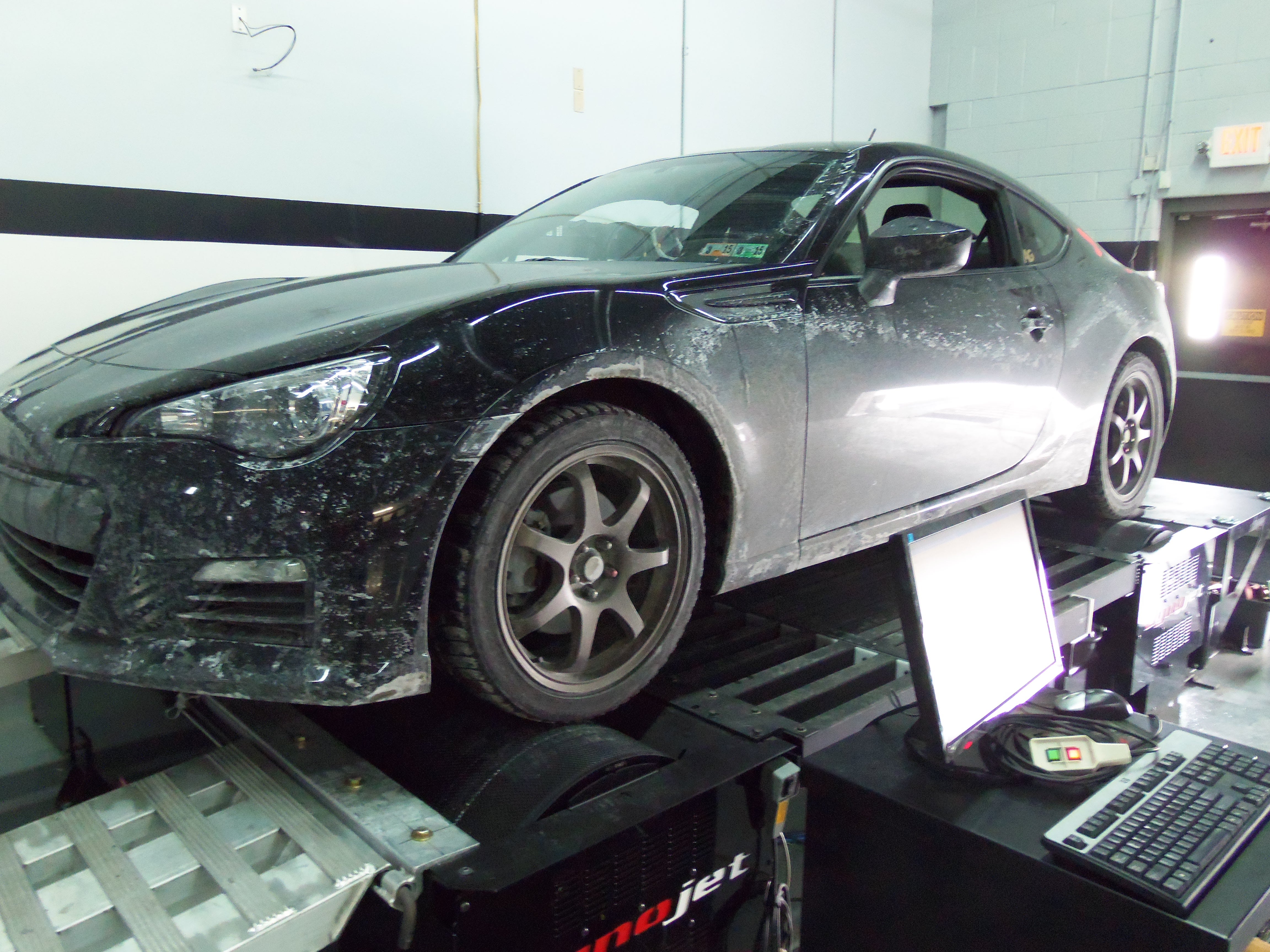 2013+ Subaru BRZ / Scion FR-S Performance Cold-Air Intake, Part 1: Product Introduction and Goals
Interested in purchasing our BRZ intake? Check out our product page for more information!
These articles normally begin with a quick background of the vehicle in question, followed by some of the performance high points and pitfalls of the car. With this particular vehicle, this process is not necessary. If you are reading this, you probably already own a BRZ/FR-S, and/or you are well aware of the effect this vehicle has had on the automotive world. Autocross, track days, drifting, daily driving, even rally; the 86 has everything you need to really enjoy yourself behind the wheel in any setting. Mishimoto dove headfirst into the performance cooling market, releasing several innovative cooling products already well known for other chassis. Our current product list for the BRZ/FR-S includes a performance aluminum radiator, silicone radiator hose kit, direct-fit oil cooler kit, low-temperature thermostat, silicone induction hose, and some really smart-looking oil fill caps! With our main product lines covered, it was time to move into our brand-new line of air intakes. We recently released a performance cold-air intake for the 2008+ Subaru WRX/STI, and we had a ton of success adding some easy bolt-on power (25 hp / 25 tq on a stock STI). Our new facility has a fantastic Dynojet that has been pivotal in providing the data we need to support our products and to give the end consumer some insight into what our products will do for them in the real world.
Each of these articles provides a step-by-step look at how our team fabricates, designs, enhances, and tests each of our products. Our goal is to create the absolute best product we can, from concept to completion. This product is then shipped in cutting-edge packaging to make its way into the hands of a salivating customer. All right, so maybe some of you are not quite as enthusiastic as I am when car parts are on the way, but this article will help shed some light on what Mishimoto is all about! Check out the Dynojet!
With their experience in designing intakes and a variety of other complex products, our team of engineers was ready to tackle this project. When we developed our silicone induction hose, we conducted a ton of testing and data collection to show the effects of replacing the factory hose as well as the consequences of eliminating the resonator and noise generator. The results were quite interesting!
Utilizing the Mishimoto induction hose and a high-flow panel air filter, and with the noise amplifier removed, we were able to gain 6 horsepower and 3 torque over the all-stock setup. We also saw a loss in power with the resonator removed, so the resonator should be retained if you are using the factory airbox setup. During this testing we saw quite a bit of room for improvement for the stock intake. Most factory intakes are designed with several restrictive points, which can provide an opportunity for some easy power. Less restriction on both the intake and exhaust portion of the engine will net greater flow and improved power.
We set out to create a few goals that would help our team in designing a very efficient and successful intake.
Goals
Direct-fit unit requiring no modification to the vehicle
Intake should pull cold air from outside the engine bay
Include Mishimoto high-flow air filter
Improve horsepower and torque
Air-to-fuel ratio (AFR) should be safe during all driving conditions
Install should be simple and well documented
Improve intake noise to delight the auditory senses of the driver, passengers, and any lucky  bystanders
Direct Fit 
Our first goal is rather simple and quite common for a majority of our products. Depending on the vehicle application, project strategy, and consumer wants/needs, at times our team will stray from this goal. However, direct fit is typically a requirement.  Although we have no issues with removing OEM components, any serious cutting or trimming is something we try to avoid. For this particular product we are required to remove the factory airbox, which occupies a space right above the radiator and inside the hot engine bay. We intend to develop a cold-air intake that will pull air from outside of the engine bay. We hope to avoid any additional modifications, but this will depend on the design that our engineers select. We are certainly willing to trade some minor modification for an increase in performance. We also understand that most owners would not be interested in taking a grinder or cutoff wheel to the core support of a brand-new vehicle.
Cold-Air Intake 
This second goal was one we also worked with for our WRX/STI intake kit. To eliminate the influence of engine bay heat on intake temperatures, we would be attempting to place our filter in a cooler environment that has a nice stream of airflow. Just so everyone is on the same page, cooler intake air is certainly better and results in a nice dense charge of air that allows for improved combustion. Our goal would be to reduce air temperatures and eliminate any heat soak that might occur with a system that is located in the engine bay.
High-Flow Filter 
As with our other intake kits, the BRZ/FR-S kit will include a Mishimoto high-flow air filter. Now, just because these filters outflow the OEM counterparts, this does not mean they have less filtration ability. Our filters are completely serviceable to provide a lifetime of consistent performance. Our oiled filters are exceptional at capturing dirt and debris, and they provide superior airflow compared to factory paper filters. Each filter also includes a lifetime warranty! Awesome!
Add Power 
Unfortunately, intake design is not as simple as throwing the filter on the end of a pipe and calling it a day. Our engineers would be working on removing restrictions, improving airflow, and generating correct AFRs to produce a safe product that improves both horsepower and torque. Although the BRZ/FR-S was not designed with outright speed in mind, a few extra ponies certainly wouldn't hinder the overall driving experience. No, you will not melt tires in fourth gear or pass an Evo on the straights, but a little extra punch might help you knock down those lap times or improve your position at the local autocross. We do not have any set goals for power; however, we are hoping to extract as much as we can in a safe manner.
Safe AFRs 
One easy way to squeak out some power is to lean out the AFR mixture. Factory tunes are often set to run rich as a safeguard for any potential engine damage, and to regulate exhaust gas temperature (EGT) properly. By leaning out the mixture, one can obtain a more efficient burn and therefore more power. While this maneuver is generally safe, some aftermarket products take it a bit far, even to the point of potentially damaging your FA20. A fuel mixture that is too lean is a great way to evoke engine knock, detonation, and/or blow holes in the pistons. Although these effects are rare, they should certainly be considered when selecting an intake, which will affect the AFR of your engine. Typical tuners tend to shoot for a ratio of around 12.7:1 under full throttle. This ratio is perfect for a naturally aspirated (NA) engine, but boosted engines require a much lower ratio, somewhere in the range of 11:4 to 12:1 depending upon engine/turbo factors. This is important to keep in mind, as many aftermarket options for the BRZ/FR-S dip well into the 13s and even the 14s under full throttle in the higher rpms. Personally, I would not feel comfortable installing this on my vehicle. Our team will be monitoring AFRs throughout testing to best follow the factory curve. Our end product will not be dipping into the danger zone just to tout the biggest power gains.
Ease of Install 
Not only do we want this intake to perform, but we also would like it to provide a clean appearance in your engine bay. Our product should install fairly easily with common hand tools and be simple enough for the weekend shade-tree mechanic. BRZ/FR-S owners seem to be a diverse bunch with varying levels of mechanical aptitude. We are going to do our best to design a product that everyone can install easily. As usual, we will be including a very detailed installation video that will provide step-by-step instructions for installation.
Improve Engine Tone 
Now on to everyone's favorite part, noise! A good intake growl is sure to impress your friends, relatives, and work colleagues. Treat them to a symphony of flat-four goodness every time you stomp on the pedal. Yes, this is a secondary goal, but we expect to provide some improved engine noise tones through the development of our intake.
Now that we have our goals out of the way, it was time to take a good look at the engine bay of an 86 and see what direction we wanted to go with our design. Luckily a member of our accounting team happens to daily drive his FR-S, so this would be simple! Even better, this engine bay was completely stock. Check it out!
The stock engine bay on these cars is extremely well laid out. We should thank Toybaru designers for creating a spacious bay with room to innovate and modify this wonderful car. Once we had a look at the stock setup, it was time to pull the airbox out and see how much room we had to work with.
The stock intake takes up quite a bit of real estate in the engine bay. The intake box is situated right over the top of the radiator, meaning that heat soak would certainly be a possibility, as coolant temperatures should be hovering around 200 degrees. The box pulls air from the front bumper area via a scoop/duct, which you can see peeking out from under the core support.
Here we have the factory intake box complete with resonator assembly. You will notice the mass air flow (MAF) housing as well, just before the connection point with the rubber inlet hose. We already have a very successful product in place for the induction hose, so we would be designing our intake from the end of the induction hose to the filter. Our design would need to incorporate the MAF mounting point as well as an air straightener to provide smooth, consistent MAF readings.
With our engineering group together, the brainstorming began! And quite a storm it was. We had ideas for a boxed system, a true cold-air setup, and discussions about performance panel filters. After much debate, it was decided that we would develop a true cold-air intake and run the intake piping into the bumper area. We plan to route this in similar fashion to the stock ducting and use one of our high-flow filters. For improved airflow we discussed the use of a diverter plate to channel more cold air to the filter. Our design would require some extensive fabrication and design. Check back with us next time as our team starts the development process of our new intake!
Interested in purchasing our BRZ intake? Check out our product page for more information!