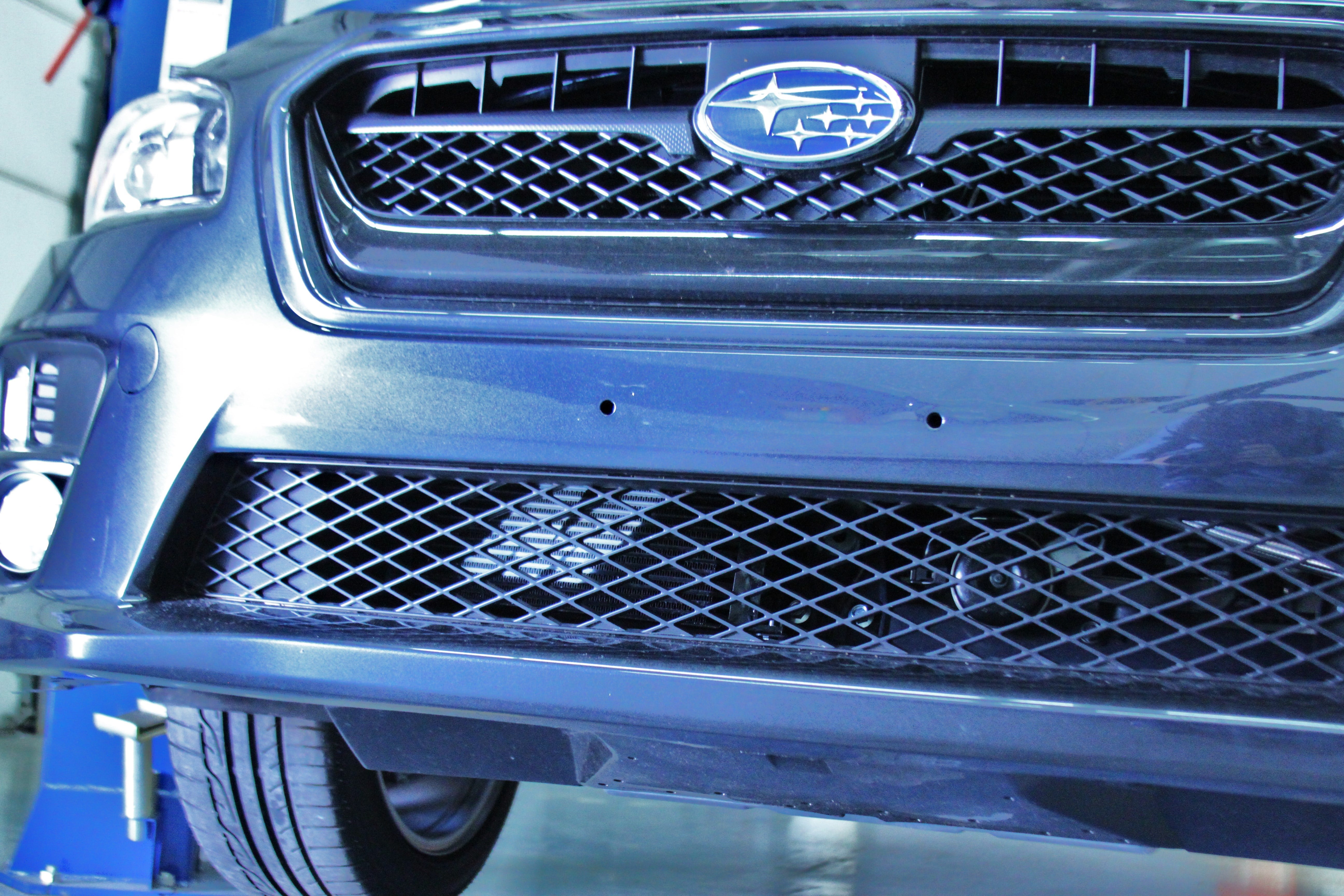 2015+ Subaru WRX Direct-Fit Oil Cooler Kit, Part 1: Product Inception and Initial Development
Interested in purchasing our WRX oil cooler? Check out our product page for more information!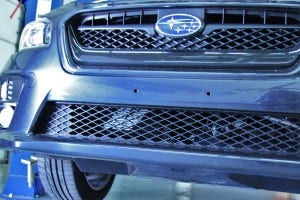 The most obvious thing to do with your brand new WRX is to take it to the track immediately after leaving the dealership. Fortunately, the WRX is a rather competitive package right out of the box. Our initial driving impressions were very positive, and we have no doubt that this vehicle is going to make a big impact on the enthusiast world. We monitored fluid temperatures at stock power levels during normal driving conditions and found that everything seems to be in spec. We are assuming a majority of these vehicles will not remain at stock power levels for very long. Soon enough, many enthusiasts will be bolting on intakes and exhaust systems and supporting everything with a solid tune. As we have seen with our initial intake testing, the FA20DIT responds very well to modifications. We expect the 2015 WRX should be able to attain 300 whp with a few simple modifications.
With increased power comes increased heat. As we have said time and time again, high oil temperatures are detrimental to the longevity of your engine. Warm climates, increased power, and track/aggressive driving are all contributing factors that necessitate an oil cooling solution.
Our talented engineering team is not new to oil cooler development. Not only do we offer a direct-fit oil cooler solution for the entire year range of Subaru WRX/STI models, but we also cater toward a variety of other enthusiasts' vehicles such as the S2000, BRZ/FR-S, 350Z, Genesis Coupe, and many more. The primary focus of these products is an easy-to-install kit that requires minimal to no vehicle modification. We want to take the guess work out of installing an aftermarket oil cooler. Along with offering an all-encompassing kit, we conduct real-world testing and then publish this information so our customers can appreciate the benefits our products will have on their vehicles.
Enough about our product line, let's jump into this WRX! With less than 1,000 miles on our vehicle, we began thinking about new-product development. Our first products included some very nice silicone hose kits. As with previous generations we developed, our radiator hoses are constructed with 4-ply silicone, a nice upgrade in reliability. We also released a silicone ancillary hose kit featuring 13 coolant and PCV lines that can benefit from more durable material. Finally, we released our FA20DIT airbox hoses, a two-piece kit featuring the upper and lower hoses from the turbo inlet to the airbox. We are presently conducting some power tests to see if the smooth interior of our hoses provides any flow benefits compared to the accordion-style design of the stock units. More on this later!
Now, on to the goals for our next target, a direct-fit oil cooler. We do not release products without at least one goal in mind, such as reduced IAT's from an intercooler or lower coolant temperatures with one of our aluminum radiators. This oil cooler would be no different, and our goals would be simple enough to allow our engineers to explore their creativity.
Project Goals: 2015 WRX Direct-Fit Oil Cooler
Must be completely bolt-on and require no vehicle modification
Must provide substantial temperature reduction without significant decrease in oil pressure
From a design standpoint, an oil cooler for the 2015 WRX provided some interesting challenges. I'm sure you are aware that the oil filter is no longer on the bottom of the engine. The FA20 utilizes a top-mounted oil filter with a cup assembly to catch any overspill. This design is very similar to the BRZ oil filter setup; however, the WRX utilizes a liquid-to-liquid heat exchanger below the filter to regulate temperatures. For our BRZ kit, we developed a specific CNC-machined spacer to fit with one of our oil sandwich plates. This strategy would not work for the WRX, and hood clearance became a concern when a spacer and a sandwich plate were added.
Instead of tweaking a preexisting product, we decided the 2015 WRX deserved a completely new sandwich plate of its own. This component would require the longest time to manufacture, so we targeted this first to get a jump on the completion of this kit. Bringing a product to market quickly is important to our team, as we knew enthusiasts would be tracking this one right out of the gate. Despite this, we did not sacrifice quality or due diligence in any way throughout the design process.
First the lead engineer for this project, Kevin, evaluated the dimensions of the factory oil cooler and filter assembly. He then created a sandwich plate design using Solidworks software, followed by 3D printing. This printer has been an extremely valuable asset for numerous recent projects. Being able to have a prototype in-hand for test fitment in less than 12 hours saves us a great deal of time. The fewer delays on our part means we can bring products to you quicker and get you out on the track having fun. Check out the prototype of our sandwich plate!
We then attached our standard oil sandwich plate O-ring.
And finally we attached our -10AN fittings and dowty seals to complete the mock-up unit.
Next, we installed the prototype of the oil sandwich plate on the WRX to decide on the lines we wanted to use and where to route them. First we tried using a pair of 45° fittings to route the lines downward and around the radiator. Although these lines fit, we found that clearances were quite tight with the overflow bottle when using a radiator that is thicker than stock.
These images provide a glimpse into the space we had to work with. As you can see, the 45° fittings forced us to twist the sandwich plate sideways for clearance – not what we wanted to do. You can also get a good look at the stock oil cooler and the coolant lines running in and out of it. Now check out a few shots with banjo fittings used instead of the 45° fittings.
The banjo fittings provide the clearance needed to mount our sandwich plate straight, and they even function with our thicker X-line radiator installed. We always strive to provide an entire line of products that fit together perfectly, so this was important. Banjo fittings will be the way to go for this particular design.
Now let's talk about oil warm-up. You might notice that this sandwich plate does not utilize any internal thermostat. You can also see that we did not remove the stock oil cooler unit. Our engineers spent a great deal of time discussing and exploring different potential designs. We concluded that keeping the stock oil cooler intact and adding our liquid-to-air heat exchanger as a supplementary cooler would give us the best results.
The stock oil cooler also functions as an oil warmer. Coolant flows through the unit to bring engine oil to operating temperatures as quickly as possible. (Cold oil is just as harmful as oil that is too hot.) By retaining the stock liquid-to-liquid heat exchanger, we can assure a speedy oil warm-up. Additionally, our external liquid-to-air heat exchanger works to lower temperatures once it has warmed up. Although this will need to be tested, we found that this system works perfectly on the previous generation of the STI.
So, the basic design is settled. Our data will be the true test though, so stay tuned for that.
The next detail was mounting of the oil cooler. As with any liquid-to-air heat exchanger, optimal heat transfer requires proper airflow, and we want that heat transfer to result in lower fluid temperatures. The obvious choice was to mount the oil cooler in the front grille area. Airflow testing on numerous vehicles helped us to determine the optimal location. After much deliberation and testing, our team selected the passenger side of the lower grille as an ideal location. Mounting brackets were fabricated, and we then did a mock-up of our 19-row oil cooler. Check out a few shots below!
And now with the bumper installed!
And finally, the lines were routed. These will go behind the crash beam, around the radiator, and up to the sandwich plate. All our kits utilize preassembled stainless steel braided oil lines with -10AN fittings. These high-quality components ensure consistent, durable, and leak-free operation.
At this point we were waiting for the CNC-machined prototypes of our oil sandwich plates to arrive for testing. Once they arrived, we could install the entire kit, compile our testing data, and evaluate the results of the project.
Check back soon for part 2!
Interested in purchasing our WRX oil cooler? Check out our product page for more information!