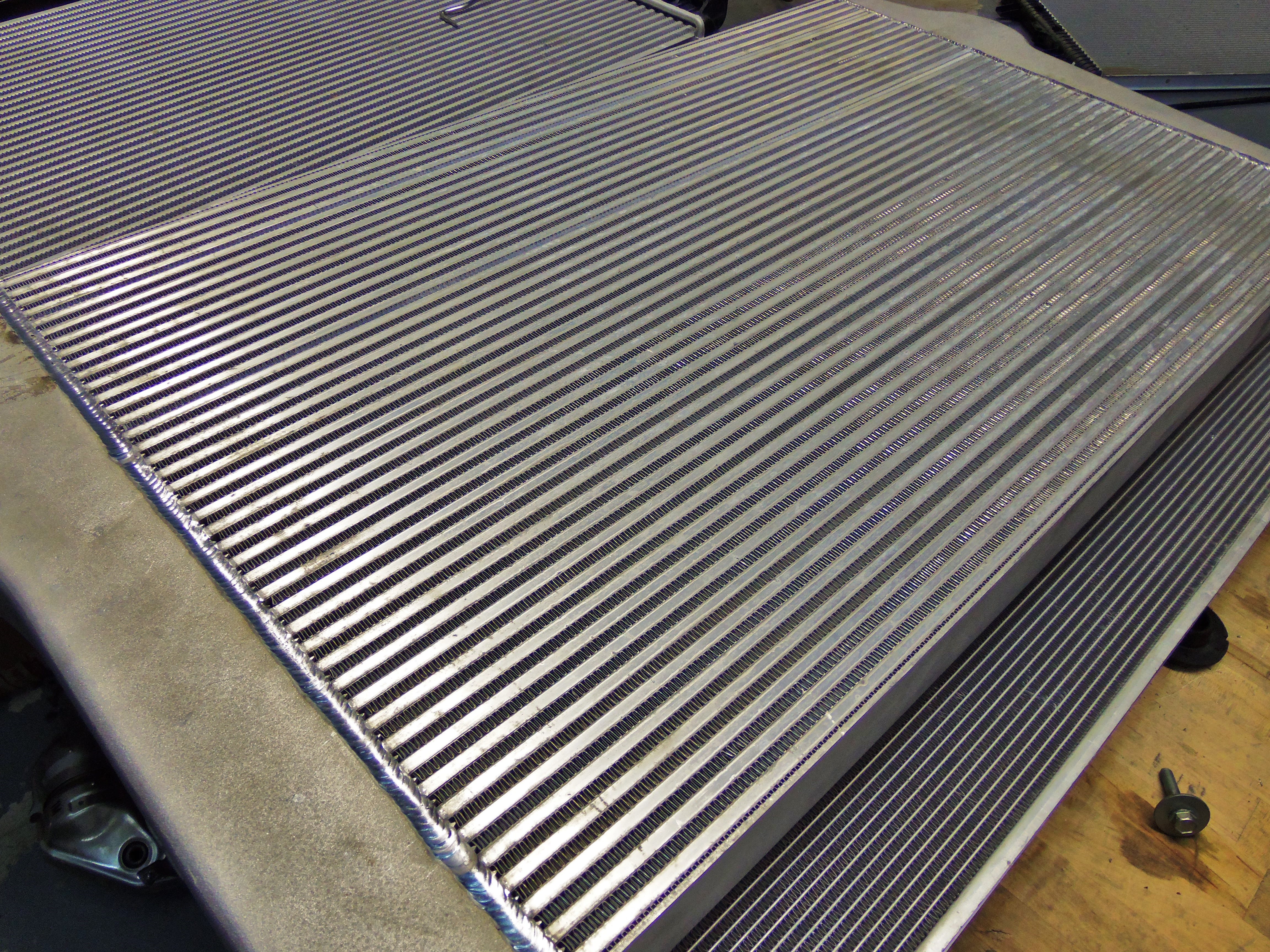 Mishimoto 2011+ Chevrolet/GMC 6.6L LML Duramax Performance Intercooler, Part 3: Prototype Design
Interested in purchasing this Duramax Intercooler? Check out our product page for more information!
Prototype 3D Design
Now that we outlined our project goals and had all the test data from the factory intercooler, our engineers were ready to design a prototype intercooler. Using dimensional data from a rendering of the truck as well as the actual measurements we took from the test vehicle and factory intercooler, our team was able to create a very nice looking prototype. Check out a couple renderings of the design!
When designing this intercooler, our team experimented with different end-tank diverters to provide better air dispersion through the core. Our goal is to spread the airflow to all portions of the core so we can take full advantage of the surface area available. Check out this neat shot of our test results using Computational Fluid Dynamics (CFD) software.
Eventually, we elected to incorporate a diverter into our end tank design. Our testing showed significant improvements in airflow and dispersion toward the upper portion of the core. Although this may not provide huge gains in power that can be felt while driving, it should provide reductions in air intake temperatures (AITs) and exhaust gas temperature (EGTs), especially on higher-powered trucks.
Next, check out the drawing of what our prototype would look like!
Note the two bungs on the right-side end tank. These are present in the design for those who wish to install an NPT sensor in the tank or for those running meth injection. The portions are not predrilled, but they do feature greater material thickness for ease of drilling and tapping the tank. We have added this feature to several of our recent intercooler designs for those searching for a port location.
First Prototype Analysis
Now that our product was designed in 3D, we worked up a few prototype units that we could use for testing. This is the exciting part! Keep in mind, this prototype is a completely raw aluminum unit. Our final version features a powder-coated finish, which provides some additional protection against damage from debris.
A cool look at the machined inlet/outlet on the Mishimoto prototype.
In the image above, you can just see the beginning of the diverter we designed to help disperse airflow evenly throughout the core. Pretty neat!
As mentioned earlier in this article, we would be using a bar-and-plate core for our prototype unit. Our team designed two different cores that would be tested using different bar-and-fin sizes.
Larger bars will allow for additional core volume and lower pressure drop; however, this will reduce the size of the fins, which will have an impact on the core's capabilities for heat transfer. Larger fins will improve heat transfer but will result in smaller bars, which could be restrictive and cause pressure drop concerns. Core design is a give-and-take process; we use CFD software to narrow our choices and get reasonably close to an optimal design. That being said, there is no match for real-world testing, so we will be testing two different cores to see which performs best.
Check out a shot of one of our prototype cores.
Now we can place our prototype unit next to the factory intercooler, and the physical differences are quite obvious. The Mishimoto intercooler appears to be far more robust, and the size differences are significant.
The weld quality on this particular intercooler is quite impressive. Check out a shot of one of the long runs along the end tank.
Our last image for this segment shows the thickness comparison of the factory core with the Mishimoto prototype. Check it out!
So let's take a look at the actual physical size of the core featured on the Mishimoto intercooler.
Length: 36.25"
Height: 23.0"
Depth: 2.7"
Compared to the specs of the factory cooler, the Mishimoto intercooler is massive! The factory cooler volume is rather small, while the Mishimoto core provides a 101% increase in total volume!
Check back with us next time as we test fit this intercooler into a truck to ensure that fitment is perfect!
Thanks for reading!
Interested in purchasing this Duramax Intercooler? Check out our product page for more information!