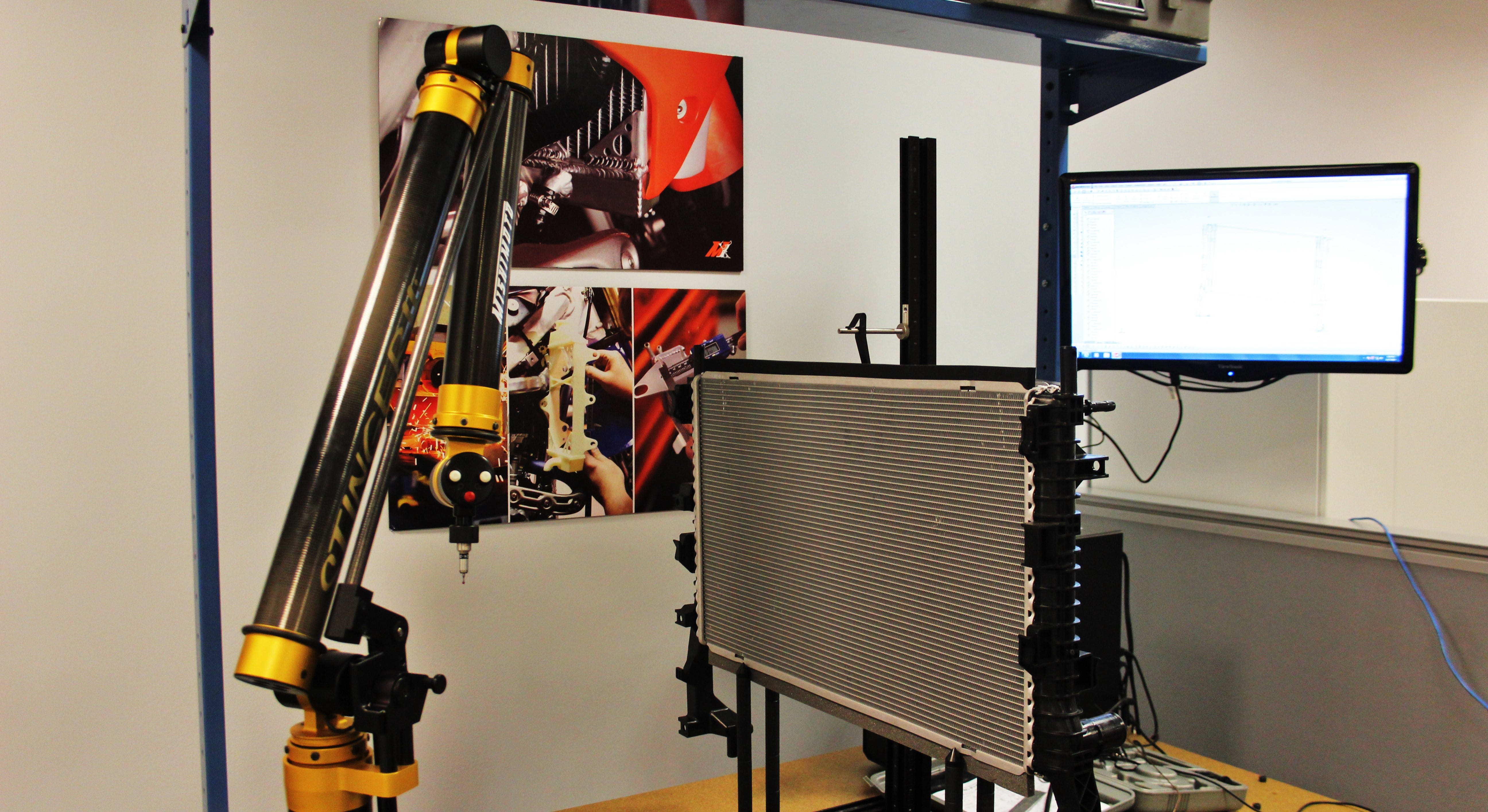 Mustang EcoBoost Aluminum Radiator R&D, Part 1: Initial Development
Interested in purchasing this awesome aluminum radiator? Check out more details on our product page linked below!
In an effort to give your Mustang optimal cooling performance, the bright minds at Mishimoto have embarked upon a mission to develop an efficient radiator solution for the EB. It is only a matter of time before high-powered EcoBoost models begin hitting the track, necessitating a cooling solution that outperforms the stock radiator.
Luckily we have our own 2015 Mustang shop vehicle for product design and testing. We also have a local enthusiast who is kind enough to loan us his automatic EcoBoost for test fitting with the transmission cooler location on the S550.
Stock Radiator
EcoBoost owners have two radiator options from the factory. The Performance Package (PP) models are equipped with a slightly thicker radiator for greater cooling efficiency. We will need to take this into account for the design of our radiator. We will also want to pick up a base model radiator so we can perform comparison tests of all three radiators.
First, we set to work removing our PP radiator from the vehicle.
Luckily the process is relatively quick thanks to the spacious engine bay of the EB.
Performance Package Radiator
Once it was out we could get a good look at the PP radiator.
The radiator for the EB is quite unique. You will notice it features legs mounted on each side of the bottom of the end tanks, which extend downward to mount to the radiator support. This space below the actual radiator core is occupied by the intercooler. The inlet and outlet of this radiator do not include any unique quick-disconnect fittings as we've seen on some other recent vehicles. This vehicle features standard hose connections with clamps. A few fan shroud mounting points and AC condenser clips are the only other distinguishable features for this component.
Check out a few more shots!
Below are a few specs for this radiator core.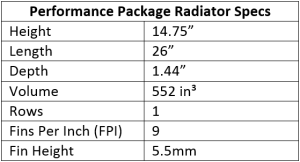 And a close-up shot of the core itself!
Base Radiator
As noted above, the base model EB features a slightly thinner radiator compared to the PP. We ordered one in order to check fitment as well as perform some road testing once we have a finalized prototype. Check out the specs as well as a few shots shown below.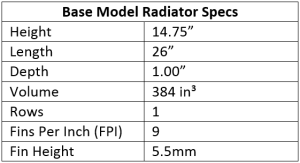 Why The Radiator Difference?
Although the PP model does not feature greater power or boost, it does have a variety of more race-oriented upgrades, including the suspension, wheels, brakes, and traction control system. By including a larger radiator, Ford may be implying that the PP model is more likely to see track driving or frequent aggressive street driving and recognized the need for improved cooling. This is especially true considering the stock EB does not come equipped with an oil cooler at any trim level. If the PP includes a slightly larger radiator, surely an even larger aluminum radiator would be a beneficial upgrade for any EB-equipped vehicle.
Data Collection
Before beginning the design of our aluminum counterpart, we put the stock (PP) radiator on our coordinate measuring machine (CMM) table and set to work capturing some of the critical dimensions and component locations.
Coming Up!
Next time we will cover the features and specs of our plans for an aluminum radiator. We will also post a few shots of our 3D models. For now, we leave you with the rendering below!
Thanks
­­–John
Interested in purchasing this awesome aluminum radiator? Check out more details on our product page linked below!