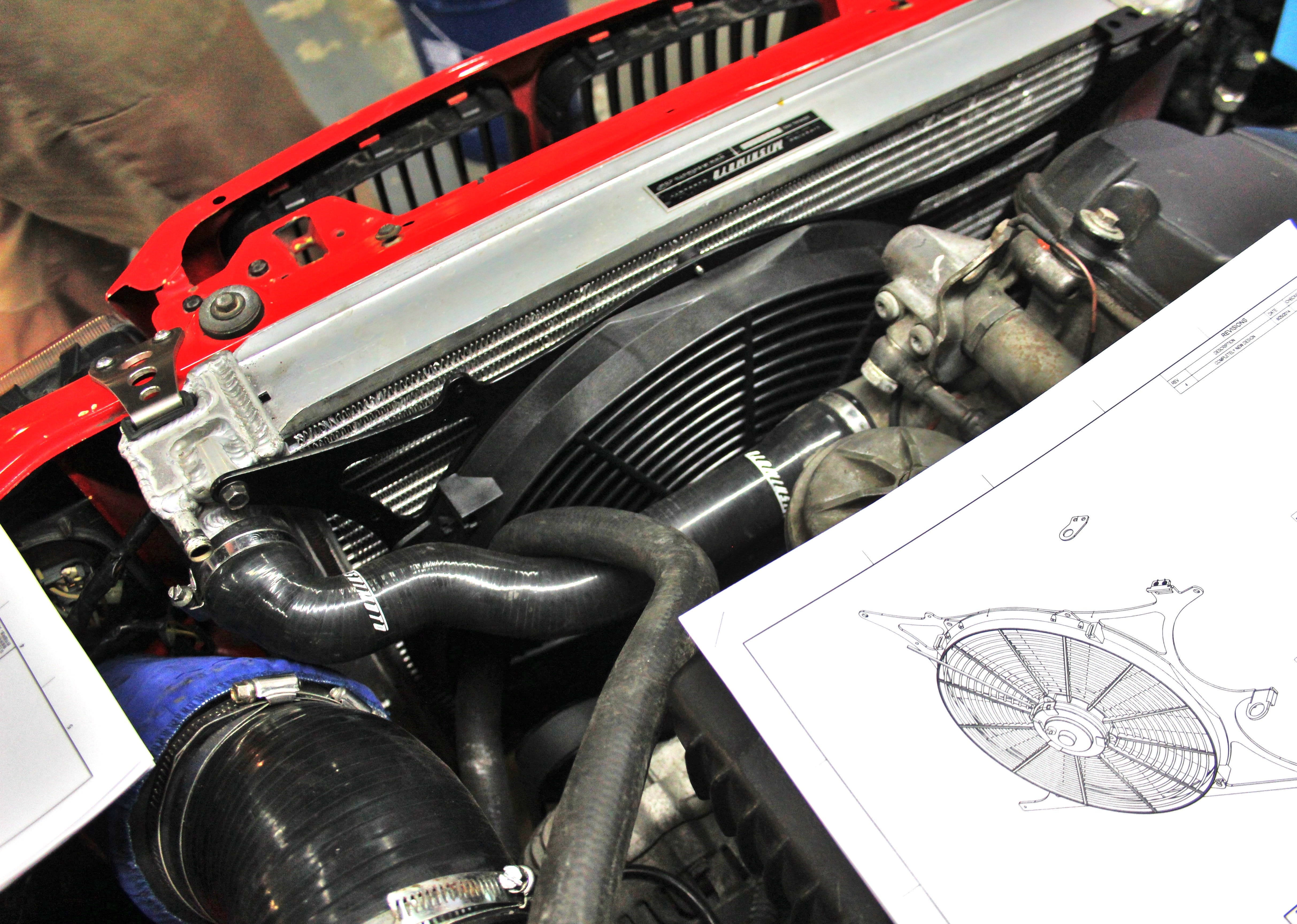 Keeping The E36 Cool, Part 3: Final Prototype
Interested in picking up our E36 fan shroud? Check out the full details on this kit on our product page!
Our final prototype is complete and looks fantastic. The fan mount is constructed from 1/8" steel that has been cut to a specific shape allowing for additional airflow through the radiator core at speed. Additionally, the mount is powder coated black to provide a durable finish. As noted in our last post, we tested this unit extensively with our 16" fan to ensure that coolant temperatures were properly regulated during both idle and all driving conditions.
Check out a few shots of the mount!
This shroud has been designed to function with the stock expansion tank as well as the aluminum expansion tank we have been working to develop. Check out the mounting system our engineering team designed to secure the tank properly in the stock location.
Test Fitting
After inspecting our final prototype, it was time to pop this piece into the car and ensure that all our mounting points were correct. We also modified the fan location slightly and checked clearance with the fan pulley.
First, a fan-less engine bay with our E36 X-line radiator installed. This radiator is quite massive and should provide a worst-case situation in terms of evaluating fitment.
Next we installed our prototype fan mount and fan.
Here's a shot of our drawing next to the installed component!
Fan pulley clearance was more than acceptable with the adjustments we made to fan placement. Check out a few shots depicting the space with our X-line radiator.
Shroud and Prototype Expansion Tank
As noted earlier, we are also developing an expansion tank for the E36. Check out a shot of our prototype component mated to our final shroud design!
More images will be available within the expansion tank thread we have here on the forums.
Wiring Details
Wiring an electric fan may seem like a daunting task, but our kit includes all necessary wiring and components to make this a cake-walk. Our team is also working to finalize an installation guide that provides in-depth details for install. Below is a shot of the wiring kit for our E46 setup, which is very similar.
Included within our wiring kit for the E36 are the following items:
(1) Inline fuse holder
(2) Butt splices
(2) 0.25" Wide quick-disconnect terminals
(2) 3/8" Stud size ring terminals
(1) 3/8" Black wire cover, 5' length
(1) 3/16" Black shrink wrap, 6" length
(1) 1/4" Black shrink wrap, 2" length
(3) 7.5" Black zip ties
All these components will provide a clean, factory-appearing installation. Power will come from a fuse adapter that will plug directly into the factory fuse panel. From there, some simple wiring work is needed for the controller, the temperature-sending unit, and the fan itself.
Final Kit
With positive testing complete and perfect fitment demonstrated by our prototype unit, we are now prepared to begin manufacturing these kits. So what will the full kit include?
Mishimoto powder-coated fan mount
Mishimoto 16" electric fan
Mishimoto fan controller with 1/8" NPT or temperature sensor probe
Mishimoto BMW E36 wiring kit for electric fan (individual items referenced above)
This kit will be offered with either a 1/8" NPT temperature sensor or a probe-style sensor. The 1/8" NPT is for vehicles with an existing 1/8" port. The Mishimoto E36 X-line radiator includes a tank-mounted port of this size. This sensor would then thread into the port to acquire temperature data. For those utilizing a stock radiator, the probe sensor can be used, and it fits within the fins of the radiator. Both sensor styles have proven to be very accurate during testing.
Our team is putting together a detailed installation guide that highlights the fan mount install as well as the wiring details. The Mishimoto electric fan conversion kit is a bolt-on upgrade for the stock clutch fan, providing a reduction in engine rotational mass along with efficient, reliable cooling during all driving conditions.
Feel free to follow up with any questions or comments!
-John
Interested in picking up our E36 fan shroud? Check out the full details on this kit on our product page!