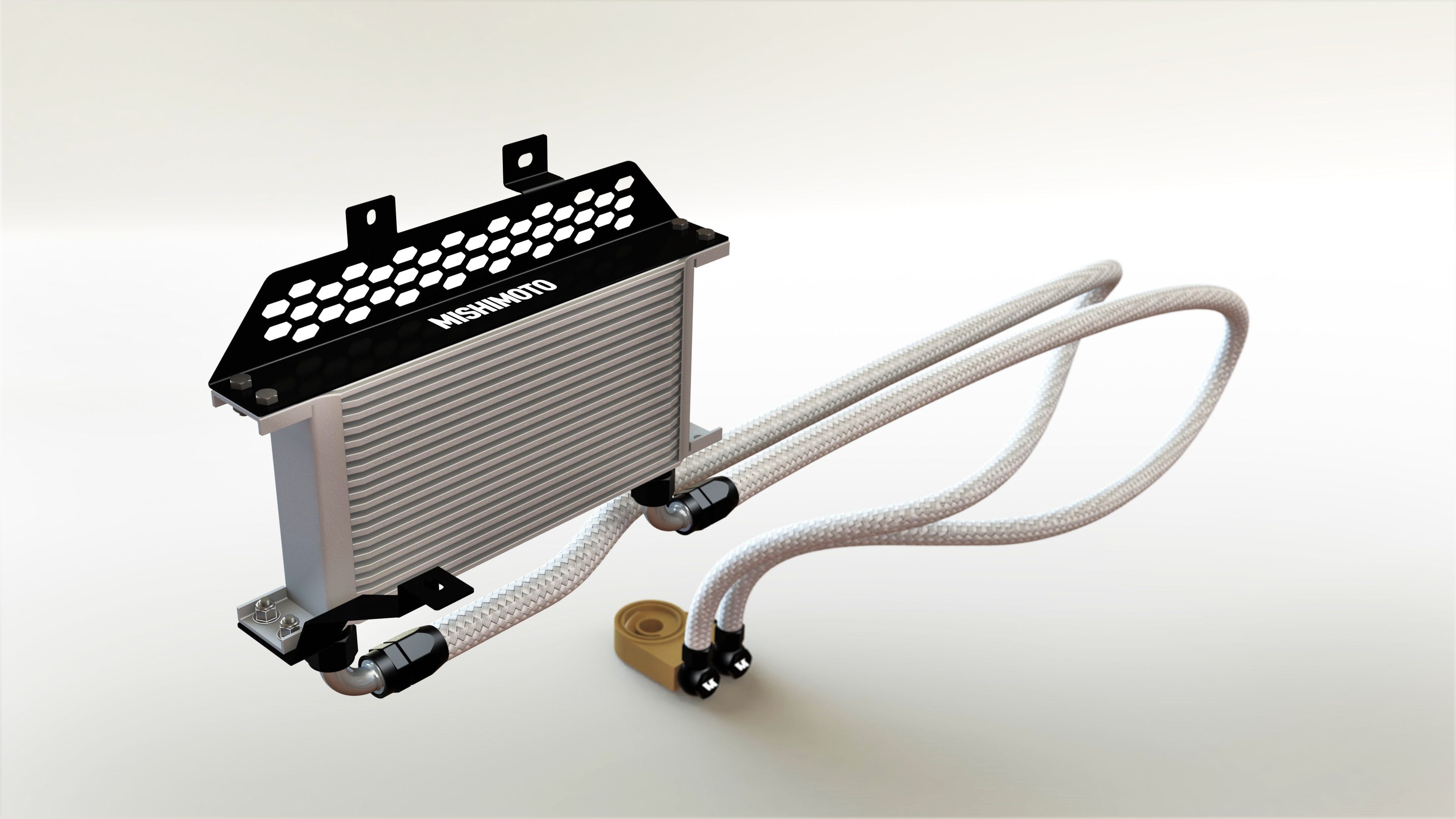 Dropping Focus ST Oil Temps! Mishimoto Oil Cooler R&D, Part 3: Product Testing
Interested in picking up our Focus ST oil cooler kit? Check out our product page for more details.

With a solid cooler mounting location in place, it was time to hit the road and collect some much needed data. In the past, we've had great results with our oil cooler kits in terms of temperature reduction, so we have no reason to believe this kit would perform any differently.
Testing Setup and Conditions
Before jumping in the car, we needed to set up our data collection equipment. We use AEM software and sensors to record temperature data for our oil cooler kits. We also use inline pressure sensors to ensure that we are retaining factory-like pressures.
Recording the stock system was easily done with our NPT sandwich plate adapter, as shown below.
For the testing of our liquid-to-air setup, we use sensors installed inline on our braided stainless steel line. This allows us to collect temperatures both before and after the cooler. Do note, we are using our non-thermostatic sandwich plate for testing purposes to eliminate the variable of temperature decreases being limited to our activation temperature.
Below, Steve is setting up the software for our runs!
Testing Conditions
10 minute highway cruise at 65 mph
Special attention given to traffic in front of the vehicle to ensure fresh airflow to the vehicle
AEM AG-1 Data Logger
Ambient temperature range: 78°F-80°F
This test is completely repeatable and provides a nice baseline in terms of cooling performance.
Results!
Time to see how we did! Check out the plot below showing a comparison of stock temperatures with the data from our oil cooler system.
Our cooler setup provided some very nice decreases in fluid temperature. The stock oil system regulated fluid temperature at right around 200°F-205°F during the highway cruise. With the Mishimoto system, things were a bit different. The temperatures exiting the engine started at around 190°F and quickly dropped, settling in the neighborhood of 180°F-185°F. Fluid exiting the cooler for reentry back into the engine hovered in the neighborhood of 170°F. This is a temperature drop of around 30°F during just normal driving.
Although this is not track data, we can infer that our system makes a significant impact on fluid temperatures. On the track, we can expect similar efficiencies that will translate to substantial drops compared to the stock setup.
One more thing to note. We mentioned this testing was compiled with our non-thermostatic sandwich plate. If we had been utilizing our thermostatic unit, outlet temperatures would have hovered at the activation temperature (185°F) instead of dropping to 170°F.
Product 3D Models
We wanted to spice up the appearance of our mounting bracket. After playing around with a few different designs, we settled on the one shown below.
As you can see, we have incorporated the grille design into our bracket. Pretty slick stuff!
Check out the full kit in 3D!
Discounted Presale
As we hinted earlier on in development, we want to offer a discounted presale rate for folks who followed our R&D process. Check back next week for information regarding pricing, ship dates, and kit inclusions.
Thanks for reading! Let us know if you have any additional questions!
-John
Interested in picking up our Focus ST oil cooler kit? Check out our product page for more details.