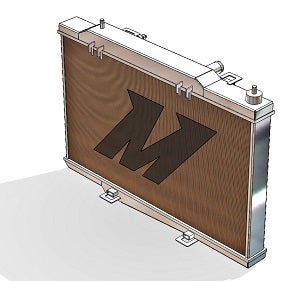 Keeping the Party Cool! Mishimoto's Fiesta ST Radiator R&D, Part 1: Intro, Goals, and 3D Models
Interested in picking up our Fiesta ST aluminum radiator? Check out our discounted pre-sale linked below.
If you keep up with the perpetually bustling engineering team here at Mishimoto, you would have noticed our recent projects involving the Focus ST. We could not ignore this vehicle's little brother, the Fiesta, and after numerous requests we decided it was time to start development of new performance Fiesta ST parts.
Before jumping into development, we needed a vehicle. So, we made a trip to the local Ford dealer here in Delaware and drove back in the beauty shown below.
The drive home revealed a well-balanced, peppy hatchback that was quite comfortable. Although the power could use a slight bump (to be fair, I had just stepped out of a 400+ whp Evolution), I can see why many drivers are using these cars for track and for autocross (although they seem to be banned from certain classes). Not to mention, it makes a nice daily driver that separates itself from the slew of boring, beige, characterless compact cars currently on the roads.
Radiator Development and Goals
We have many great projects planned for this little hatch, one of the first being an aluminum Fiesta ST radiator. Why replace the stock radiator if it isn't leaking? Several factors drove our decision to develop this product, but the primary contributors were enthusiasts' (your) requests. We've had a ton of requests for an aluminum Ford Fiesta radiator. Most of these from folks who are tracking their cars and seeing temperatures exceed 220°F. Not only are track cars seeing this, but aggressive street driving on steep grades for lengthy time periods are also resulting in hot temperatures. Some early issues were related to defective stock radiators, and many vehicle owners are still not pleased with on-track temperatures with the stock Fiesta ST radiator.
This situation can't be ignored. Hitting the track is an absolute blast, and no one wants their lapping cut short due to high temperatures. We need to use our knowledge and experience with aluminum radiator design to bring you guys an appropriate solution.
We intend to design a full aluminum Fiesta ST radiator that provides increased capacity and improved heat transfer. We will be covering the process from start to finish here in this thread, and we will also be fully testing our product to ensure it meets the needs of the people who need it (yeah, that's you guys!). This Ford Fiesta radiator will be a drop-in unit and will fit with all stock equipment.
Development Beginnings
Actual product development for our aluminum Fiesta ST radiator actually started prior to us even seeing the vehicle. How the heck did we manage that? Well, we were in touch with the folks from Ford and they were able to provide CAD data for the front end and engine components on the ST. A couple shots of the models are shown below.
These models provided a baseline for product design and we used many of the critical dimension of the stock Ford Fiesta radiator and surrounding components to gauge the size of our unit.
Once we had our test vehicle, we could pull it into the shop and collect final dimensional data. This includes specific tube/fin information so we can begin to decide upon the fin composition for our Fiesta ST radiator design.
Below is a look at the engine bay of our ST!
Radiator Prototype 3D Model
After pulling dimensions from both sources, we jumped right into 3D modeling and design. The prototype was assembled within the constraints of all factory-equipped Fiesta ST parts, and we soon had a completed 3D model of our radiator. Check out a few shots of the front of our Fiesta ST radiator.
And here's a look at the back side (engine-facing) of our design.
As you can see from the models, we've retained all stock component mounting points. This includes the fan shroud mounts, the stock radiator mounting pegs, as well as the condenser mounts. We've also specified a rather dense fin-and-tube construction for improved heat transfer, and we expanded the core thickness.
What's Next?
Now that we have our initial modeling work done, it is time to construct our first prototype Ford Fiesta radiator to check both fitment and performance.
While we wait for this first prototype, we want to open the floor to any recommendations for additional features you would like to see with this radiator, or any other Fiesta ST parts. Are there any track-oriented additions or components that would help with other modifications or aftermarket engine bay components?
Let us know! Thanks for reading!
Thanks
-John
Interested in picking up our Fiesta ST aluminum radiator? Check out our discounted pre-sale linked below.