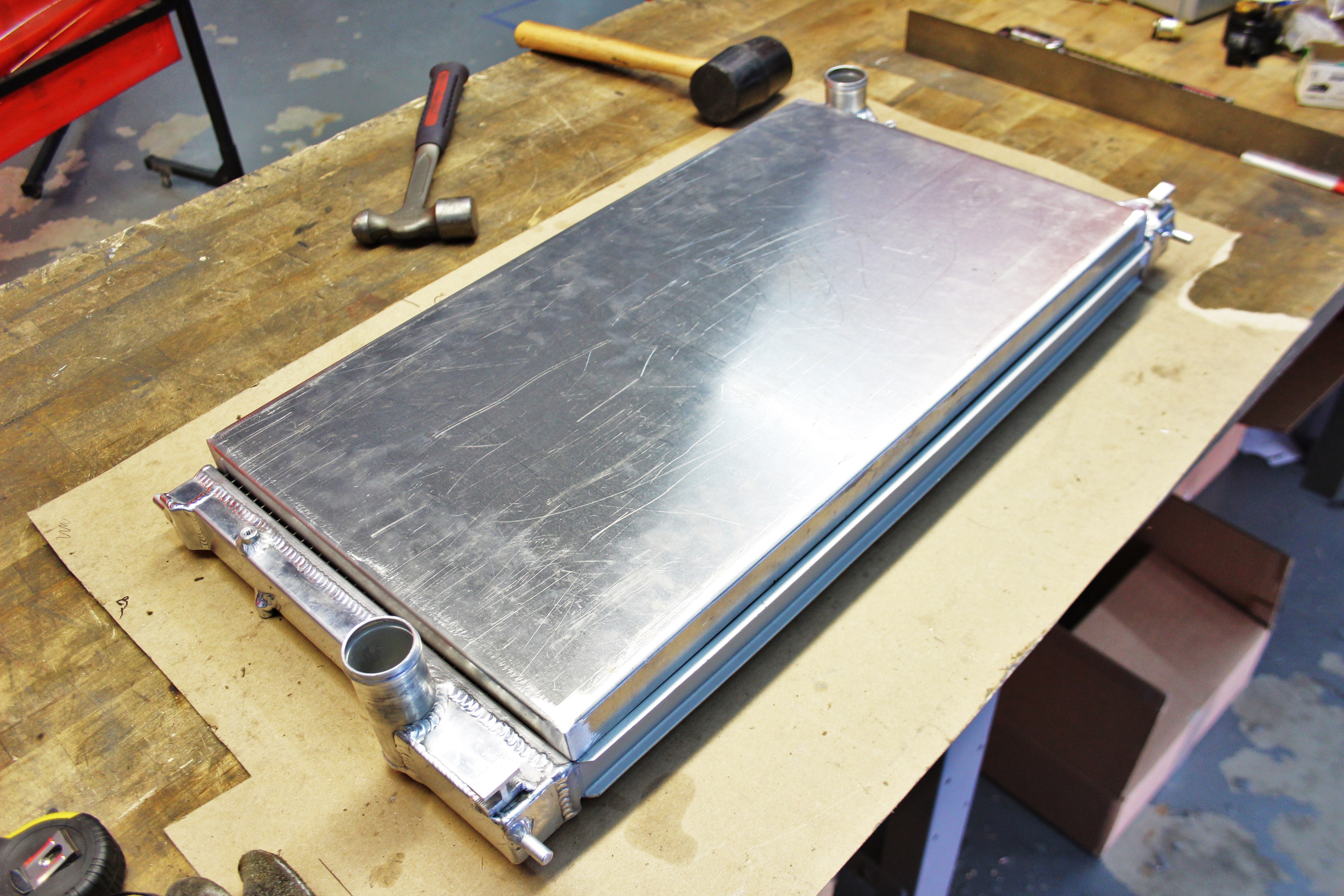 Keeping the twins cool! Mishimoto's BRZ/FR-S Plug-N-Play Fan Shroud R&D, Part 1: Stock System and Initial Fabrication
Interested in purchasing our BRZ/FR-S Fan Shroud Kit? Check out more details at the link below!
Taking a look at our lineup of products for the BRZ/FR-S reveals a solid offering in both cooling performance and power-adding upgrades. Our engineering team has evaluated numerous vehicle systems and provided upgrade components where solutions were needed. Our intake components provide improved induction noise and nice increases in power. Our oil cooler system provides a solution for high oil temperatures on the track. And, our performance aluminum radiator is ideal for track vehicle owners looking for some additional peace of mind during long-duration lapping. These are just a few of the components we currently offer, and we've managed to find yet another opportunity to provide an awesome component that will enhance your vehicle: a direct-fit fan BRZ/FR-S fan shroud kit.
Our fan shroud kits have become more complex over the years for two reasons. First, our engineering team has identified methods for improving performance, aesthetics, and ease of install. We've performed extensive testing to ensure that our fan location and shroud thickness are optimal in direct-fit kits. Our team has explored a few uniquely styled shrouds (see BMW E36/E46 shrouds) for improved airflow on the track. And, we've started to include stock-like fan plugs, so install is simple and no wiring is required.
Stock fan shroud design is the second reason our shroud kits have evolved. Many modern fan shrouds double or triple their functions to hold hoses in place, mount expansion tanks, or even function as coolant pathways for transmission coolers. These factors create some additional challenges for our team of engineers. But, would designing automotive components be interesting if they were all simple?
Stock Fan Setup
The stock fan system utilizes dual electric fans mounted to a plastic shroud. This shroud also provides a mounting position for the coolant overflow tank. The stock fans are set to activate at 212°F (100°C), although they will also activate when the AC system is being used. Additionally, the stock fans run on a multispeed system that will need to be incorporated into our design. Below is a look at what you will see once the hood is open on your BRZ or FR-S.
Mishimoto Fan Shroud Plans
We have a few basic goals for this particular product design. First, we want to ensure that this product is easy to install. To achieve this we will be using stock plugs to create an easy, wiring-free installation. We will also be incorporating the stock overflow tank mount into our shroud, making this kit will be a full bolt-on replacement unit.
Second, we are looking to achieve optimal airflow and cooling while providing a slim profile. Our slim electric fans produce a substantial amount of CFM and will be quite suitable for this kit and vehicle.
Fan Shroud Fabrication
After establishing our plans and guidelines, we set out to begin fabrication of our aluminum shroud. We have a talented fabrication staff that pays attention to every detail.
This fan shroud started life as a flat sheet of aluminum, and our aluminum radiator was used to identify critical shroud mounting points.
Measurements were made and we started mapping out our cuts.
We made a few cuts, bent the edges, and welded our basic shroud shape. The goal was to fit the entirety of the radiator core footprint, which would allow the fans to pull air through the entire surface.
Next we needed to construct mounting tabs that would attach the shroud to the radiator itself. These were crafted from aluminum and tacked into place.
We fired up the welder and got to work attaching these mounting points.
The end result is quite nice!
Next we needed to cut holes for the fans and drill holes for the fan mounting hardware. The surface area of the shroud allowed us to use two of our 12" fans, which produce 1,150 CFM each. These fans will have no issues keeping the FA20 cool under any environment or driving situation.
Once the locations were selected, we cut the fan holes and drilled our mounting location points.
Coming Up!
This shroud prototype is not done yet! We still need to construct mounts for the coolant overflow tank. Check back next time for a look at what we did!
Thanks for reading!
-John
Interested in purchasing our BRZ/FR-S Fan Shroud Kit? Check out more details at the link below!