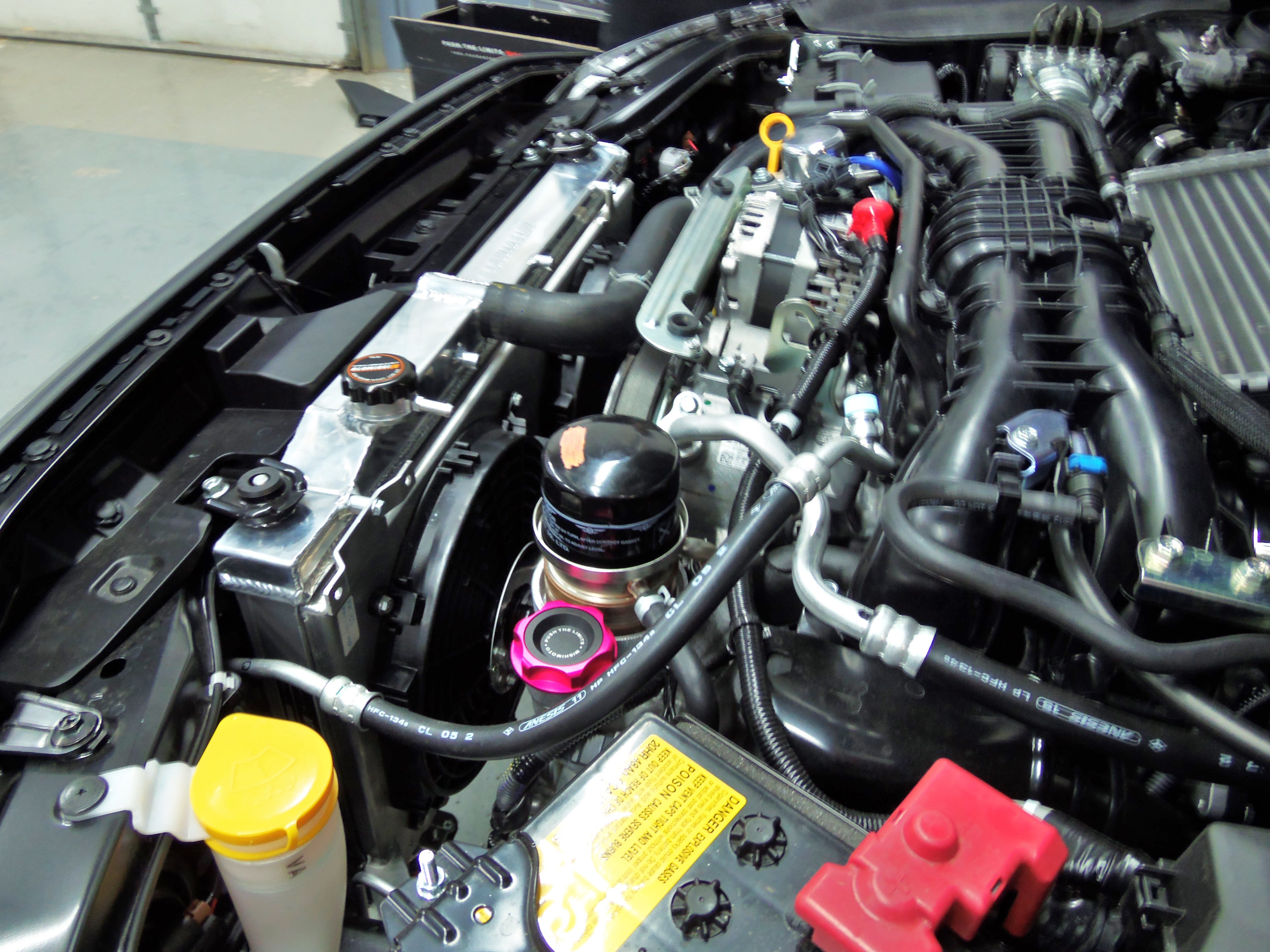 Mishimoto 2015 Subaru WRX Performance Aluminum Radiator, Part 2: Evaluation of First Prototype Radiator
Interested in purchasing our 2015 WRX aluminum radiator? Check out our product page for more information!
Now that we had our first prototype unit in, it was time to evaluate fitment and determine if any changes were necessary when compared to the stock unit. First, we swapped the shrouds to see if any fitment issues existed because of the added size of the Mishimoto unit.
Both the stock and Mishimoto plug-n-play aluminum fan shrouds fit perfectly with the mounting points on our prototype radiator. After verifying this fitment, we installed the prototype in the vehicle to ensure that all other fitment points were spec'd correctly.
The prototype unit fit quite nicely! We had some minor adjustments to make with a few end-tank features, but for the most part, mounting points were spot on. The core we designed for this prototype is 42 mm thick, more than two times the thickness of the stock unit. Core fin density in this prototype was similar to the stock unit. After a discussion with our team we determined that the core on our first prototype would need a few modifications. First, we would reduce the thickness of the core. The FA20DIT front-mounted turbocharger setup would likely present some potential fitment concerns. We decided to allow for future turbocharger and charge pipe upgrades by providing some additional clearance for upgraded components in this area. By decreasing the core thickness to 35 mm, our radiator would still be double the thickness of the stock unit and would provide a nice increase in fluid capacity.
A second modification to our prototype core will be in the fin and tube composition. Instead of simply matching the density of the stock unit, we would be improving upon it. Our radiator will utilize shorter fins, which allow for more overall rows and a greater surface area. A greater fin surface area provides more heat-transfer contact points, which then result in lower fluid temperatures. This core would be a two-row design, providing greater fluid capacity.
Once we had a plan for our second prototype, we set to work putting together the models and drawings. Check back next time for the introduction and evaluation of our second prototype unit!
Thanks!
Interested in purchasing our 2015 WRX aluminum radiator? Check out our product page for more information!