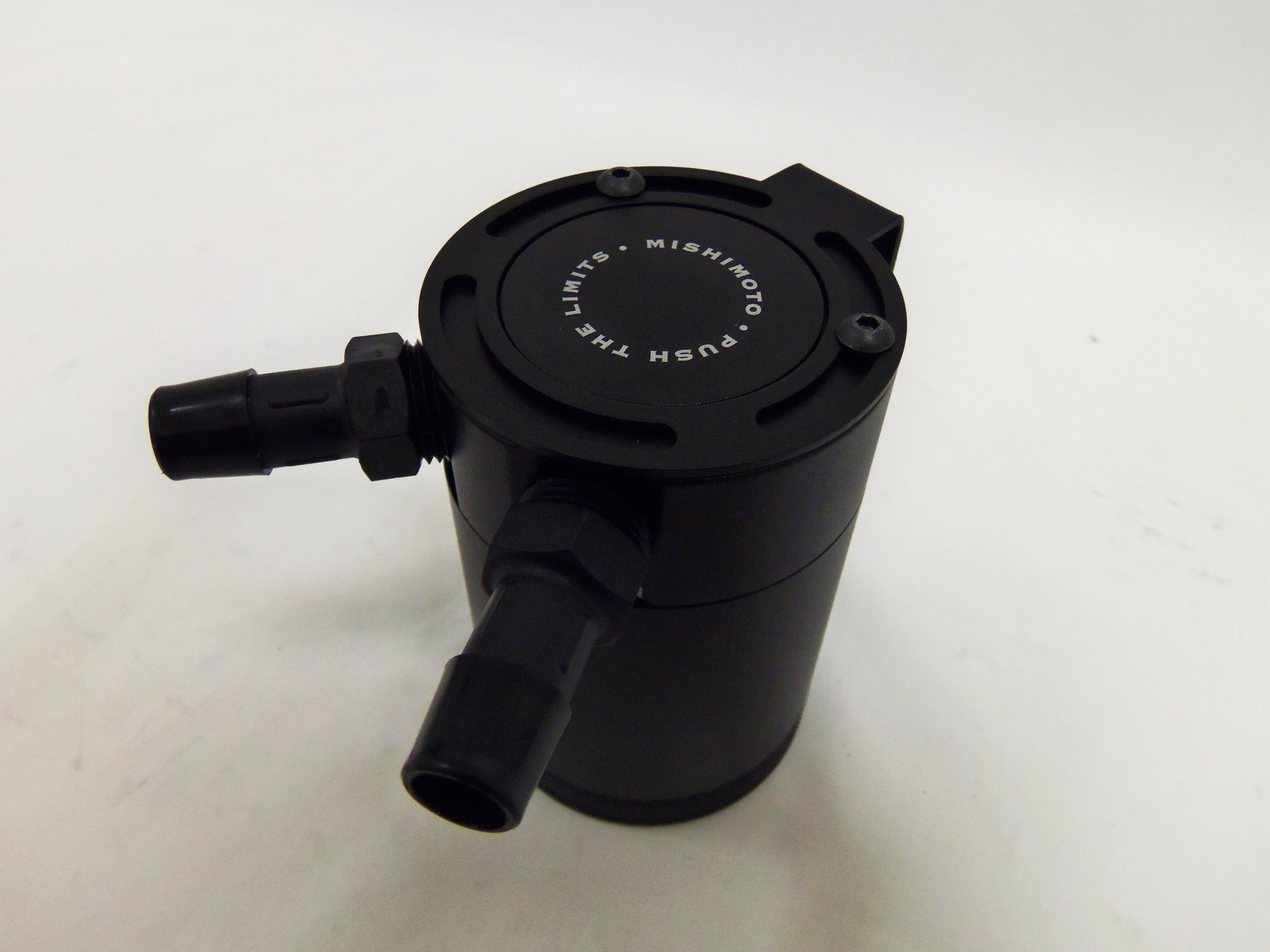 Mishimoto Compact Baffled Oil Catch Can, Part 4: A look at our new catch can!
Interested in purchasing this catch can? Check out our product page for more information!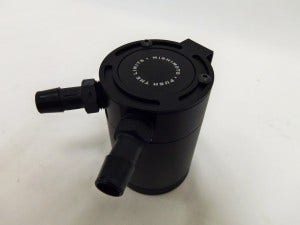 The project is complete! We are very pleased with the outcome, and we expect a ton of positive feedback on this product. In fact, three or four of our employees have already reserved units for their personal vehicles. Speaking of " I should pick up one for my NB Miata!
The production quality catch can is now prepared for your viewing pleasure. Check it out below, starting with the base of the can.
Here's a look at our final catch can top by itself and next to our raw prototype unit. The black anodized finish is durable and looks fantastic.
The neat shot below shows the catch can installed with the base removed, revealing the baffle components. This install features some of the components included in our direct-fit catch can kit for the 2015 WRX, coming soon!
Presenting the completed, assembled catch can!
In our final images, you get a peek of the neat packaging we have planned for this catch can. Our creative team put a ton of effort into designing this packaging, and we think it's pretty slick!
This is what you can expect to receive when you purchase this awesome catch can. Now that we've provided the images and insight into what went into the making of this product, let's look at a quick recap of our goals.
Project Goals
Primarily focus on air/oil separation
The catch designed by our engineering team promotes substantial separation of oil from the air passing through your PCV/CCV system. We include a diverter to promote turbulation and a baffle to enhance oil condensation. Additionally, our 50 micron bronze filter works to prevent all contaminants from re-entering into the intake tract.
Smaller footprint than our current baffled catch can
This new catch can is much smaller than our previous can and was designed to provide fitment in smaller engine bays. It is 2.5" wide, just under 4" high, with a fluid capacity of 2 fl oz.
Include a baffle system
The included baffle system is easily serviced/removed and works to promote oil condensation within the catch can.
Universal mounting system for easy installation
This catch can features a sturdy, adjustable, universal mounting bracket that swivels on the top of the can. This design provides a variety of ways for fitting the catch can on your vehicle. The hardware necessary for installation is also included!
Unique, subtle styling
Our black anodized catch can features subtle design enhancements while maintaining a stealth-like appearance in your engine bay. This catch can looks as good as it performs.
Develop both a two-port and three-port catch can
As you can see from the images above, we will be offering a two-port and three-port catch can. By providing these two options, we are ensuring that our catch can will provide ease of installation for all consumers.
That's it! The project is complete, and we are just about to release this product to the automotive world. Feel free to follow up with any specific questions regarding our two-port or three-port catch can!
Thanks for reading!
Interested in purchasing this catch can? Check out our product page for more information!