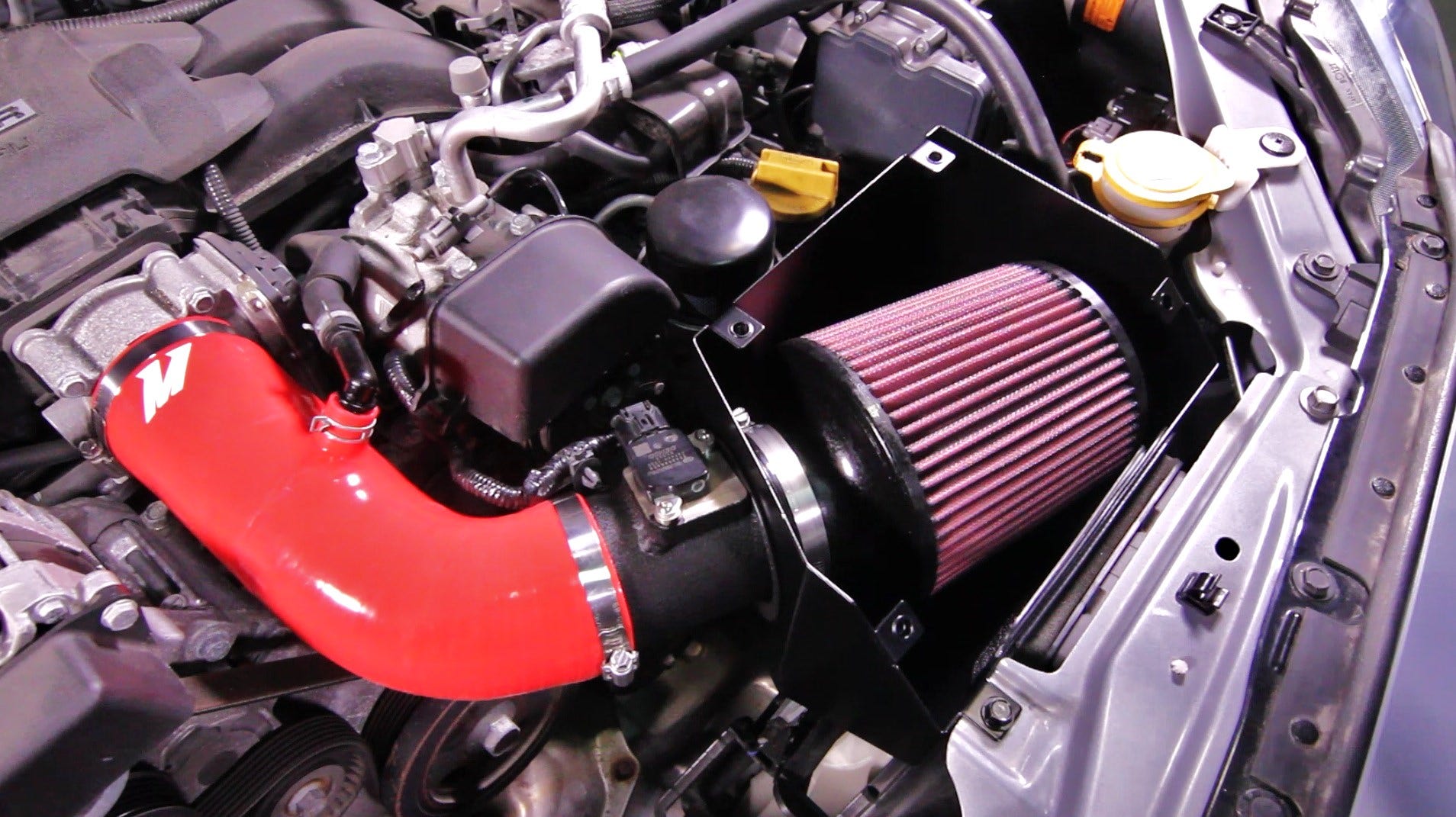 A new Mishimoto BRZ/FR-S Intake, Part 3: Product Testing and Final Product
Interested in purchasing our new BRZ/FR-S intake system? Check out more details on our product page linked below!
After solidifying our product design we needed to capture data to verify the design and determine if any changes were necessary. We strapped our test vehicle to the dyno and began making pulls! Check out a compilation video from the dyno testing. The audible difference in intake tone and volume is quite noticeable when comparing the stock setup with the Mishimoto prototype.
Testing Results
On to the important part, results from our tests. Intake upgrades generally are subject to a decent amount of speculation, because of the outrageous claims often made by component manufacturers.
Here at Mishimoto, we perform extensive, repeatable testing to ensure that our results are 100% accurate and are not skewed in any way. Below are some of the constraints and details for the testing of this vehicle!
Testing day ambient temperature: 60°F
Testing day ambient humidity: 18%
Data collected: horsepower, torque, air/fuel ratio (AFR)
Numerous runs were made until each setup resulted in 4-5 consistent pulls; average run from this group was used for comparison.
Check out the power comparison chart!
The Mishimoto intake begins to separate itself from the stock system at around 5,300 rpm and continues to provide gains through redline. Through most of this range we are seeing gains around 2-4 whp with maximum gains of 7 whp and 5 wtq at just under 7,000 rpm. These are fantastic gains for a bolt-on intake system, and our team was very pleased with the results.
One topic of conversation revolving around intake results is the AFRs produced. Our intake features a mass airflow (MAF) housing diameter that differs slightly from the stock setup, this would have an impact on AFRs. Check out the chart constructed from the pulls above!
Our intake provide a similar AFR path compared to the stock setup. Ratios are slightly richer from 4,000 rpm to 6,000 rpm and then become slightly leaner until redline. Although leaner, these AFRs are still well within a safe range and will not have a negative impact on the integrity of your vehicle. Another positive data point from testing!
The last chart we have to show is a comparison of air filter surface area. As we alluded to earlier in this article, the surface area of our oiled filter is far greater than the stock paper unit.
Final Product!
After obtaining positive testing and fitment results, we worked up a final prototype that appropriately reflects our final design. Check out some shots of our final airbox!
Here's a closer look at the threaded rivets that secure the lid to the base of the airbox.
Check out the front duct that functions with the stock air scoop.
Below is a shot of the airbox lid complete with subtle Mishimoto logo and noise-eliminating weather stripping!
We also have the final hardware packet for this kit. Four socket cap bolts and washers attach the lid to the airbox. Two other bolts and one nut secure the box to the vehicle via the three mounting brackets attached to the box.
Check out the final assembled airbox!
Fully Installed Kit
Check out a few shots of this final kit fully assembled and installed!
Discounted Presale Information
Check back next week for information regarding a discounted presale for those interested in picking up this kit!
Feel free to follow up with any questions!
Thanks
-John
Interested in purchasing our new BRZ/FR-S intake system? Check out more details on our product page linked below!