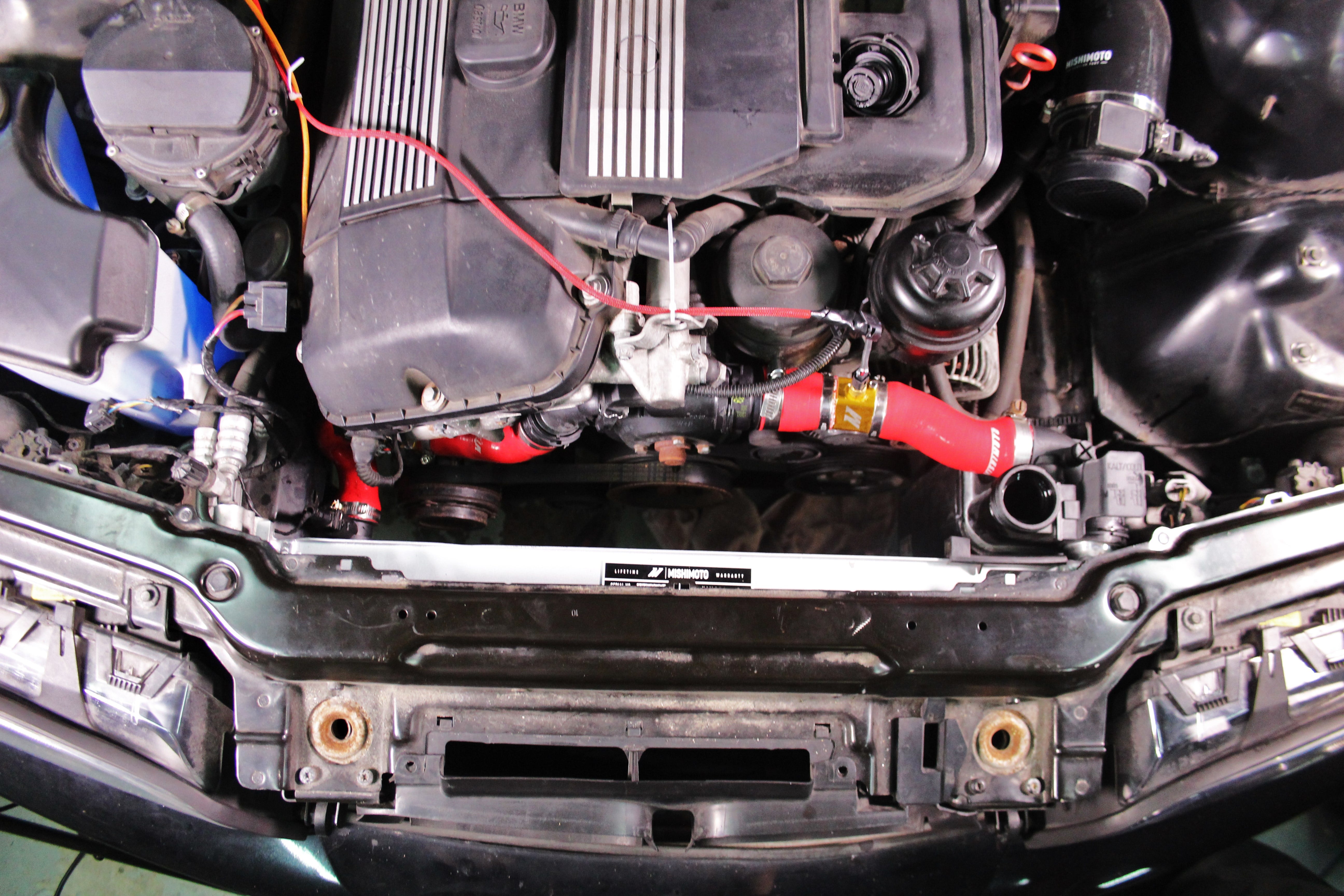 Mishimoto E46 3-Series Aluminum Radiator R&D, Part 3: Prototype Evaluation
Interested in purchasing our E46 aluminum radiator? Check out our product page linked below!
It's been a while since our last update. Don't worry, we have not abandoned our E46 aluminum radiator project. In fact, this may be the most exciting update yet. We are getting closer to bringing you guys a much-needed reliable and efficient radiator solution. Our line of BMW performance parts is growing!
Prototype Images
The wait is over! Check out a couple shots of our prototype radiator!
Here's a look at the engine-facing side of this radiator.
As you can see, we've included all the factory fan shroud mounting points and the inlet/outlet has been CNC-machined for a leak-free install with the stock quick-disconnect hoses.
Here is a close-up of the CNC component!
And a look at our aluminum end tanks. Both radiator mounting points and our Mishimoto stamped logo are incorporated into the tanks, combining factory-like fitment and subtle aesthetic appeal. Wonderful!
And finally, we have the biggest contributor to cooling performance, the radiator core itself. We spent a lot of time designing this core to provide optimal heat transfer for the E46. As many have found, the factory core, although thin, is actually quite dense in terms of external fins. This helps provide fantastic heat transfer, and many seem to have great success running the stock radiator in severe conditions.
So how are we planning to extract some extra efficiency from our core? Our prototype features a 41% increase in fin area, meaning the external fins that airflow can pass through. This was achieved by shortening the fin height and pitch in order to pack more fins into the same footprint. More fin surface area provides greater heat transfer contact points and should result in improved efficiency. We've also increased the capacity of the cooler, which is another way to improve coolant temperatures. The factory radiator utilizes a single row, measuring 30mm in width. Our radiator features a two-row design, each row measuring 16mm. This difference will provide a 18% increase in internal tube volume compared to the stock radiator.
Installing Our Prototype
Now that we had spent some time drooling over our prototype, it was time to install it in our test vehicle to check fitment of the various mounting points and connections.
A before shot below!
Out with the stock radiator and in went our prototype!
Everything bolted in perfectly, including the factory fan shroud. Our accurate measurements and diligence for perfection during the modeling process paid off with this one. Perfect fitment. Check!
You may have noticed some interesting hardware in the engine bay of our test vehicle. We've installed our sensor adapters in both the upper and lower radiator hoses in order to read radiator inlet and outlet temperatures. This will provide baselines to compare the stock radiator to our prototype.
Coming Up!
We have testing to do! Check back soon for results from our road-testing comparison of the stock radiator to our aluminum counterpart! If testing results are positive, this radiator will be a very nice addition to our line of BMW performance parts.
Thanks for reading!
-John
Interested in purchasing our E46 aluminum radiator? Check out our product page linked below!