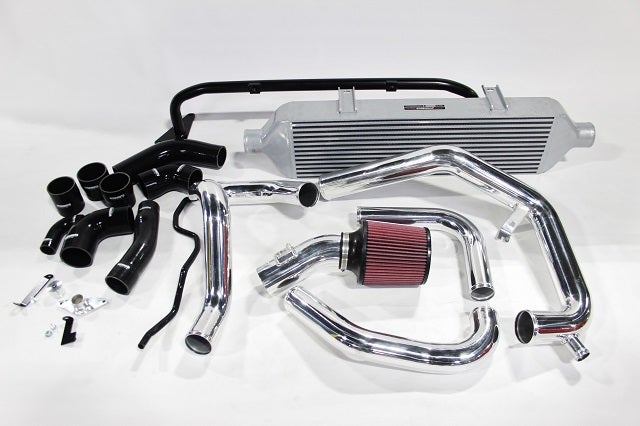 A Front-Mount for the 2015 STi, Part 4: Final Prototype Fitting
Posted:
February 17, 2016
Putting together our final prototype was a bit easier for this project compared to other front-mount intercooler (FMIC) kits our team has developed. As mentioned in previous segments, we used the crash beam and intercooler from our 2015 WRX kit. Now we've worked up some functional prototype piping for a final test fit.
First, let's take a quick look at each portion of the kit.
Intercooler and Crash Beam
The intercooler core is the key component in any intercooler kit. This core has provided significant air temperature drops during our testing on the WRX, and we expect the same results with the STi.
This core was engineered to provide an ideal balance between heat transfer and airflow.
Silicone Components
Kit Accessories
A few brackets and some hardware help piece this kit together for a solid, durable installation. We are also including a BPV (bypass valve) adapter flange so we can utilize the stock valve.
The small, round, CNC-machined component is the sound symposer delete plug. A simple plastic plug would work here, but we decided to flex our CNC muscles to create a more unique plug.
Intake Pipe and Filter
Since our intercooler pipe route passes through the stock airbox, an aftermarket intake must be used. For those of you who don't already have an aftermarket intake for your STI, we developed an intake pipe and filter setup that are compatible with this FMIC application.
Intercooler Piping
The intercooler piping was the developmental highlight for this project. Let's take a look at our finished product.
From an aesthetic standpoint, the piping looks fantastic. The true test will be when we install these pipes and verify fitment.
Full Kit
Kit Installation
Time to bolt our kit onto the STi and verify fitment.
All components within the engine bay fit perfectly. Our sound symposer delete piece fits nicely and looks fantastic.
One of the challenges encountered with our pipe fabrication centered around the entry into the bumper area due to tight fitment. Thanks to diligence on the part of our engineering team, everything bolted into place perfectly.
We've built some slight adjustment allowance into this kit to provide for easy installation. Both the intercooler core and piping have flexibility, allowing the user to adjust for great fitment.
Testing Data
Cold weather conditions are not optimal for testing the efficiency of a heat exchanger. Unfortunately, the timing of this project places completion right in the middle of winter.
For now, we will be using our positive results from WRX testing to support this intercooler core. Testing data may vary slightly, however we do expect this kit to drop temperatures in a similar manner.
Below is a temperature plot from our 2015 WRX FMIC testing which compares stock top-mount intercooler (TMIC) outlet temperatures to that of our FMIC.
Temperatures in the test above rise around 15°F above ambient in our shop, and this is with a low-powered blower fan producing around 30-40 mph wind speeds. This equates to a drop of nearly 40°F compared to the stock intercooler.
Later in the summer we took our testing on the road and we were able to achieve intake temperatures within 3°F of ambient temperatures during the entirety of back-to-back third gear pulls.
We have 100% confidence we will see extremely similar results with the FA20 swapped for the EJ engine in the STi. Once temperatures start rising this year we can begin making plans for some road testing with this kit.
Coming Up – Discounted Pre-Sale
With a successful test fit, we are now ready to move on with producing our first batch of FMIC kits.
A discounted pre-sale will be launching soon for this awesome kit. Keep an eye on our thread for details.
Thanks for reading
-John