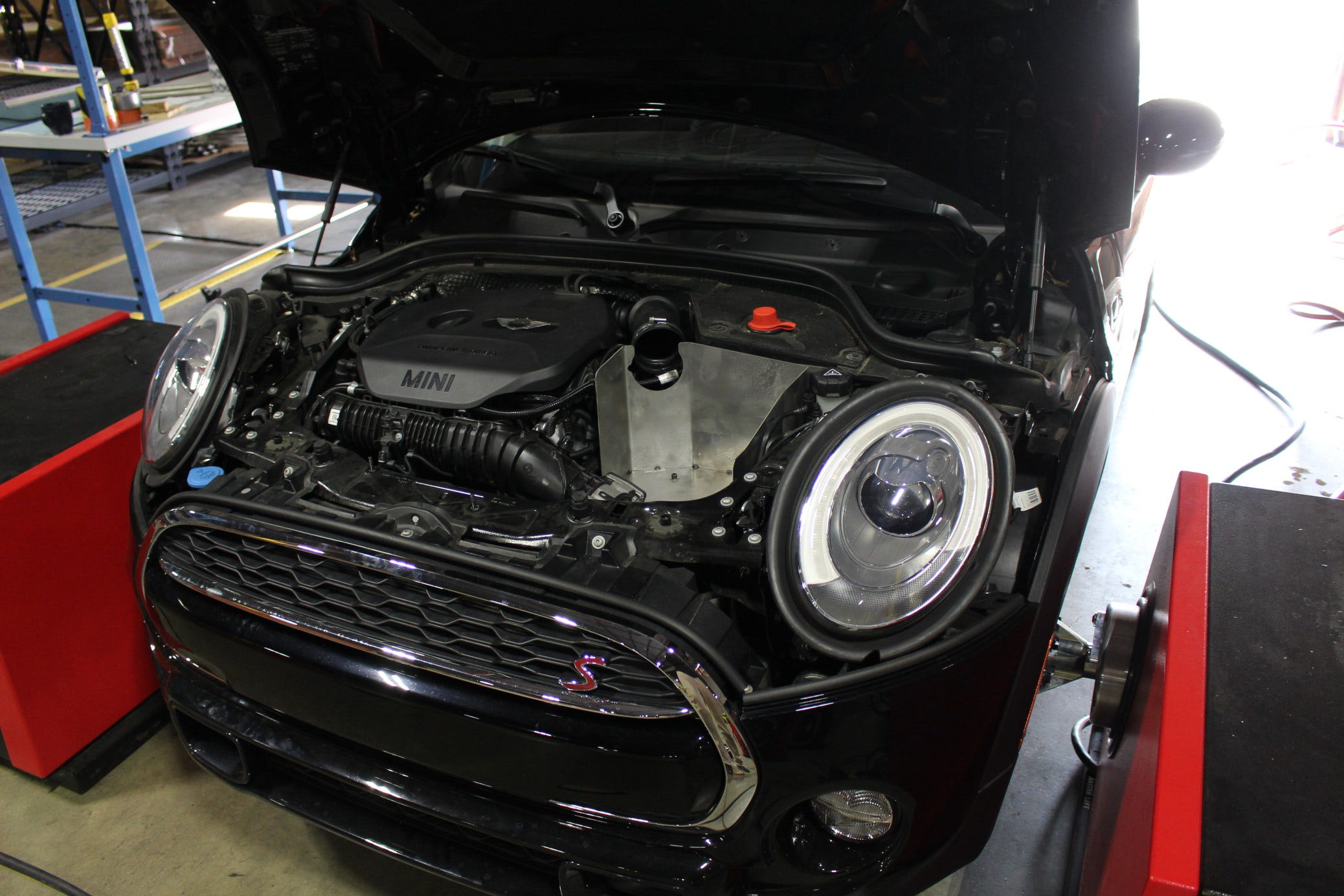 The Testing Phase - Mini Cooper Intake Development, Part 3
We have another update ready to share with the Mini world! In the last post, we went through the process of how this shield was constructed using the waterjet. Now that all the components have been completely assembled, it's time to test and evaluate our system. Check out some sound clips below!
Our intake dramatically improves the induction sound. The turbo spool is much more pronounced over stock and the intake tone is more aggressive. We know that this is as important for Mini drivers as performance, so we devoted time to making sure that this intake sounds awesome.
The way this intake is designed fully maxes out airflow potential that the engine sees. It is less restrictive than the stock unit while still making use of the factory air duct. Our team went through a few different variations of this intake design, all of them yielding the same results - power output similar to stock. In situations like this, if the product just isn't going to make pronounced power gains, there is no shame in saying so. The Mishimoto team will not falsify dyno charts and claim something makes power when in reality it doesn't.
At the moment, our Engineering team hasn't found a viable solution to increasing power through an intake that would be safe to run on a stock tune. Although our intake may not increase the horsepower your 2014+ Mini Cooper S sees, it does do a few things well. As you seen in the sound clips, this intake improves the induction sound and also provides the potential for more power later on down the road along with other upgrades. The way these Mini Cooper parts look under the hood is also important here since it is a very noticeable part of the engine bay. This design is simple, yet effective, complete with a show-quality finish.
What's Next?
We have a finished prototype complete with paint ready to go! Want to see what it looks like? Check out a sneak peek of it below.
With the prototype done and fitted into the bay, we are that much closer to presale time. During this time, you can get one of these intake kits at a  discounted price before it officially hits the market. Keep an eye out for when this presale goes live - it will be soon!
Please let us know your thoughts and comments down below and as always, thanks for reading.
-Diamaan