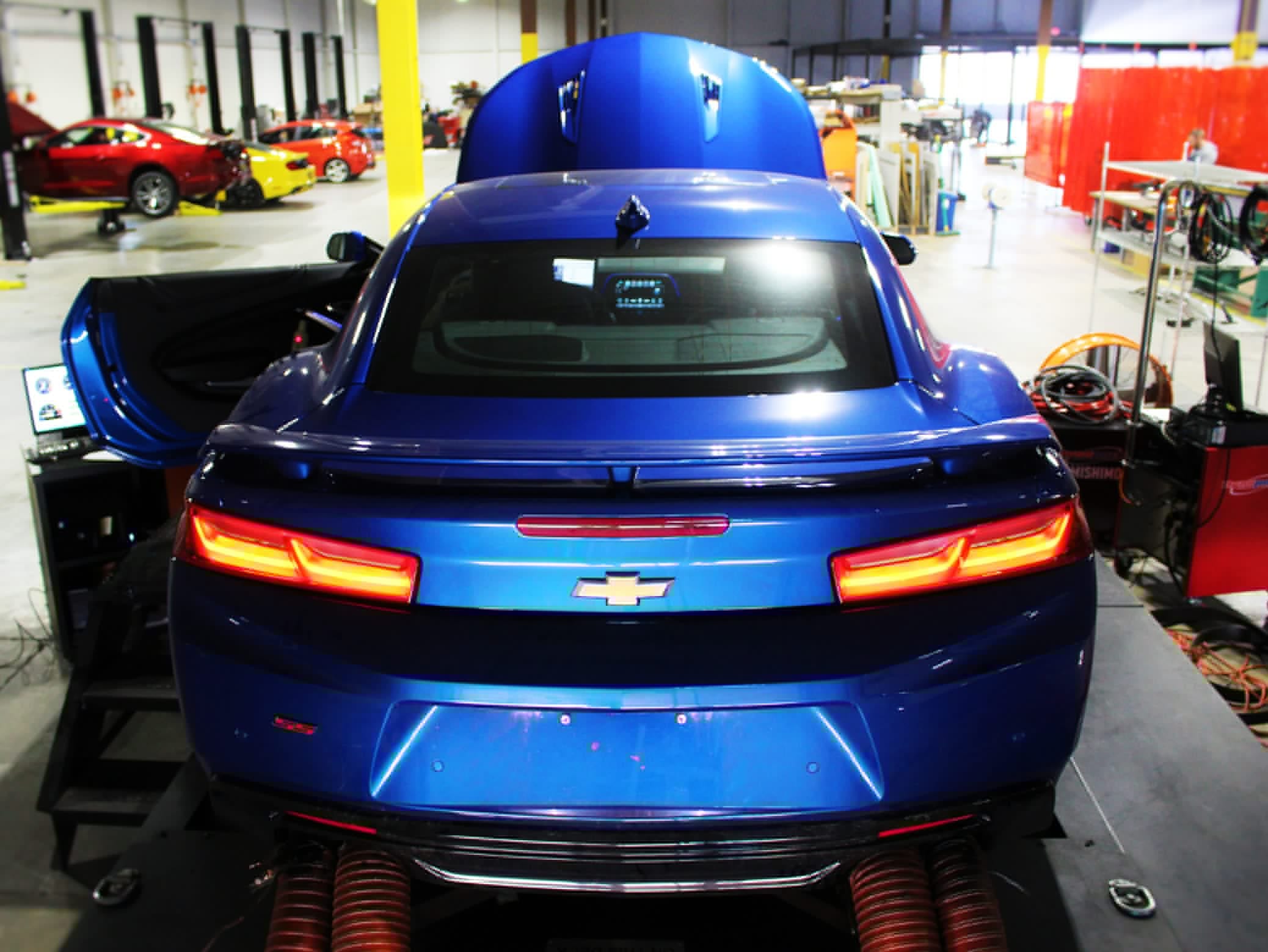 The Dyno Results - Camaro SS Intake, Part 3
We have undertaken an intriguing project. The stock intake design for this 2016 Camaro SS is quite unique and working to increase performance has been a challenge, but here at Mishimoto, we welcome challenges! In the previous post, we went through the different iterations our Engineering Team had created, and we designed a prototype for testing. More testing was needed, however, before we could achieve the level of performance we wanted from this design. We will go through a detailed analysis of our final numbers for this Camaro cold-air intake project.
Collecting the Dyno Data
We strapped our Camaro SS onto the dyno so we can start the long sessions of data collection. First, we needed to establish a new baseline and test the prototype we showed in our last entry.
As a quick reminder, the stock inlet diameter measured 4.5 inches. Our intake also has a 4.5 inch mass airflow (MAF) housing and filter inlet diameter - the largest we've designed for a car. This is what we wanted to test first and it's important you know this now, as it is pertinent information later in this post.
With that design, we ended up with unfavorable numbers similar to those yielded from our previous designs. The output stayed the same throughout the run until we lost power in the top end. Comparison of the data against our baseline runs is shown below.
The results came as a surprise to us, as we were fairly confident we would get higher numbers rather than lose power with the redesigned intake tube. As you can see above, power loss started right around the 5,000 rpm range. A slight bump in power is noticeable at the very beginning of the rpm range. However, these gains were negligible when looking at the bigger picture, since they weren't consistent with the rest of the curve.
When it comes to the air fuel ratios (AFRs), the car ran a bit rich, with an approximate average difference of 7%. Check out the AFR data below.
We weren't ready to throw in the towel just yet, and it was at this point that we decided to enlist the help of a local tuner. We wanted to see if we could unlock any substantial power with a tune designed for our intake.
The gains, once again, were fairly minimal. Tuning the car did smooth things out a bit towards the top end, but other than that, even with a tune, this design was maxing out the airflow potential. When compared to the first dyno plot of the stock intake and tune versus our prototype, you can see how a tune straightens the curve. Tuning the ECU to properly read the changes in airflow makes a difference in how the engine performs.
There were still some small design changes that we wanted to experiment with while we had a professional tuner at our R&D facility. What about running no straightener at all? Our working theory assumed that omitting the straightener would allow slightly more airflow to pass through the housing. So, we went ahead and 3D printed a new MAF sensor housing that is completely hollow.
Let's see how that testing went.
Looking strictly at the charts, we saw very mild gains in the low to midrange areas of the graph. However, this tells only half of the story. While the dyno may tell us that we've gained a slight bump in power, not having an MAF straightener could actually hurt performance in real-world driving - especially on the racetrack. This Camaro's ECU is very sensititve to the amount of air it reads that surges through the intake. During hard cornering or acceleration, or both, the centrifugal force will likely push more air into certain pockets along the tube, thus throwing off the sensor's readings. With so much air passing through that area, it's important that the airflow stays consistently smooth and straight, which the straightener helps accomplish.
Although we actually ran a bit richer more toward the midrange (which is great for any further tuning) and slightly leaned out in the low range, our data show that including an air straightener leads to smoother and flatter plots, which is ultimately the main goal.
Bigger and Better Things
Again, we weren't ready to throw in the towel, and at this point we decided to make things interesting. It was time to make these Camaro SS parts bigger. This intake already had the largest inlet diameter we've designed for a vehicle, so making it even larger wasn't something we initially intended to do. We had kept the same 4.5 inch diameter for the MAF to help keep consistency in the airflow readings, but it came time to change that. Our new plan of attack was to enlarge everything by another half inch, which meant that a 5 inch MAF housing, an air filter with a 5 inch inlet diameter, and our tube had to be redesigned to fit the 5 inch housing.
Our concern was that the car would run poorly without a tune due to the increased amounts of air, but it was a success! The car ran great through several tests, did not require a tune, and it made power. Check out our data below.
This plot shows an average of all our runs to ensure that we had consistent gains throughout. As you can see, there is no "MISHIMOTO REJECTED PROTOTYPE" stamp on this plot! Our max gains hovered right around 14.2 hp and 14 ft-lbs of torque, and our peak gains came in at 13.71 hp and 6.5 ft-lbs of torque. With the larger 5 inch MAF housing, the increased airflow really helped the engine gain power. As you can see, the 4.5 inch housing simply wasn't up to the task.
Let's see what our AFR's look like.
Although a touch lean, AFR ratios are still within safe operating limits, so you won't do any damage to your 6.2L V8. But with the increased amount of air being sucked in, a tune will vastly improve the potential for increased power output! You would be fine running this intake without a tune as well, making this part true bolt-on performance.
Check out a video of our runs!
As you can hear, these prototype Camaro SS parts really enhance that classic Chevy V8 growl. The sound of this 6.2L engine drawing in air through its massive air filter and intake tube is extremely pronounced. Let's jump right into the data.
Just for a size comparison, check out the old and new images below!
And check out the filters side by side!
This puts a close to our project. Now we have to get our design rolling through the production process. The final product will sport a silicone tube, which will be steel-reinforced to prevent any misshaping under suction. The MAF housing will be CNC-machined, and the airbox will be made of steel and fully enclosed. To give you guys a teaser of what it will look like, check out some 3-D renders of what these final Camaro SS parts will look like!
Please note that this is a rendering and actual parts might vary, but it will be very close. The airbox will stay powder-coated black, but we will have color options for the steel-reinforced silicone intake hose! You'll have the choice of black with orange interior (shown above), all blue or all red.
I hope you guys enjoyed this lengthy post about our findings for this Camaro cold-air intake project. The next step is a presale! We will be running a sale during which you can purchase one of these awesome intakes at a great discount before it officially hits the market. Getting this presale up and running ASAP is a number one-priority for us right now, so make sure you keep an eye out for these Camaro SS parts!
As always, thanks for reading!
-Diamaan