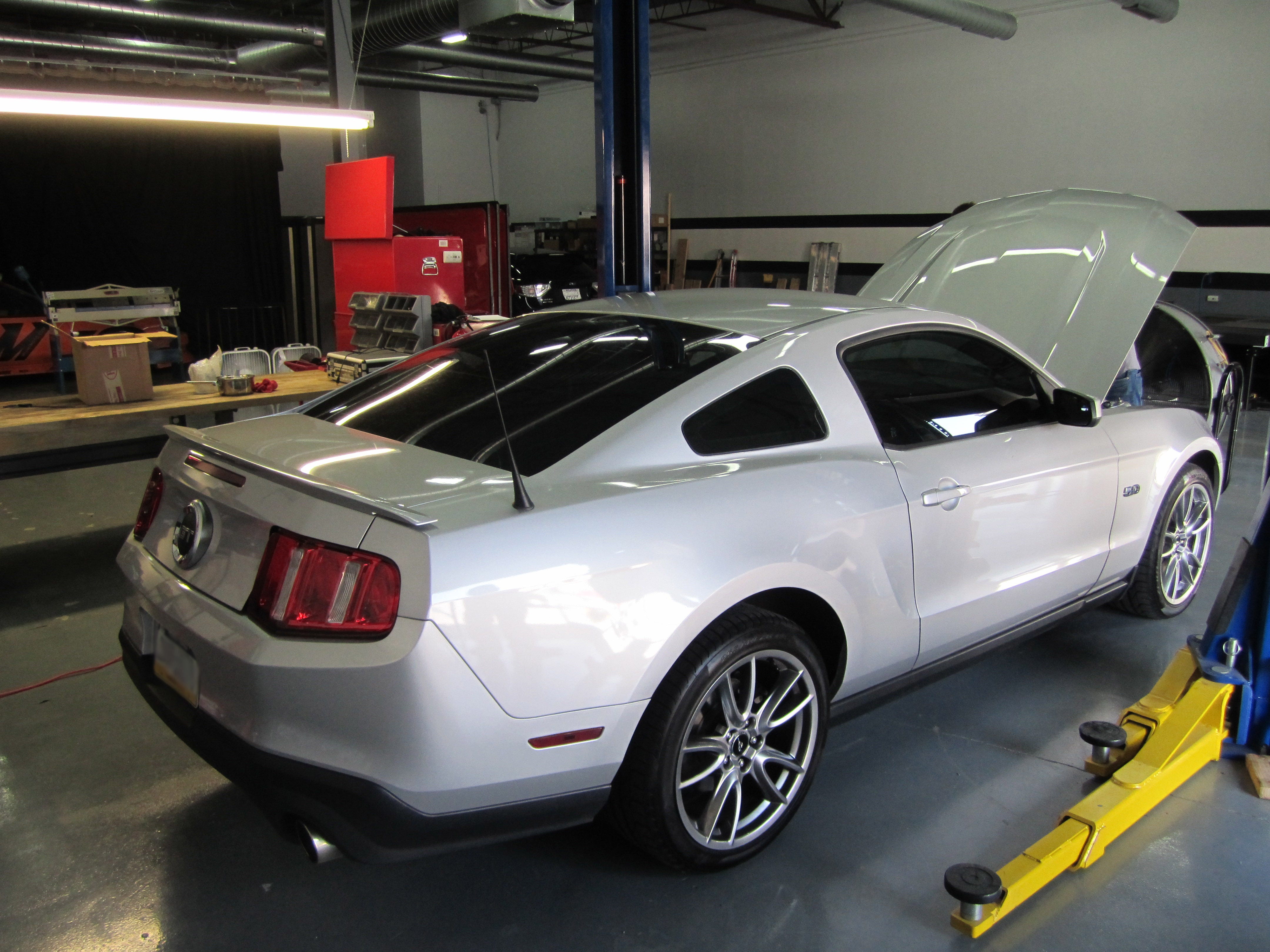 2011-2014 Ford Mustang GT Direct-Fit Oil Cooler Kit, Part 1: Introduction and Goals
Posted:
February 17, 2014
Interested in purchasing our Mustang oil cooler? Check out our product page for more information!
There is so much to say about the Ford Mustang and its legendary history as a high-performance, tire-melting pony car. Ford has been constantly improving the chassis, engine, and body since the 1960s (minus a lapse in the mid-1970s " we forgive you, Ford), and the most recent vehicle is nothing short of fantastic. The Coyote 5.0L engine produces substantial power and is finding its way into a variety of vehicles as a great engine swap candidate. These days, it is refreshing to see something different than the ever-popular LS swap, not that I have anything against that. Ford has also constantly improved the chassis, creating a vehicle that will not only rip down the drag strip, but is also fairly capable through the corners. With the 2015 model on the way featuring an IRS, we can expect even better handling! The fifth-generation Mustang has become a common contender on the drag strip, autocross course, road course, and even the drift circuit. Its low curb weight compared to other modern muscle vehicles provides a unique advantage that enthusiasts can really appreciate.
With all this in mind, the Mustang was an easy choice for our group to develop a direct-fit oil cooler kit. The factory Mustang GT is not equipped with any form of liquid-to-air or air-to-air cooler that would help keep temperatures at bay. Is an oil cooler needed for street driving? This depends on your driving style. If you are terrorizing your neighborhood with 300 ft burnouts to get the tires properly warmed up for your commute, then possibly so. For most street driven vehicles, however, lacking an oil cooler will not be an issue. For those of us who enjoy utilizing the capabilities of our vehicles for track use, even if occasional, an oil cooler setup can certainly be beneficial. These benefits are not only short term, but will also help extend the life of your vehicle. When oil is overheated it begins to degrade rapidly, which results in a lower viscosity and a higher probability for engine wear and damage. The Mustang is a 3500 lb vehicle with a 420 hp V8, so things are going to get hot!
We first set out to see what was available for the Coyote. The current offerings are reasonably nice products, but we found a great deal of opportunity to create a better performing product with proven data and a price tag that is much easier to swallow. We know that many owners are upgrading to the Boss 302 liquid-to-liquid cooler. I am not going to knock this upgrade, as this will certainly provide the benefits of a quicker oil warm-up and will help reduce temperatures overall. It's a great system that is relatively inexpensive and easy to install. The only problem is that liquid-to-liquid cooling systems often have limitations. For those pushing their cars hard, a liquid-to-air cooler is what you want for maximum efficiency. We located a few products on the market that feature some high-quality components. The only snafu was the absurd price tags. No one wants to have that "Sorry I spent our vacation money on an oil cooler" conversation with a significant other. Knowing that we could develop a better product for a more manageable price, we set out to develop a list of goals for the project.
Goals
Must be a direct-fit unit requiring no permanent vehicle modification
Must have proven data of temperature reduction
Must include all components for installation
Must be reasonably priced
For our team of skilled engineers, this project would be a walk in the park. So we set out to locate a test-fit vehicle to bring in for some initial design work. After some searching we were able to find this fantastic 2012 model that would fit the bill perfectly.
Check back next time for design, fabrication, and testing of our first prototype!
Thanks
Interested in purchasing our Mustang oil cooler? Check out our product page for more information!