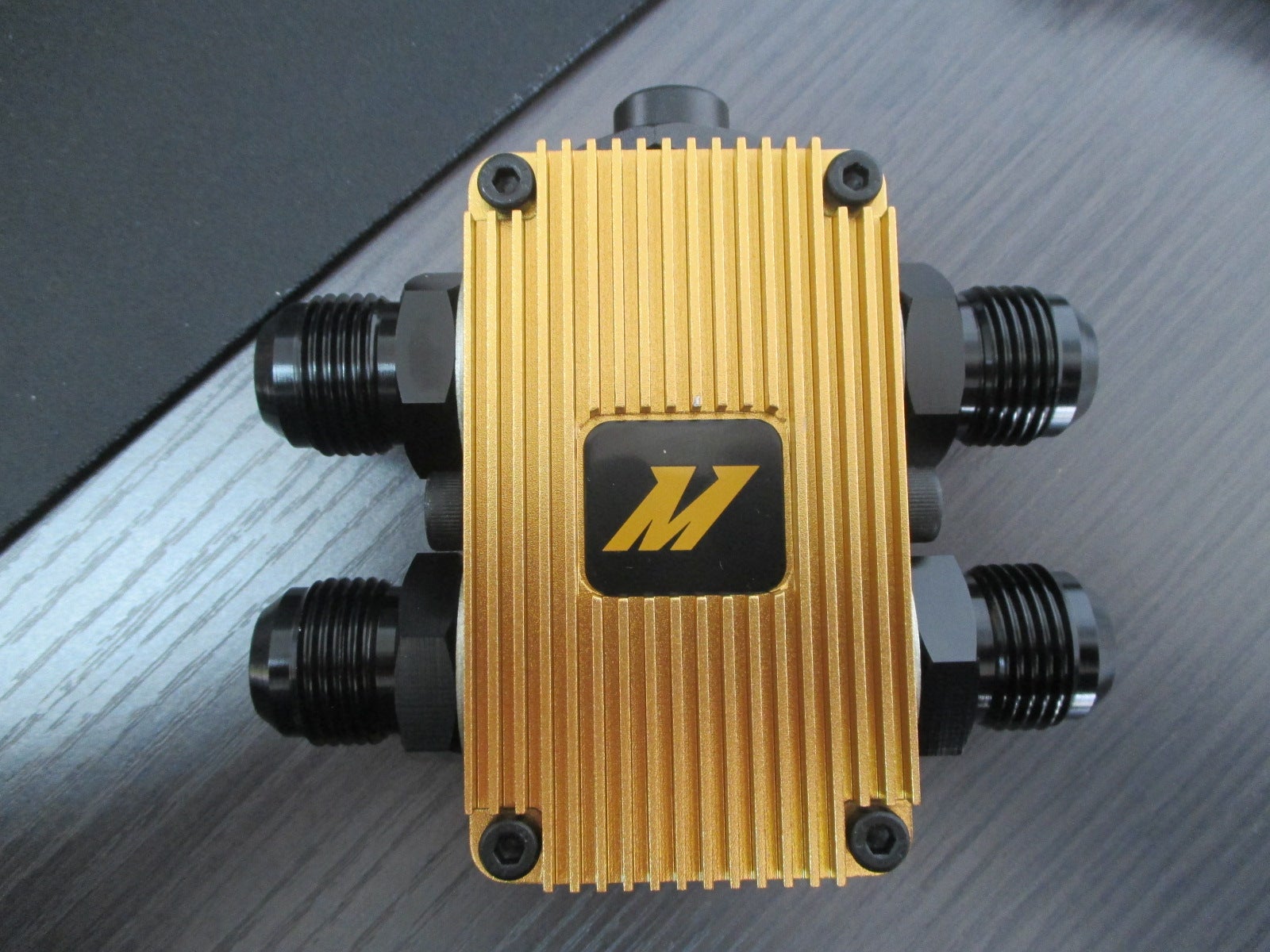 Mishimoto In-Line Oil Thermostat: Product Design and Overview
Interested in purchasing our in-line oil thermostat? Check out our product page for full details!
Mishimoto has been at the cutting edge of oil cooler technology for several years, and we continue to test and improve our product lineup. My personal favorite product line is our bundle of direct-fit oil cooler kits. These kits offer a completely bolt-on oil cooling system which includes mounting brackets, premade oil lines, an oil sandwich plate, large oil cooler, and application-specific mounting brackets. Along with this you receive the Mishimoto stamp of approval, acquired through rigorous testing and proven oil temperature drops. Now, you may be thinking that other companies are creating similar products. While true, most of these competitors are providing kits specific to one make or even one model vehicle. The Mishimoto product line is very broad, and includes various Subarus, Mitsubishis, Fords, Nissans, and several others! If we see a problem/insufficiency with the factory cooling system, our team tackles the project to explore and develop the best possible solution. But I digress; our main focus of this article is the brand new Mishimoto In-Line Oil thermostat. It does relate though. With a few of our direct-fit kits and other test applications under product development (radiator, intercooler, etc.), we occasionally come across an application which will not function with one of our thermostatic sandwich plates. Solution: Develop our own in-line or remote-mounted oil thermostat.
Our first step, of course, was to figure out what our customers wanted. We found that a majority of our consumers for this particular project would be developing their own DIY oil cooler kits and lacked the space for a thermostatic sandwich plate. We decided to expand our line of fluid cooling products, and utilize this on some direct-fit oil cooler and transmission cooler kits. We also decided to provide the thermostat as a standalone product for the world of DIY'ers!
Our highly-skilled and creative engineers are well-known for producing some very innovative products. When we limit our requirements for the product, the outcome is normally far above what we expected going into the project. For this project, we outlined some basic goals and let our engineering team's talent shine, and the results were astounding.
Goals
Create a remote oil thermostat that properly regulates fluid temperatures
Unit must have a small footprint for use in tight spaces
Thermostat should be identical to the one used in our highly-successful thermostatic sandwich plates
Thermostat should be easily interchangeable
Fittings must be removable/interchangeable
Proper Temperature Regulation
As with all of our projects, we focus on function over form. Our primary goal is to create a product that functions flawlessly, and once complete, we can focus our attention on overall design and make something pleasing to the eye. For this project we are looking for consistency. This thermostat needs to be reliable and consistently open at the temperature set. If this component were to fail, potential high oil temperatures could result in engine problems or damage, which is not something we want our customers to have to deal with. Another key component will be flow. Fluid flow through the thermostat has to be efficient. We are seeking the least amount of pressure-loss possible. This is something our team can evaluate using CFD software and flow analysis software in Solidworks. Our final steps are bench testing and actual on-vehicle testing.
Another aspect of this goal that weighs in on performance is material choice. Our product materials and components will require the highest quality possible. In order to replicate performance on a consistent basis without fear of failure, we need to select top quality seal material, aluminum, springs, wax, and other components.
Make it small!
A general ideal is that bigger is always better! This project is an excellent exception to this statement. The overall necessity of this product stems from a lack of space on or around the oil filter housing. Making a large unit would immediately negate the general principle of the project. We would be developing a thermostat that occupies the smallest amount of space possible without impacting overall performance. Engine bays are becoming more and more space conscious (have you seen a 6.7L Powerstroke engine bay?), and the struggle will likely continue as manufacturers strive to package their vehicles as tight as possible to reduce size, weight, and increase labor times (they would never!). Either way this is something that will not be going away, so creating a solution is going to be much more effective than standing around complaining. In all fairness, new vehicles are also coming with higher horsepower, torque, and improved efficiency, something I think we can all agree is beneficial.
The thermostat!
Our goal with this project is to utilize our existing thermostat used in our sandwich plates. This will reduce our count of additional components, and allow us to remain consistent across the product line. This also means our optional temperature units will function, allowing for unparalleled personalization to cater towards just about any custom project. Additionally, this thermostat unit will have to be completely serviceable, changes should be simple, and changes should not require any specialized tools.
Fittings
One of our goals with this project is flexibility. By using consistent fittings across our product line we can reduce our component count and offer a variety of fitting sizes and types. Our initial thoughts are to use our existing M20 X 1.5 to -10AN fittings which will thread on and use dowty seals. Additionally we can offer M20 X1.5 to a barb style fitting if the need arises!
With our basic goals in place it was time to begin R&D! We locked Kevin in a closet with just a computer and Solidworks and told him there would be no food until completion. Several days later (and nearly 20 pounds thinner), he emerged with an initial design. Check out the rendering below!
After reviewing the design with our team, a few minor adjustments were made and it was time to get our hands on a prototype. Our first prototype would be created using our 3D-Printer. Obviously this would not be a functioning unit, but it would allow our team to get some hands on experience of how this component would appear off the computer screen. Check out a few of the images from this process!
This prototype was hot off the oven and we dropped it into our ultrasonic cleaning tank, which utilizes a mixture of lye and water to eliminate the water soluble support material you see in the images (pictured in black). Once we separated these, we were left with just the model material which is an ABS plastic. Check out a few shots below!
This prototype was then passed around our group for suggestions and ideas on improvements. Generally we all agreed upon the design, and the extra features would really help set this product apart from other offerings on the market. The heat-sink and use of -10AN fittings are two huge features that we liked. Heat sinks are primarily well known for their use in electronics like computer processors.
Heat sinks transfer heat in the way of conduction, which occurs when two objects with varying temperatures come into contact with each other. Determining a material for use is simple. Common materials include aluminum and copper based on their heat extraction properties. Although copper is superior to aluminum in this respect, aluminum is far less expensive (meaning lower prices for our consumers) and will provide ample cooling for this particular project. Not only will this piece be a functional component for cooling, it also provides a neat upgrade to the appearance of this component, setting our product apart from the cookie cutter units currently available.
The -10AN fittings would provide a clean, easy to locate line connection method that also fits with the rest of our line of products. A majority of other products on the market utilize barb or NPT fittings, which is not the route we wanted to go with this. That being said, every project vehicle differs, and different fluids often require alternate hoses or lines. Our plan is to also offer interchangeable barbed adapters in different sizes in the near future. This will be ideal for splicing into a rubber transmission cooler line!
A few minor adjustments were made to the design of this unit and we were left with the 3D-printed prototype you see below!
As you can see we have added a mounting bracket and fully installed the revised heat-sink design. Our team has also started to mock-up some branding for the piece. While this is all fine and dandy, we still had some testing ahead of us. A full prototype was being worked up, and in the meantime, flow analysis was completed and can be seen below!
This is a pretty neat look at how the oil flow is going to appear when the thermostat is closed. A small percentage of fluid is actually circulating to the cooler, which is mandatory for proper/safe operation. Once the appropriate temperature is reached the thermostat opens and all fluid begins circulating through your oil cooler. We also have a neat CFD shot of the Mishimoto thermostatic sandwich plate in the closed position, see below!
Once proper temperature is reached, the thermostat begins to open, and fluid begins moving through the lines and into your cooler. Check out the image below showing fluid movement through our thermostatic sandwich plate! The in-line thermostat works on the same principle design!
Everything checked out with this portion of the product. Some renderings were assembled to replicate our full line of oil control products, take a look below!
Here you can get a good look at the evolution of our product line from inception to current. On the far left you see our standard oil sandwich plate. This unit is small, yet lacks the thermostatic control of our newer units. This plate is normally reserved for race-specific applications or for those in warmer climates where a slow warm-up process is not going to be an issue.
The second unit you see on the left is actually our newest thermostatic sandwich plate. This one utilizes a rear-mounted thermostat. We found that compared to the next unit to the left of it, the footprint worked better for fitment on several vehicles we were developing direct-fit products for. This does not mean we have no use for the front-mounted thermostatic plate, as this unit is still applicable in several vehicles thanks to its unique shape. Like I mentioned earlier, both of these units are utilizing the same thermostat unit as our new in-line unit.
One additional product we carry is our sandwich plate adapter. Although this serves no function as far as cooling, it provides 3 1/8" NPT ports for sensors and oil feeds. This is very helpful if you happen to be turbocharging an N/A vehicle and are having trouble locating an appropriate feed for oil supply. It also works great for adding aftermarket pressure or temperature gauges for monitoring your oil system.
If you are not familiar with these components and their function, I have provided a quick explanation below. If you are, feel free to scroll down to our final prototype images!
The Oil Sandwich Plate
A revolutionary product in the way of adding either aftermarket pressure/temperature sensors or ports for an oil cooler. We saw an immediate need for this following the release of our first direct-fit oil cooler kit. Customers were inquiring about oil warm-up times, and we tackled a thermostatic solution shortly thereafter.
The sandwich plate does exactly what the name implies, sandwiches itself between the engine block (Oil filter housing) and the oil filter. This allows oil to flow through the plate and thus through ports to either a sensor or oil cooler.
Using this slightly crude image you can get an idea of the orientation of the filter and plate. The center adapter you see threads onto the existing oil filter threads and tightens the sandwich plate to the block for a nice seal. The filter then threads onto this piece and seals with the other face of the sandwich plate.
Oil flows through the center bolt and into the filter. Once there, it moves back upwards through the outside ports into the sandwich plate. It is at this point where the thermostat decides to send fluid to the cooler or back to the engine. A fairly simple concept, yet precision is necessary for smooth flow and operation.
Back to the in-line thermostat
As promised, check out some shots of our final prototype!
Hmm… well that's a bit boring isn't it? No, this piece is gorgeous. CNC-machined aluminum with super precise ports for flow and threads for connection points. I am going to take you through the process of assembly, stick with me here!
Ahh, even more excitement with the universal bracket. We use Allen head hardware for the mounting bolts and it can be installed in several orientations. The mounting holes are slotted to provide some flexibility.
Here we have the bracketing system installed. A few additional features are noticeable from this image. First, you will see that both the bottom and top feature threaded holes for heat sink mounting. This heat-sink top can be mounted on either side, and the bracket is also interchangeable for both sides of the body. Another aspect you will notice is the silk-screening we use to identify which ports are intended for what line. This is very important! Once the dowty seals and fittings are installed, these words become hidden. This feature is intended to make this product as install-friendly as possible, as we do not want you starving your engine of oil thanks to some misrouted lines!
Now we have the heat-sink and its accompanying hardware! As you can see we have selected gold as the color for this unit. We've styled our other thermostatic products with anodized gold, so we have continued our tradition. The coloring works well with the black body, and our team is pleased with the appearance. Once again we are using high quality hardware to attach this unit to the body. Check it out installed below!
Now it is time to check out the components of the thermostat assembly!
The detail and precision this product offers is completely unmatched by anything on the market. Here are the components that make-up the internal portion of the thermostat. The thermostat houses a high-quality wax which, when heated, expands and causes movement of the other components you see. This eliminates the block-off of oil and allows it to run through the other ports.
Now that you have observed the major components of this unit, it was time to place some branding on the product. We are all about keeping things simple and clean. You may have noticed that a majority of our recent products (radiators and intercoolers) are using the Mishimoto "M" as opposed to the entire text. We find that this is a bit more tasteful and does not blast the consumer with branding. We decided upon a simple "M" logo sticker for the center of the heat-sink. Super classy.
Once complete, we spin on our fittings and dowty seals and call the assembly complete. Check out the finished product.
After some bench and vehicle testing, this product was deemed a complete success and functioned exactly as designed. The internal thermostat properly regulated temperatures, and we had zero issues with flow. Check out my favorite image of this unit below, an exploded image of the components that go into this product.
With all of this in mind, we did a quick review of our goals, just to be sure we executed them all.
Goals
Create a remote oil thermostat that properly regulates fluid temperatures
This product is proven to regulate temperatures according to the set thermostat temperature. Oil flow has been perfected, and operation is smooth and flawless.
Unit must have a small footprint for use in tight spaces
The overall footprint of this unit is 4" X 2" X 1.5" without any fittings installed. This was the smallest design we could provide without compromising performance.
Thermostat should be identical to the one used in our sandwich plates
Check!
Thermostat should be easily interchangeable
Thermostat changes can be completed in less than ten minutes!
5.   Fittings must be removable/interchangeable
This in-line thermostat uses the same M20 X 1.5 to -10AN fittings that our sandwich plates use. These are threaded into the housing and use dowty seals for leak-free operation.
With our goals met, this project combines all our goals for a very beneficial component that should find its way into some really cool builds and projects.
Check out what you can expect to get in the mail if you happen to purchase this awesome in-line thermostat! Pretty slick, if I do say so myself.
Thanks for stopping by to take a look. Feel free to follow up with any questions or comments!
Interested in purchasing our in-line oil thermostat? Check out our product page for full details!