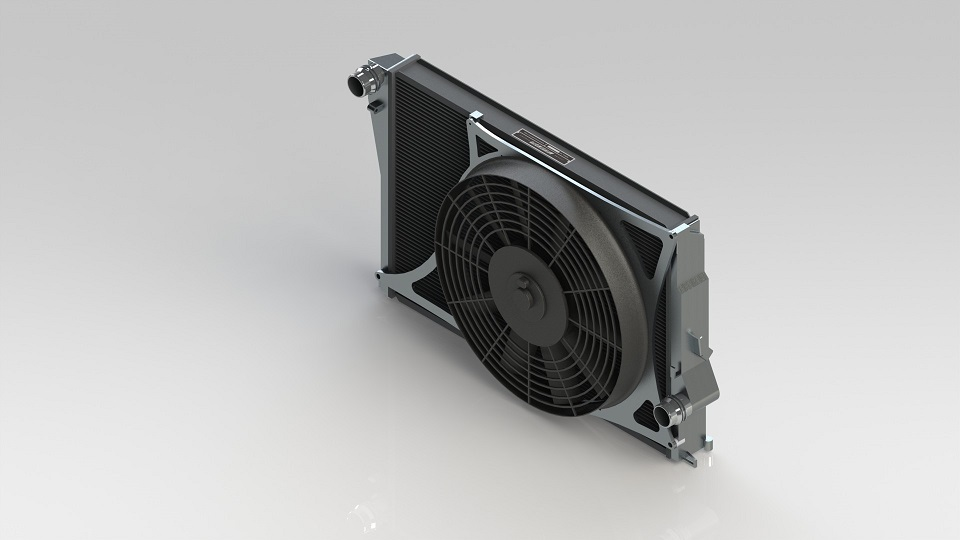 2001–2006 BMW E46 M3 Performance Aluminum Radiator, Part 1: Product Goals, Initial Design, and Testing
Interested in purchasing this E46 radiator? Check out our product page for more information!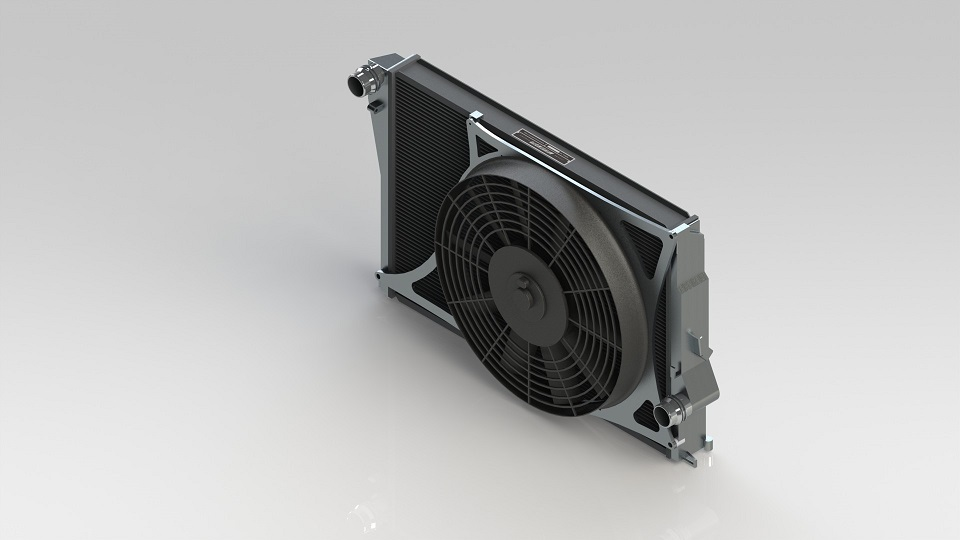 How do you go about redesigning a radiator to make it perfect for track use?  After coming to the realization that our existing E46 M3 aluminum radiator was not performing as we would like for track-specific vehicles, our team determined it was time to take action. Our original product was designed some time ago, and our processes, material use, and overall attention to detail have significantly improved since then.
These days Mishimoto is spending huge amounts of time in R&D to develop effective and efficient cooling products. Our new facility is equipped with all the technology and tools needed for fabrication and design. Any new products leaving our facility are subjected to rigorous testing to ensure proper and efficient operation. If a product does not outperform the OEM component, we go back to the drawing board and see what changes can be made. With this information, equipment, and experience in our back pocket, we could adequately tackle the revamp of this radiator.
Now, let's move forward to the design and R&D process our team went through to develop a new radiator.
Product Development Round 1
Our first round of development began in October. After scouring some local forums and talking to some of our contacts, we were able to locate an LSB E46 M3. Once in the shop we put it on the lift and began removing associated components.
We had both a stock radiator and our previous offering on hand to evaluate core size, thickness, and mounting locations. With some measurements taken and a general plan, we could begin developing a few initial prototypes. We also decided to investigate development of an electric fan conversion, so stay tuned for that later down the road.
Our initial inspection revealed that the core composition of our current offering was hindering on-track cooling performance. Our core's fin composition was not dense enough to promote adequate heat transfer points. Additionally, the previous design had inferior cooling tubes in both size and overall count. We decided on a few changes to this to enhance efficiency. This new radiator is being designed completely from the ground up with no parts or components reused from the previous design. For our new design we would be focusing on decreasing fin height, increasing cooling tube count, and increasing core thickness without affecting fitment. Check out our basic goal list below!
Primary Goals
Provide a direct-fit performance replacement radiator that functions with the factory mechanical fan.
Radiator should have larger core capacity (volume) and thickness compared to the OEM unit.
Collect proven performance data on a high-horsepower vehicle under extreme driving conditions.
Secondary Goal – Offer an electric fan conversion kit and test the results of mechanical fan removal on power output.
Perfect Fitment
We strive for perfect fitment on all our products, and this radiator will be no different. This radiator utilizes quick disconnect hose connections, so we would be replicating these by way of CNC-machined aluminum components. This would ensure a precise, leak-free connection. Unlike the factory radiator, our unit will feature full aluminum construction, which will provide improved reliability and durability, as well as improved heat dissipation. This radiator will need to function with the factory mechanical fan, so the core thickness will remain within proper tolerances to allow for an acceptable fan clearance.
Capacity and Cooling Efficiency
This radiator not only needs to fit, but it also needs to perform to our standards. Our previous offering had issues with cooling in a track environment; this is not something you want with a performance vehicle. We have a strategic plan to modify our core composition to provide improved density over the factory unit as well as increase the core thickness for greater capacity. Both of these improvements along with the use of aluminum end tanks should in theory provide improved cooling efficiency compared to the factory radiator. "Should" is not a word we like to use, so we will be performing some serious testing to ensure this product performs adequately in a severe environment. This is the fun part!
Proven Data
Finding both a vehicle and location will be a bit of a challenge for our testing processes. We started this adventure in October, but after some initial testing and design work it was the middle of winter, which does not provide optimal conditions for testing a cooling product. We would need to travel to a warmer climate and find a vehicle that would emulate the worst-case cooling scenario. Stay tuned for this testing.
E-Fan Conversion
The mechanical clutch fan is a great concept and worked for decades as an efficient means of engine cooling. The majority of vehicles from the early 90s to the present day utilize an electric fan, which improves reliability and cooling power (at times). It also removes mass from the engine's rotating assembly, creating more efficient engine operation. In the past we have seen enthusiasts convert their clutch fans to electric fans when the factory fans fail. Our goal with this project is to offer an easy-to-install, all-inclusive, electric fan conversion kit. This will need to function with supercharged vehicles. Additionally, we will be testing this to see exactly how much power, if any, the vehicle gains.
Moving Forward
With our goals set in place and our initial measurements collected, it was time to draw up a few designs and make prototypes. Check out a few renderings below!
Our new design features a very tight fin pitch with 58 cooling tubes compared to the 43 on our previous offering. This is a dual-core design and features a rather short fin height for maximum surface area cooling. The shorter fin height allows us to pack more rows of cooling tube as well as more rows of fins. This provides a greater fin surface area with more contact points for heat transfer, which will result in a more efficient radiator. This is exactly what we are looking for with this product.
After some deliberation, we will be manufacturing two prototypes of differing fin composition to evaluate the effect on overall performance. This strategy will help provide the best cooling solution and allow our team to evaluate the effects of the core changes on cooling efficiency.
While we waited for our radiator prototypes to complete production, we decided to spend some time evaluating the electric fan conversion and what our design target would be. Using our Solidworks software, our team came up with the very slick setup you see in the rendering below.
Our plan is to utilize a 16" electric fan with a CFM output similar to the factory mechanical fan. The fan mount is engineered for maximum flow; however, we will need to perform extensive idle testing to ensure that the fan can move air through the core and keep temperatures at bay during idle conditions.
The inlet/outlets are both manufactured from CNC billet aluminum and a large majority of the brackets and mounting points are also billet. Although this drives the cost of this product, it allows for an extremely precise final product that will hopefully perform just as good as it looks. Notice the fin pitch scaled to our shop-use penny. This is far denser than the factory unit as you will see later.
As we lined up a test fit vehicle for basic fitment confirmation and idle testing, we also fabricated our planned fan-mount setup. We provided Dan with a sheet of thick aluminum and set him to work cutting out the design. Check out the images of this below!
You can see that this fan mount pushes the location to the passenger side of the engine bay, will provide clearance for supercharger setups. Our hope is that this does not negatively affect overall cooling, but only testing will prove this.
Now, this is a lot of product and development to digest at once. That being said, our team is always on the go. We decided it would be wise to also provide some enhanced cooling for the oil system of the E46. Check out some renderings of the oil cooler we have planned.
In the meantime our project managers got things set up with a local test fit vehicle! Andrew from Open Road Tuning provided us with his Oxford Green E46 M3, and we set to work fitting our prototype unit.
Normally we have minor adjustments to make to our design after the first test fit. But in this case everything bolted up perfectly and the radiator fit just like the OEM unit. This radiator also fits perfectly with all of the factory shrouding in the engine bay.
As I mentioned earlier, we have two cores with varying fin pitches for testing. It will be interesting to see how these perform compared to each other and with the OEM unit. Check out the three cores together.
Some baseline and airflow testing ensued during our initial testing.
As you can see, we are using temperature sensors in the upper and lower radiator hoses to gauge core efficiency. At this point we had tested airflow through both of our cores to ensure that the increased density was not affecting airflow. We found that both cores were handling the airflow properly, so we chose to move forward with our higher-density core. This core would provide greater capacity and larger surface area for cooling compared to the slightly less-dense core. Next, our team set about to make some plans for real-world testing. We had a few requirements.
Testing Requirements
Vehicle must be track-oriented in some way and have a higher power output than stock.
Location must be in a warm environment in January.
Location must have an adequate track for rigorous testing.
Vehicle
After some searching around and speaking with a few of our sponsored drivers, we were able to locate both a vehicle and a test track! Our friends over at Precision Sport Industries had a 550 whp supercharged BMW M3 SMG with factory radiator that would provide an ideal situation for testing our radiator design. Not only was the vehicle making significantly more power than it did with the factory setup, but it also was equipped with several heat exchangers affecting airflow through the core. The front-mount intercooler occupied the lower portion of the grille, and the supercharger oil cooler was positioned in behind the kidneys. Again, this helps us test in a worst-case scenario.
This was my first drive in an SMG vehicle, I was rather impressed. This particular vehicle had an upgraded clutch and the shifts felt super crisp. Normally I sway towards traditional manual transmissions but this one had me thinking otherwise.
Environment
We considered several warm areas, including California and Texas, and we finally settled on Florida. Temperatures in the Orlando area hovered around 80˚–90˚ during this time of year. It is not the most extreme environment, but it was the best we could find in January.
Track
After surveying the local area we found Orlando Speedworld nearby. This is a fairly good-sized oval track where we could easily collect all our necessary data. We contacted the folks there and arranged for one day of track rental. After settling the details, our lead engineer and I packed up our bags and headed south for a fun few days of BMW content.
Check out our post below with plenty of images and a video from our full day of testing.
http://www.mishimoto.com/engineering/2014/04/mishimoto-visits-orlando-speedworld-for-hot-weather-e46-m3-radiator-testing
It was quite a long, hot day. Swapping radiators proved to be fairly simple until later in the day when a plastic coolant overflow line ruptured under minimal pressure. This is typical of aged plastic coolant components. Once we replaced the line (luckily in stock at the local dealership) we returned the vehicle to the shop and grabbed a cool beverage and a nice meal.
When we returned we evaluated our data and condensed it into a readable format. First up is information for our fan-mount setup and its effect on radiator cooling and efficiency. Check out the report below!
Fan Testing
The purpose of the fan idle testing is to make sure that the increase in fins and tubes of the Mishimoto radiator is not too dense for the fans to pull air through the radiator and cause overheating. We tested three radiators each with stock fans and with the Mishimoto 16" electric fan. The three radiators were the stock radiator, Mishimoto radiator with 2.5 mm fin pitch, and Mishimoto radiator with 3 mm fin pitch.
Tech Info: Fin pitch is simply the distance from one peak of the fin to the next. Since the fins exchange heat at these peaks, the fin pitch is important and can be related to the amount of heat a radiator can reject.
Testing notes: All tests were conducted in our heated garage with an ambient temperature of 65˚F. All tests were performed on the same stock BMW E46 M3. The stock clutch fan is always running, and the stock pusher fan turns on when the outlet temperature reads 120˚F.
Baseline testing shows that the stock system cools the outlet temperature down to about 115˚F on average.
A stock radiator with a Mishimoto 16" fan shows outlet temperatures down to about 105˚F on average. The fan controller is set at about 140˚F, so the fan kicks on at about that temperature.
Test: The 3 mm fin pitch radiator test shown below had a few extra steps involved during the testing to monitor different situations. Testing conditions:
1. 0–35 minutes: Pusher fan was disconnected and only the 16" electric fan was running. The fan controller was set on the lowest setting (approximate 100˚F).
2. 35–40 minutes: Pusher fan is reconnected.
3. 40–50 minutes: We turned the fan controller up so that the 16" fan would not run until the outlet temperature reached 140˚F.
The average outlet temperature dropped to 110˚F.
With the stock fans connected, the outlet temperatures would drop to approximately 115˚F on average.
The radiator outlet temperature of the stock fans cool down to approximately 115˚F on average.
During the first 20 minutes of this test, the hood was open to monitor for safe conditions, and then the hood was closed for the remainder of the test. You will notice that the 16" fan cools the fluid all the way down to approximately 105˚F.
Conclusion:
The E46 did not overheat in any of the tests we conducted. Our engineers also can confirm that the stock fans or the 16" fan by itself can be used. Both the 3 mm and 2.5 mm radiators can be used in an idle condition with comparison to the stock cooling system. Despite not having a shroud, the 16" electric fan lowers the E46 radiator temperature more than the stock fan in every scenario.
The Mishimoto 2.5 mm fin pitch radiator was chosen to be our track-tested radiator because it performed slightly better than the 3 mm fin pitch radiator during the idle test. It is expected to perform even better in driving conditions where more air can reach the core.
The graph below shows the Mishimoto 2.5 mm fin pitch radiator with a 16" electric fan compared to the stock radiator with stock fans. You can see that the Mishimoto unit cools to a lower temperature. You can also note that the slope or rate of cooling is much faster than the stock radiator, and this is what we want to see.
Now that we had adequate testing of the fans effect on cooling at idle, we could perform a dynamometer test to see if removing the mechanical fan truly had a measurable effect on power output. Check out our testing information below.
Fan Testing Part 2
We wanted to find out if removing the factory clutch fan would free up any power due to a loss in rotating mass of the stock fan. To test this we strapped the car to the dyno and made about three to four pulls or until we had three consistent runs. Then we removed the stock clutch fan and installed the Mishimoto 16" electric fan. The two lines in the second image shown below are representative of the average of three consecutive runs of each respective fan setup.
Results: The results were pretty consistent. By removing the stock clutch fan the M3 did gain a slight amount of power. Across the board you can expect about 1% or 2–3 hp gain by removing the stock fan. The top end had the largest peak gains, which were about 5 hp in the 6500–7500rpm range.
This shows that an electric fan is not only a great opportunity for a reliability upgrade, but it will also net some power.
Check back with us next time where we reveal results from our track testing!
Thanks for reading!
Interested in purchasing this E46 radiator? Check out our product page for more information!