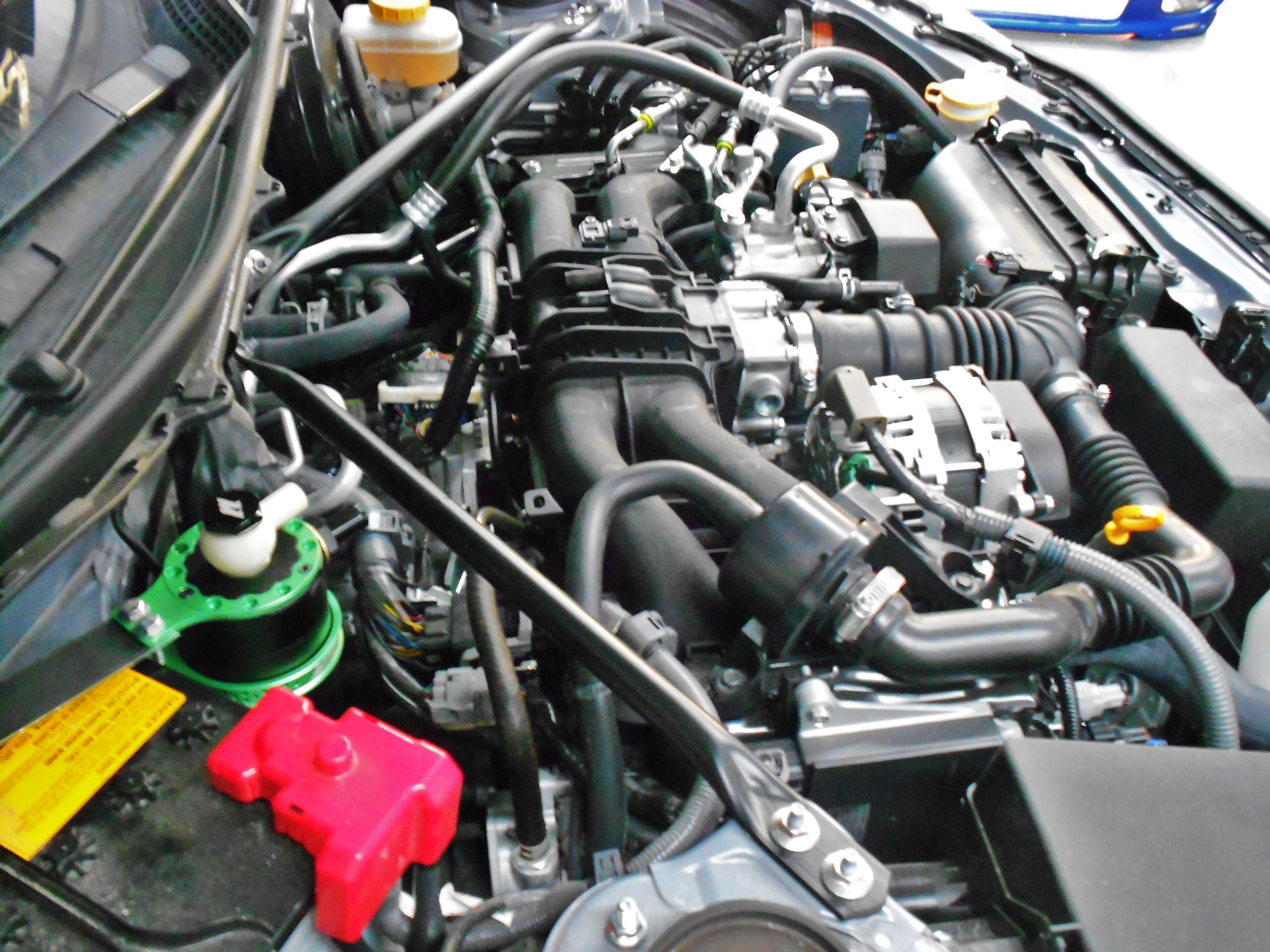 Mishimoto 2013+ Subaru BRZ / Scion FR-S Direct-Fit Baffled Oil Catch Can System, Part 2: Prototype 1
Posted:
November 21, 2014
Interested in picking up this awesome catch can system? Check out more details on our product page!
Welcome back to the build of our BRZ/FR-S catch can system! After laying out the guidelines from the last post, we were ready to get some hands on the vehicle and start piecing together some can brackets. Before jumping into product design, we will quickly cover the unique injection system featured on the BRZ/FR-S FA20 engine.
FA20 Fuel Injection
As many of you are aware, the FA20 is not what you could consider a traditional direct-injection engine. This specific system is identified as D-4S on the top of your intake manifold. The system utilizes four direct injectors and four port injectors for appropriate fueling. Yes, your 4-cylinder has eight injectors! The direct injection portion of the system is key for an efficient combustion process, and it allows for a high compression ratio without exaggerating the fear of detonation. Adding in port injection to work alongside this system promotes complete combustion and improves cold-start emissions.
At lower engine speeds, both the direct and port injectors are used, which help provide a smooth AFR and improved drivability. At high engine speeds, the direct injector takes over and handles all fueling. During a cold start, both injection systems work together to provide reduced emissions and rapid catalytic converter warm-up.
So with these systems combined, we get an engine that provides improved power output, greater efficiency, and reduced emissions. Additionally, the valves are still exposed to the atomized fuel from the port injectors. This means they are less susceptible to carbon buildup, just as you would see on an engine with only traditional direct injection.
Does this mean a catch can system is not needed? Not necessarily. Although the valves should remain reasonably clean, keep in mind that all points of the intake tract prior to the injector are still likely to get a coating of oil from blow-by in the CCV/PCV system. If there is a way to reduce or eliminate this oil buildup, it is certainly wise to do so. Our team will be installing our prototype kit on a test vehicle to gauge fluid accumulation. Stay tuned for this a bit later on in the development process. For now, let's jump into the development and design of our first prototype unit.
Initial Bracket Design
Our first target was the PCV line. On the FA20, this line goes from the back of the block to the intake manifold. Take a look at an initial mock-up of our can bracket for this location.
You will notice that we are using different colored fittings on this can. The black fitting is our standard CNC-machined aluminum straight fitting. The top fitting is actually a 3D printed prototype unit. Due to space constraints, we needed a banjo style fitting to clear the hood. It also improves aesthetics of the can/lines when fully installed. Check out a more detailed shot of this banjo fitting.
At this point, you may be thinking exactly what our team was. This catch can is far too large for the engine bay of the BRZ/FR-S. In fact, we were finding that this catch can was proving to be a challenge to install in the smaller engine bays of more compact vehicles. Keep in mind, we still had to find space for our second can to install on the CCV lines. Although this project was not the only contributor, we now had more support to jumpstart a new catch can project. After evaluating our product line, we determined that a smaller, more compact, baffled unit was necessary to full flush out our line. This would provide support for more direct fit kits for vehicles that had tighter engine bay constraints. We also listened to feedback from interested customers regarding the release of our initial baffled unit, and the need for a smaller version was certainly evident. This does not mean the original product is negated, this unit is still perfect for vehicles with more space, and it provides a very large capacity.
New, Compact, Catch Can
With all of this in mind, the BRZ/FR-S catch can project was put on a slight hold until we could finalize a design for a more appropriately sized catch can. And so the Mishimoto Compact Oil Catch can was born!
I won't dive into the detail regarding the design and development of that particular component, mainly because we already did in the form of a build-thread a few months back.
Check out a few quick shots of what we are working with!
Now that we had a new plan of attack, and some really nice new catch cans, we could move forward with a new design for this kit. Keep in mind, this project began months ago, with a larger break for the development and manufacturing of the catch cans. This break provided the time for our team to get a nice look at the engine by of the vehicle, and work on developing a plan for can placement.
Check back with us next time for the design of our second prototype!
Thanks for reading!
Interested in picking up this awesome catch can system? Check out more details on our product page!