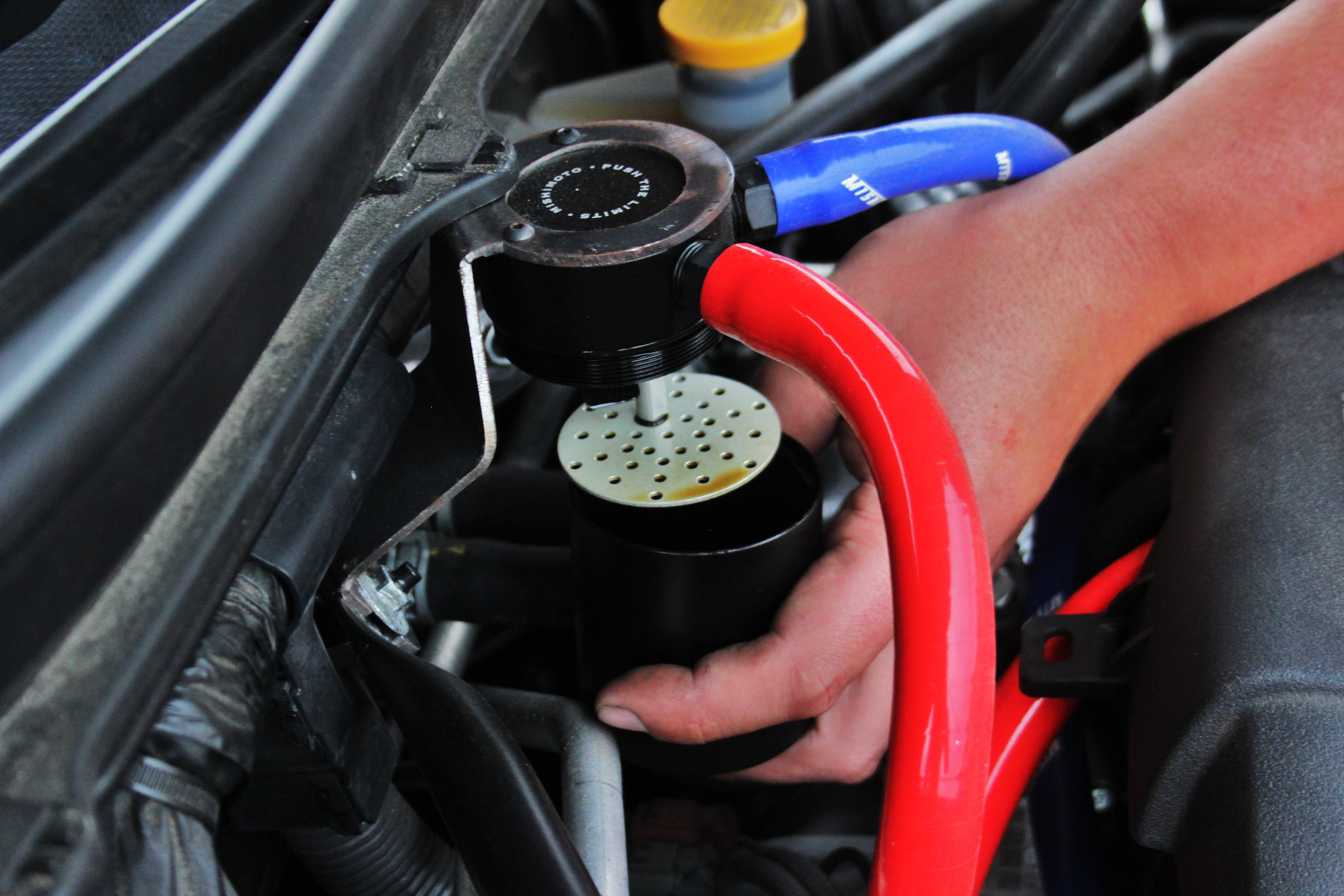 Mishimoto 2013+ Subaru BRZ / Scion FR-S Direct-Fit Baffled Oil Catch Can System, Part 4: Testing Results and Project Completion
Posted:
December 22, 2014
Interested in picking up this awesome catch can system? Check out more details on our product page!
Ready for some interesting test results? After around 2,000 miles on a BRZ, this kit was ready to be inspected to see what kind of byproduct had accumulated in each can. The plan was to evaluate both systems to determine whether a single- or dual-can setup was necessary. If one of the lines did not collect any fluid, the need for a catch can would not be justified. So, we popped the hood and inspected the system to see if road abuse had a negative impact on the mounting brackets or lines.
All our components held up just fine, as expected. All mounting brackets were still securely positioned, and the lines appeared to be in great shape (no rubbing). First, we popped off the can spliced into the PCV line of the BRZ. These images also show that we have provided plenty of room below the can to allow for easy removal of the base for fluid extraction.
Immediately we can see some evidence that this can is functioning. This last shot proves a few things for us. One, the baffle is working to provide a surface for the fluid to condense, and second, the PCV line is definitely passing some oil into the intake system of the BRZ. Take a look below at the can itself.
You can see that a thin layer of oil coats the entire can, and a bit of fluid accumulated in the base. Although not a substantial amount of fluid (we saw quite a bit more with our EcoBoost kit), we still wouldn't want this ending up in our intake.
Next we removed the breather-side catch can base and examined it for fluid. We found it interesting that this can was bone dry. It smelled of fuel/oil, but there was no evidence of even a thin film on the inside of the catch can. These results were almost identical to what we saw on our 2.3L Mustang kit (developed around the same timeframe as this one).
What does this mean? Well, first of all, we would not be selling a component that you don't need, so our kit for the FRS/BR-Z will include a catch can for only the PCV system. However, there is a possibility that some highly modified vehicles might necessitate a second can for the breather system. Because we already designed this system, it would be easy to release an additional kit for modified vehicles. For now, we are confident that the single-can system is the right application for BRZ owners. With our testing complete, we could now begin mass production of our kit. Check out a drawing of the bracket to be included.
So, what do you get with our kit?
Included Items in Mishimoto BRZ Baffled Oil Catch Can Kit
Mishimoto compact baffled oil catch can
Direct-fit, powder-coated steel mounting bracket
Direct-fit, molded silicone inlet/outlet hose (available in black, blue, and red)
Catch can hose fittings
Clamps for installation
All necessary hardware
Mishimoto Lifetime Warranty
The project is complete, and it's a success! Thank you very much for following along with our development process. We are tossing around the idea of offering this kit at a discounted introductory price ($175) for members of the forum. If you would be interested in this presale offer, please let us know!
Thanks
Interested in picking up this awesome catch can system? Check out more details on our product page!