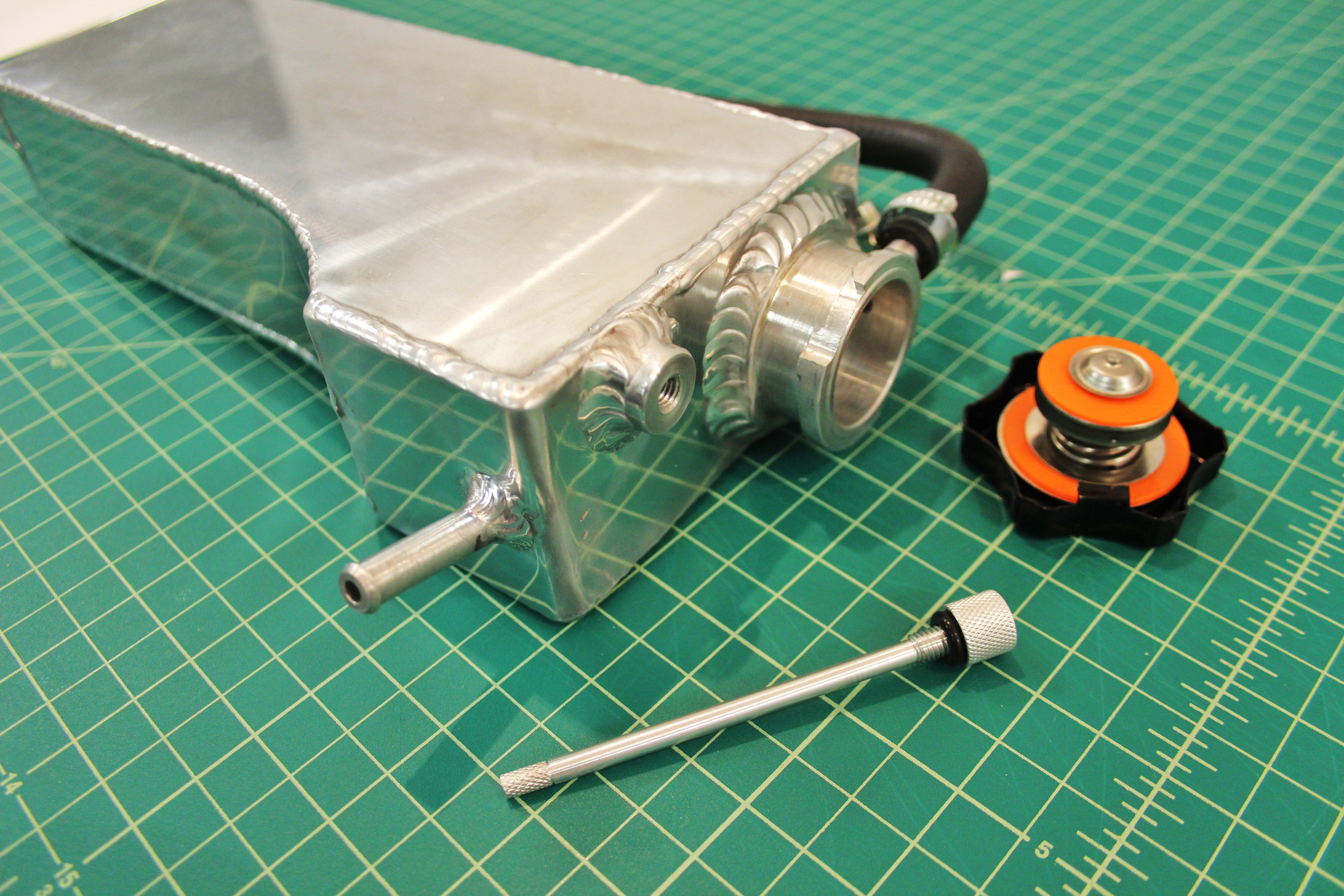 BMW E36 Aluminum Coolant Expansion Tank R&D, Part 3: Final Prototype and Test Fit
Interested in picking up this aluminum E36 expansion tank? Check out our product page linked below!
The time has come and the anticipation is over. Our final prototype unit has been constructed, and we are ready to check fitment! On to the pictures!
Final Expansion Tank Images
Check out a closer look at the lower coolant hose fitting and our threaded fluid level sensor bung on the base of the tank.
We also stamped our Mishimoto "M" logo into the side of the tank. Although not super visible once installed, this is a nice subtle inclusion to identify this tank as another awesome Mishimoto component.
Now the cool part! Check out the fill neck and dipstick we have designed for this tank.
This part of the tank deserves some extra conversation. The dipstick has a triple function as the mounting peg for the upper tank mount as well as a bleed port for removing air from the cooling system. The end is knurled for easy removal with your fingertips and features an 0-ring for an appropriate seal. Additionally, the threads holding this piece in place feature a V-cut so it can be loosened slightly to bleed out air without completely removing the piece. Pretty awesome! Here is a close-up shot of the bottom of the dipstick.
As with the stock tank, this is designed to be checked when the vehicle is cold. It provides an easy-to-use gauge for determining coolant level.
Tank Installation
Time to install this tank and verify fitment! As noted earlier, perfect fitment is a necessity and is always a top requirement when we begin new projects. Here is a look at our tank prototype next to the stock unit.
Good news! This expansion tank fits exactly like the stock unit. All hoses mate with our connection points perfectly, and the coolant level sending unit threads on correctly. Check out a few shots of the installed tank!
Discounted Presale!
We hinted at the idea of launching a discounted presale for this tank earlier on in the process. We are still planning to do so, and we hope to launch that next week. Check back soon for details on pricing and our estimated ship date for these expansion tanks.
Thanks for following along with the R&D process!
-John
Interested in picking up this aluminum E36 expansion tank? Check out our product page linked below!