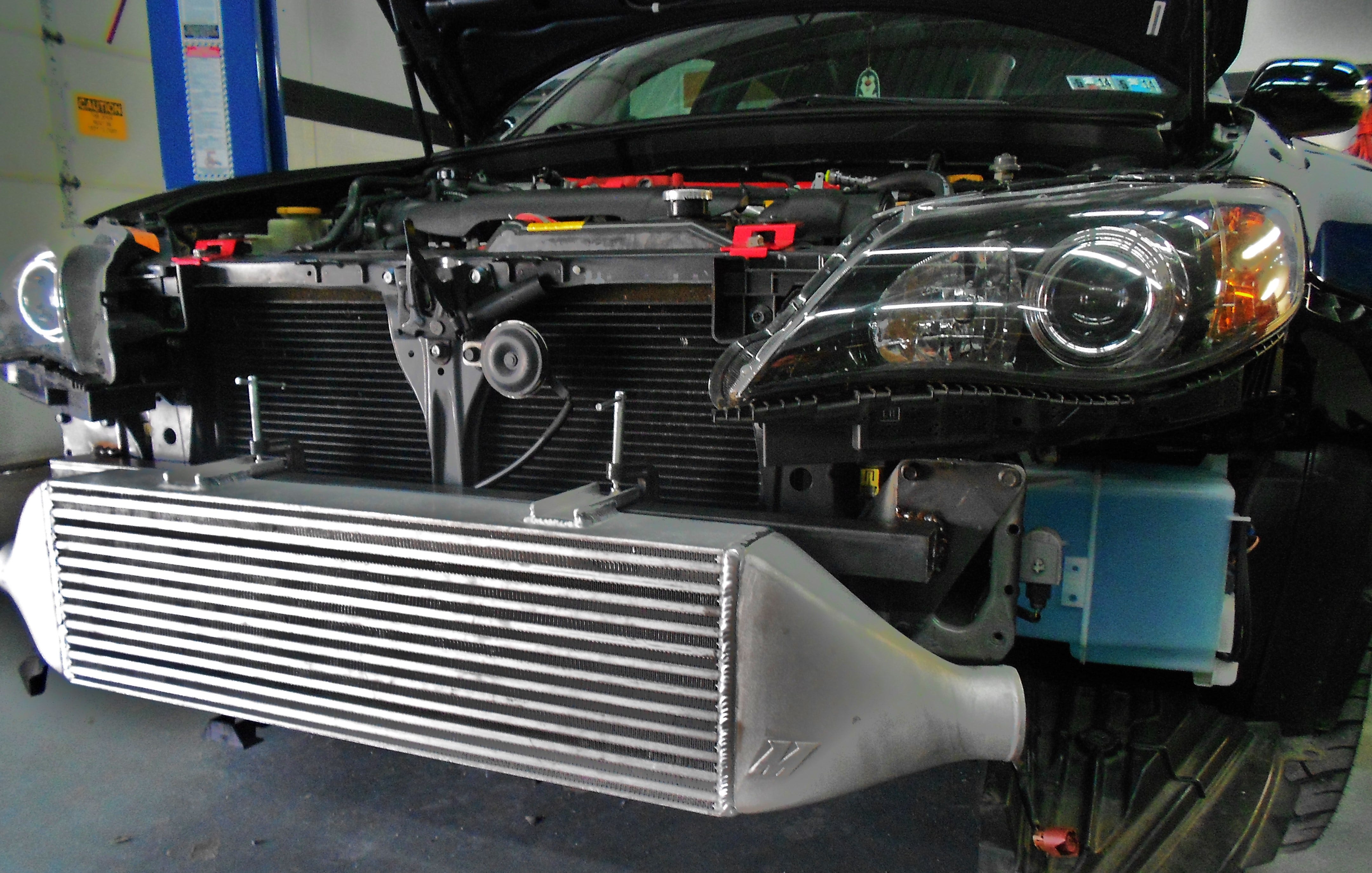 Mishimoto Subaru WRX/STi FMIC Kit, Part 1: Product Goals/Plans
Posted:
September 18, 2014
Interested in purchasing our Subaru WRX or STi intercooler kit? Check out more details on our product pages linked below!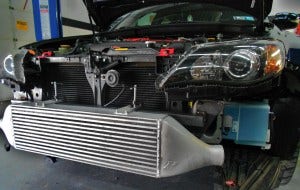 Modifying your Subaru can be quite a slippery slope, especially when this wonderful pastime turns from a hobby to an obsession. Luckily, the enthusiast community is huge and always ready to provide support (or laughter), even when your fully built engine decides it wants nothing to do with a cylinder 3 connecting-rod bearing. As you may be aware, we are huge fans of both Subaru vehicles, and the communities that thrive around them. Our continually growing Subaru product line is about to get much bigger, and our team decided to tackle the development of a new front-mount intercooler for the 2002+ WRX and STi.
I know exactly what you are thinking. Why now? The car is ancient and the market is swamped with reasonably respectable FMIC kits. We have a few reasons for diving into this project. First, we have a rather healthy product line and we wanted to ensure we could support the cooling needs of all of our customers. Our product line includes all of the items listed below.
2-row aluminum radiator
3-row aluminum radiator
Aluminum fan shroud kits
Silicone coolant hose kits
Performance air intakes
Direct-fit oil cooler kits
This is quite extensive, and our hope is that enthusiasts will find our products to be a one-stop cooling solution. Additionally, we offer a top-mount intercooler kit for the 02-07 WRX (a 08-14 TMIC is on the way) and the 04-14 STI. Our top-mounts provide incredible efficiency improvements compared to the stock intercooler, all proven in our data collected on the dyno and road. That being said, a top-mount intercooler has its limits, even if it is a massive core. For those making above 375-400 whp, we always recommend a solid front-mount intercooler setup which will provide much better heat transfer thanks to its location in a fresh stream of airflow.
Our second reason for tackling this project has to do with other products on the market. We believe there is a huge gap in the market for a product that is reasonably priced, yet still provides bolt-on fitment and a very efficient core.
Our third reason for timing is our new facility, which many of you are aware of. We have a fantastic garage with any tool needed for product development. This includes an in-house AWD DynoJet dynamometer and a variety of fabrication equipment.
Due to our brand-new, fantastic facility, it makes sense for us to utilize our equipment in the most effective way possible.
The final reason is our team's interest in the topic of intercooler design. While designing efficient radiators and oil coolers is fun, we needed to mix things up and tackle another intercooler. Popping a vehicle on the dyno every once in a while keeps things interesting in the garage as well as the office. So, we wanted to set some guidelines and goals for the project to ensure we were creating something our customer base wanted.
Project Goals
Develop a bolt-on kit for fitment on all generations of the WRX/STi. This includes vehicles from 2002-2014. Our 2015 kits will differ and we will have a build thread for those at a later date.
Attempt to use one intercooler design for all chassis.
Provide all piping necessary for installation.
Test product to ensure intercooler efficiency.
As usual, we will now break these goals down a bit to expand on them slightly.
Like a Glove
As mentioned above, we are going to be offering a direct-fit product for all Subaru WRX and STi chassis'. These kits will need to fit without issues and include everything for installation. As with most (if not all) front-mount kits, the bumper beam will need to be removed and we will be supplying a replacement unit that will function with our intercooler. We will also be including all couplers, clamps, hardware, etc., to ensure that you have every item necessary to install our product. This process/goal is evident in 99% of our projects, as we work harder to make things easier on you guys. There are several differences between the different chassis/body styles so we will have to develop several differing kits. Our end goal is to make this kit appear as though it was factory installed.
One Cooler
If at all possible, our goal is to design one intercooler unit which is applicable on all bodies for the WRX/STi. This will be quite a challenge and will require taking a ton of data points from the vehicles and some serious test fitting. If we find that by doing this we are making compromises on the cooler size, we will have to produce more than one cooler. By using one cooler, we can spend more time ensuring that the cooler provides optimal flow and heat transfer characteristics.
Pipes
As mentioned above, we will be including all the piping necessary for each specific vehicle. Some of the piping is identical from one vehicle to the other, while other portions of the pipes change slightly due to engine bay constraints. Our engineering team will be fabricating our prototype piping in-house to ensure accuracy.
Test it
As with all of our products, we like to put them through their paces prior to shipping to our salivating customers. We will be testing inlet/outlet temperatures as well as core pressure loss to ensure we are providing a very efficient product. Although it will be difficult to provide the real-world results for every individual setup, by providing intercooler efficiency information we should be able to educate the customer regarding how efficient our core is at transferring heat. We are always interested in supporting our products with as much data as possible.
With our goals set, it was time to begin tackling the first key component for the kit, the intercooler itself. Check back with us next time to see our team working through our cooler design.
Interested in purchasing our Subaru WRX or STi intercooler kit? Check out more details on our product pages linked below!