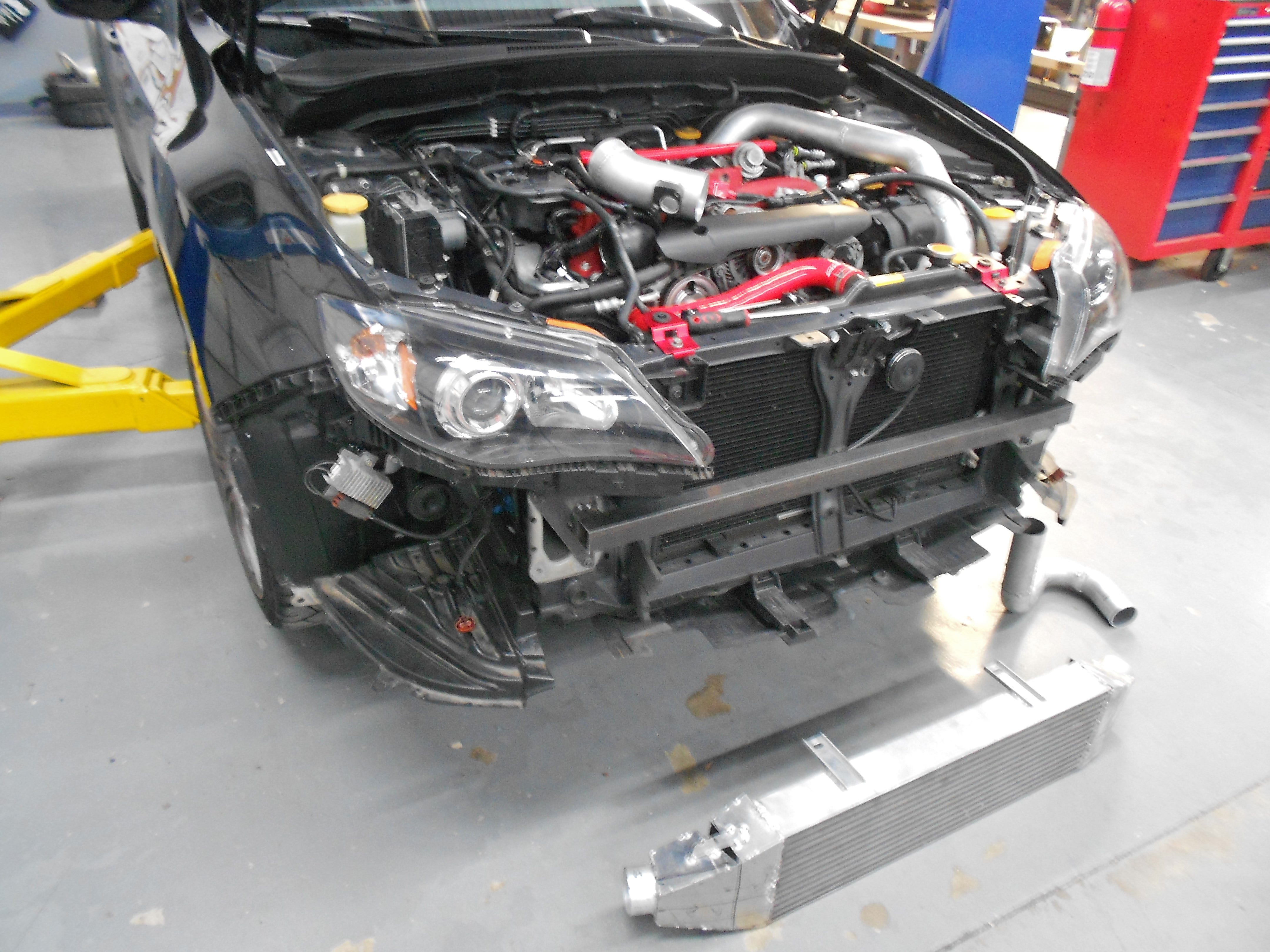 Mishimoto Subaru WRX/STi FMIC Kit, Part 2: Initial Intercooler Design
Posted:
September 22, 2014
Interested in purchasing our Subaru WRX or STi intercooler kit? Check out more details on our product pages linked below!
Time to start designing the basic dimensions of our intercooler! As mentioned in the previous post, this cooler would need to fit with all chassis if possible. Luckily we had a few of these vehicles as shop cars. First up, we pulled our 03 Bugeye Wagon into the shop and began taking a look at the space we had available in order to throw a huge core behind the bumper. Up on the lift she went and the bumper came off to reveal what we were working with.
As you can see we have a lot going on in these first few images. The first image shows our Romer arm. This device is used to collect data points on the vehicle and cooler in order to determine where our critical points are. This is a very key tool for use when designing a product on the vehicle or when collecting dimensional information from a factory component, and we use it quite often. You can also see that we started fabricating a mock-up cooler. We designed the core you see in the images based on some dimensions we had already obtained. Our engineering team began to tack together some sheet metal end tanks. Our final core will utilize a cast end tank for improved durability and smoother flow.
Additionally, we brought in a Bugeye sedan to ensure the minor front-end differences would not impact intercooler fitment. Check out a shot of the second test vehicle with all components removed.
Once again, we collected our data points and test fit our initial fabricated prototype cooler to check for clearances. Now that the Bugeye was covered, we brought in a Blobeye and a Hawkeye to check cooler fitment. Check out a few shots of the Hawk!
I would have to say this was my favorite test vehicle thus far during development. This vehicle owner was extremely competitive in local SCCA autocross events, and the car was quite impressive. It was nice to be able to pick her brain for a few minutes regarding her racing experience and vehicle modifications.
Now, we couldn't leave out the GR chassis if we wanted to really stretch the use of this intercooler. This far, we were still able to provide a consistent intercooler design for the 02-07 models without sacrificing size. We needed to see if this was true for the newer models. This was going to be quite easy for us since our shop vehicle was a 2010 STi and would provide the measurements we needed.
In the image above we have the bumper removed as well as the bumper beam/support. This shows the mounting location for the beam we are planning to provide with the kit. Check out our fabricated beam and cooler below!
Now that we had dimensional data for all vehicles to be fitted with our intercooler prototype, we could now move forward with producing a prototype unit and performing a final fit. Once that was complete, we could begin fabricating the piping for each particular model. As you may be aware, the piping routing/features does indeed differ quite significantly between each vehicle, so these would have to be designed specific to the vehicle. Check back with us next time to get a nice look at our prototype intercooler for this kit!
Interested in purchasing our Subaru WRX or STi intercooler kit? Check out more details on our product pages linked below!