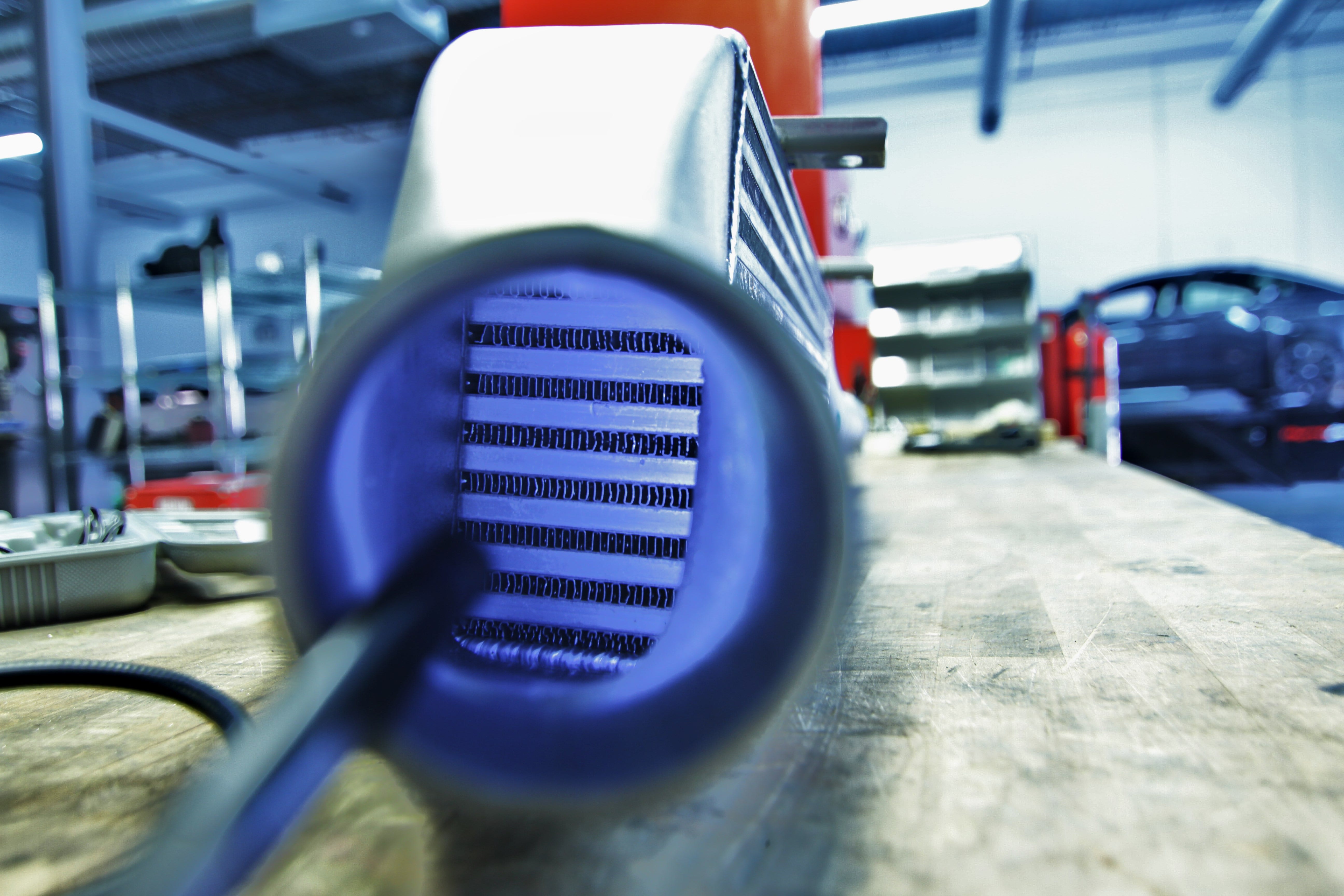 Mishimoto Subaru WRX/STi Front-Mount Intercooler Kit, Part 3: Intercooler Prototype Introduction and Test Fitting
Posted:
September 24, 2014
Interested in purchasing our Subaru WRX or STi intercooler kit? Check out more details on our product pages linked below!
Time to take a quick look at our cooler and see how it fits with our test vehicles. First, a quick overview of the cooler itself. Check out our first prototype!
Alright, so here we have our raw prototype. Do note that this unit is a raw component, meaning it has no paint or powder-coat finish. The size of this cooler is extremely impressive, and our goal was to design a core length that would span as much of the front grille area as possible. The more airflow we have moving through the fins, the greater the heat transfer capability. Here are a few basic features of the prototype.
Cast End Tanks
As you can see, we have selected to manufacture these coolers with cast aluminum end tanks as opposed to a welded sheet metal tank. Why? The cast tanks provide a few benefits for us. First, airflow is improved. Because of the smooth internals of a cast tank, we can really take advantage of our CFD software to ensure that we are obtaining extremely smooth airflow. Any turbulence will result in a decrease in performance. The cast tanks also provide improved robustness and durability compared to a cut-and-weld tank. We build our products to handle anything your vehicle can throw at them, and this cooler is no different. A few of our other intercoolers with cast tanks have been proven to withstand 125 psi without issue. A third reason is aesthetics. A nicely designed cast end tank is far more appealing than a welded unit.
Bar-and-Plate Core
As with most of our intercoolers, we designed a very efficient bar-and-plate core which is superior to the optional tube-and-fin design. A bar-and-plate core provides improved resistance against heat soak and is also a more robust core, meaning it can manage damage from road debris much better. The key with the bar-and-plate core is heat transfer, which is greatly improved over the tube design. The only downfall of the bar-and-plate core is weight, which is greater than the lightweight tube design. This is a cost we are willing to pay for the improvements in cooling efficiency.
Large Volume Core
The more volume we can pack into this cooler, the greater the efficiency we can obtain, and the higher the power levels we can support. Our goal with sizing this core was very strategic. We wanted the entire grille to be filled with core in order to provide the greatest airflow possible. Check out the specs of the core below!
Length: 28"
Height: 8"
Depth: 3.5"
Dense External and Internal Fin Composition
Dense fin composition is a big part of the reason we have had so much success with our intercoolers. By increasing the number of fins in a cooler, we are able to increase the heat transfer contact points. More contact points result in lower temperatures and better efficiencies for our coolers. This particular intercooler feature a very dense core for both external and internal fins. We are using a short fin so we can fit as many rows as possible. Check out the shots below showing our core!
Now that we had evaluated our prototype unit and checked its dimensions with our drawings to ensure accuracy, it was time to bolt this guy onto a few vehicles to check/verify fitment.
First, we started with our 03 WRX wagon, mainly because it was already in the shop and we had easy access. This cooler looks pretty stout behind the bumper, check it out!
Next we threw this kit on the Hawkeye test vehicle. So far everything was bolting up perfectly with only minor trimming required on the back of the bumper. Take a look!
Next up was the GR chassis! Check out this cooler fitted up to our WRX test vehicle first!
And finally we bolted this cooler to our 2010 STi!
And a shot from underneath shows the clearance this cooler has between the bumper and radiator support.
Success! This intercooler design functions as designed, with all front core supports and bumpers for all 02-14 Subaru WRX and STi models. We do require that the bumpers be trimmed slightly and fog lamp usage will not be possible due to our core size. This is one sacrifice we had to make on our quest for optimal performance. Now we would need to fabricate several different pipe sets for each particular model.
Check back with us next time for some pipe fabrication shots! Thanks for following along.
Interested in purchasing our Subaru WRX or STi intercooler kit? Check out more details on our product pages linked below!