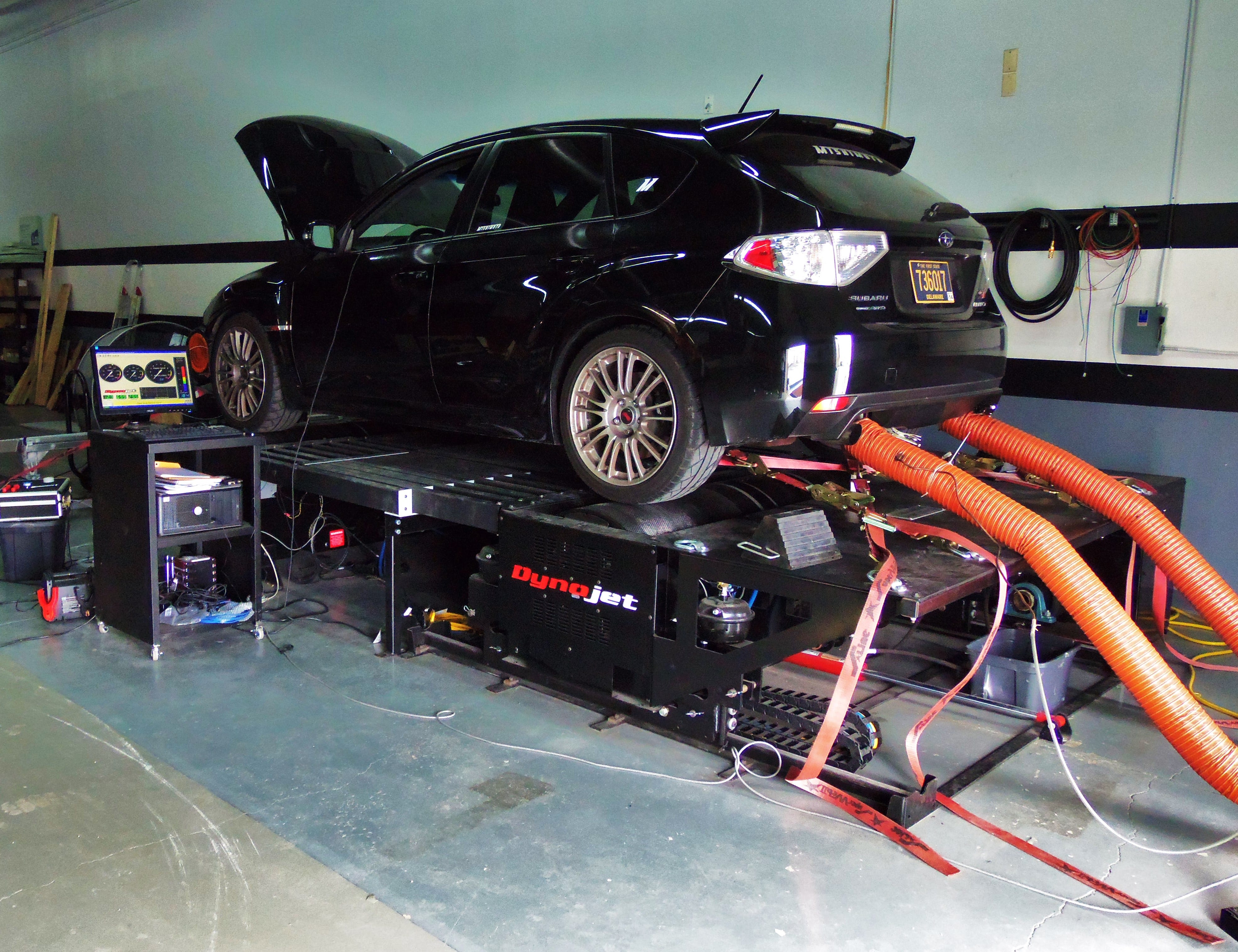 Mishimoto Subaru WRX/STi FMIC Kit, Part 8: Testing Data Presentation and Project Recap
Interested in purchasing our Subaru WRX or STi intercooler kit? Check out more details on our product pages linked below!
Time to review our data so we can finally put a close on this project. The product development process for this front-mount intercooler has taken months and has also helped refine several of our processes. Before we move into the testing data, our first portion of this post will cover the physical benefits of our intercooler. By providing a more efficient heat exchanger, we can ensure that higher-powered vehicles are not being hindered by debilitating heat-soak and/or inefficiencies with the use of a top-mount intercooler setup.
Our first comparison point is internal flow area. This graph shows the volume of the actual air passages through the intercooler.
Internal flow area has a direct effect on both heat transfer and power support: Greater volume results in more heat transfer, which results in lower intake temperatures and a much "happier" engine.
The chart above shows the comparison of the area of three coolers: the stock 2010 STI top-mount intercooler, the Mishimoto 2008-2014 top-mount intercooler, and the Mishimoto front-mount intercooler. As you can see from the chart, the front-mount intercooler is much larger than essentially any top-mount cooler on the market. Our front-mount cooler provides a 73% increase in internal flow area compared to the stock intercooler. This increase in area will be invaluable to those who are modifying their engines, running high boost pressures, and/or subjecting their vehicles to repeated high-rpm pulls.
Next up is a comparison of actual core volume. Core volume is a measure of the entirety of the core, which includes the air passages, bars, tubes, fins, etc. As with Internal flow area, this chart shows benefits which have a similar effect on heat transfer. Once again, a higher volume is going to provide huge benefits for those folks with modified vehicles.
Once again, the Mishimoto front-mount intercooler provided huge gains over the top-mount setup. This time, we saw increases of 124% compared to the stock top-mount cooler.
You may be thinking that these two products are for completely different customers, so why compare them? Great point! This data is being provided for those enthusiasts making enough power to necessitate/consider upgrading to a front-mount setup. If you are on the fence about converting, these graphs provide information regarding the benefits you can expect from the upgrade.
Our final physical attribute the fins on the intercooler. As mentioned earlier in this post, fins are connected to the air passages and work to transfer heat from the internal air to the air passing through the core. The greater the fin area, the more heat transfer is possible. Our team has positioned this cooler in the front of the bumper to obtain optimal airflow for maximum temperature reduction. Check out the comparison of air surface areas in the chart below.
Once again, we saw impressive gains compared to the stock intercooler; this time the magic number is 91%!
Now that these comparisons are complete, we can move to our actual testing and data collection. Check out the testing conditions shown below.
Vehicle Information
2010 Subaru WRX STI
6-Speed Manual Transmission
Mishimoto Intake
Mishimoto Front-Mount Intercooler
Fuel Line Modification
3" Downpipe
Tune
Testing Conditions
Ambient Temperature: 66°F-68°F
Humidity: 30%
Sensors: PLX Sensor modules, temperature and pressure sensors
Data: Data was averaged once three consistent pulls were obtained.
Our team then finalized the tune we had on the vehicle, strapped it to the dyno, and began making pulls!
After a day of dyno pulls, we finally had the Iwe needed to evaluate the intercooler we designed for our front-mount kits! First, take a look at the power our STi is putting to the ground!
With just the basic modifications listed above, we are making huge power gains (especially in torque) compared to the vehicle when it was stock. The increased boost pressure should also have an impact on our intake temperature testing.
Now, check out the chart showing inlet and outlet temperature data recorded during our dyno pulls!
So this is the data we have been waiting for since the inception of this project, and we are very pleased with the results. This data is graphed to show the increases in temperature (inlet and outlet) relative to boost pressure during our pulls. This is graphed over a full pull through the rpm range with boost peaking around 19 psi and tapering to 15 psi. At the start of the pull, we see drops around 40°F from the inlet to the outlet, placing temperatures within 15 degrees of ambient air. As the pull progresses, our drops increase to over 130°F. So what does this mean for you? Check out our efficiency chart for a better look at the benefits of this cooler.
Efficiency is where our intercooler data really shows its worth. We obtained 70%-85% efficiency throughout our pull! These are fantastic numbers for a front-mount setup. As a comparison, from our previous tests, we have shown that the stock intercooler provides around 60% efficiency on our completely stock 2010 STI. Unfortunately we did not collect efficiency information on the stock TMIC on our STI after we installed the modifications used for this test. We can assume that it will be far less than the 60% shown on the testing of the stock vehicle.
So, that makes this project a complete success. We have developed a direct-fit front-mount intercooler setup that provides extremely efficient drops in intake temperatures and is designed to support vehicles with substantial horsepower and boost pressures.
Now that we were finished with development and testing, it was time to review our goals and ensure our final product meets or exceeds them.
Project Goals
Develop a bolt-on kit for fitment on all generations of the WRX/STi. This includes vehicles from 2002­-2014. Our 2015 kits will be different, and we will have a build thread for those at a later date.
Our engineering team has successfully designed a completely bolt-on front-mount intercooler kit for the 2002-2014 WRX and STI. Each kit we offer is designed specifically for that particular year-range and includes all piping, couplers, hardware, etc. for installation.
Attempt to use one intercooler design for all chassis.
As shown in the posts above, we designed and fully test fit our intercooler unit on each of the chassis from 2002 to 2014. Although minor trimming is required to the rear of the bumper, this unit fits very well and looks fantastic!
Provide all piping necessary for installation.
As mentioned above, these kits are all-inclusive and completely direct fit. We include all piping necessary for installation as well as couplers, mounting hardware, intercooler, and our replacement bumper beam.
Test product to ensure intercooler efficiency.
Our team fully tested the efficiency of this intercooler core and proved an efficiency average of 80% on a 318 whp/340 wtq running 19 psi of boost pressure. We anticipate huge gains for vehicles up to 600 whp.
That"s it! Thank you very much for following the development process for our front-mount intercooler kit. Feel free to follow-up with any questions or comments!
Interested in purchasing our Subaru WRX or STi intercooler kit? Check out more details on our product pages linked below!